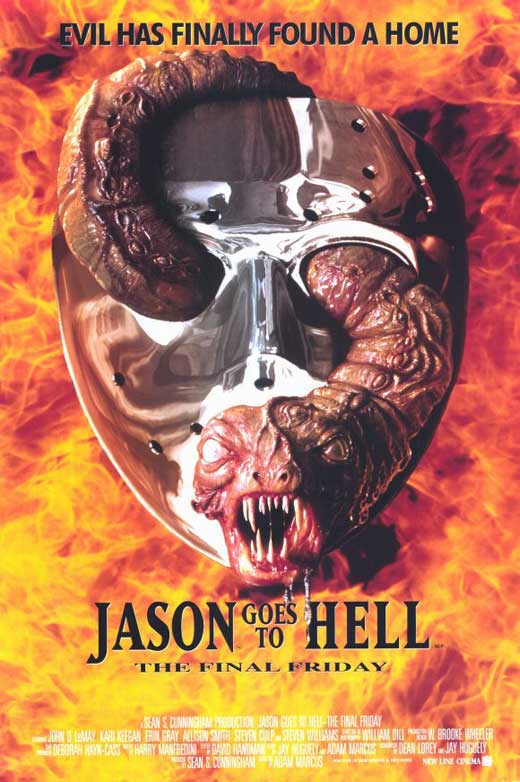 Jason Voorhees is about to kill his latest victim when she, actually an undercover FBI agent, leads him into a trap.  He is gunned down and then blown to bits.  His remains are sent to a morgue, where the coroner Phil sees that Jason's heart is still beating.  He eats it, causing him to be possessed by the evil spirit of Jason, which is now able to jump from body to body and can only be killed a member of his family.  He could also return properly to life if he manages to possess one of them.  He heads for a town where reside his half-sister Diana Kimble, her daughter Jessica and Stephanie, Jessica's baby daughter, but bounty hunter Creighton Duke is on Jason's trail……….
Many who read these reviews will probably think that I'm too easy on the Jason movies.  I personally am willing to except and enjoy them for what they are.  I will say unequivocally though, that Jason Goes to Hell:The Final Friday is a piece of crap.  It's a stupid, idiotically conceived movie that just doesn't work at all.  It's genesis originated in 1993 when Paramount, tiring of the flagging franchise, sold the Friday The 13th rights to New Line.  Enter Sean H.Cunningham, who, having played a huge part in originating the franchise, decided he was interested in finishing it.  Talk of Freddy Vs Jason reared its head again, and New Line were initially very interested, as their last Freddy picture, Freddy's: The Final Nightmare, had peformed badly at the box office and possibly given the series some closure.  Then Wes Craven returned to start work on Wes Craven's New Nightmare, and the interest this got put the Freddy Vs Jason project on hold again, so in the meantime Cunningham decided to allow Jason to come back for one last scare.  A script was commissioned from Dean Lorey to take Jason in a  new and different direction, though instead he took Jason in such a 'new' and 'different 'direction that it was almost unrecognisable as a Friday The 13th film.  Taking a cue from Hidden and maybe Shivers, he came up with the idea of Jason's essence being able to move from body to body.  Initially it was to be about Jason's brother, who would bring Jason's body out of the water [presumably ignoring Jason Takes Manhattan] and then be possessed by him, but that was dropped, along with an opening flashbak scene that showed a young Jason having sex with his mother!  Post-production was a mess-Cunningham was experimenting with shooting at twenty two frames per second rather than twenty four, causing untold hassles, and the initial two hour cut was, despite this, extremely slow moving and  full of soap opera-type subplots, so was cut down to 75 minutes, which then meant extra footage then had to be shot.   Then after previews resulted in complaints that there was hardly any of the traditional 'stalk and slash', footage involving three campers getting killed was added.  Upon release, it barely made a splash and soon dropped out of the charts, though it was still the number one horror movie of the year, a sure sign of the depressed state of the genre.  In the UK it went straight to video.
Every time I watch Jason Goes To Hell I say to myself "Blimey, it's not that bad is it"?, because the opening sequence of Elizabeth the FBI agent alone in a house, with Jason obviously about to appear, is very tense, very similar to and almost as good as the great opening to Part 2.  Then Jason is spectacularly blown to pieces, in a scene that gives the ending of The Fury a run for its money.  Then we go to a morgue, where the coroner is examining Jason's remains and views his still-beating brain.  Now I'm assuming the reason he eats the brain is because he's hypnotised by it, but neither the script nor the acting sells that idea.  After this, it's basically one character after another going on a rampage, until he/she passes the 'essence' to another person by getting it to pass from his/her throat to another, and then it's that person's turn.  The movie becomes boringly repetitive very quickly, and though some would say that about all of these films, this one just has no tension or even excitement.  The rampages go from hospital to diner to police station- there are probably more killings than any other Jason film-but little sense of horror, despite the often graphic gore.  Where's the fear? Where's the terror?  It's more akin to something like The Terminator, but, you know, crap.  The sequences are often poorly staged by director Adam Marcus anyway.  Even as things start to centre more around the three living members of the Voorhees family, there's no sense of build up, and a whole host of random things happen, possibly as a result of the heavy cutting, possibly not, including one guy turning into The Incredible Melting Man [actually very good effects here] and a tiny monster running around.  Just when the movie seems to at least be getting fun, in a crap way, we briefly have Jason as his 'normal' self, hockey mask and all, and you can almost hear the fans cheer.  Then it soon ends, with a mediocre fight to the finish, a quite interesting if over the top death scene for Jason, replete with monstrous arms pulling him into the ground, and an admittedly cool final shot of Freddy's glove grabbing Jason's discarded mask, setting things up for Freddy Vs Jason.
This may be the goriest of the entire series.  Aside from loads of bloody impalings and shootings, there's literally tons of gloop, a pulverised head, a face in a fat fryer, a wrist breaking, and a truly bloody kill where a girl is severed in half whilst having sex, said sex scene also being far more explicit than normal.  The MPAA cut almost three minutes from the movie, but the filmmakers were not especially bothered this time, because by now many films were later coming out uncut on video and laserdiscs, and the well-advertised release of the full version of Jason Goes To Hell turned a tidy profit.  In the UK the BBFC only cut the severing of the girl and the wrist breaking, a sure sign they were becoming more liberal.  As you can probably tell from my mentioning of some scenes, this movie is actually full of special effects, and, as done by K.N.B.Effects, who comprised Greg Nicotero, Howard Berger and Bob Kurtzman, they are quite diverse and mostly quite good, aside from some poor early CGI.  Jason himself looks great-I love the way his skin now seems to have grown around the mask.  His appearance in the film is little more than a cameo though.  For this movie they decided to have few teenage characters and populate the film more with adults, but they are written at bad soap opera level, and rarely do anything that makes sense.  For example there's a bit where Creighton, in an especially pointless scene, breaks two of Stephen's[the 'hero'] fingers in return for giving him information.  Stephen then manages to escape from the cell he is in by almost strangling a guard and taking his keys, despite the fact that he would be in so much pain he probably wouldn't be able to do anything.  Huh?  There's also a scene where Crieghton cries out to Jason "you recognise me, huh?" which makes no sense either.  Actually the original cut told us that Jason killed Crieghton's girlfriend but that information, along with a great deal of background for some of the other characters, was removed.
Aside from most of the effects, [and look out for an appearance by the Book Of The Dead from The Evil Dead], almost everything else though is astoundingly poor, from the haphazard script to the dreary photography to…THE ACTING!    With the exception of Steven Williams as Creighton Duke, who really seems to be having fun with his character, the performances really are embarrassingly bad.  You think the cast of Home And Away are wooden, take a look at this movie!   The worst is John D.LeMay as Stephen, who mixes robotic delivery while doing strange things with his mouth as if he constantly has an ulcer.  There's one scene where Jason has just impaled somebody with a poker in front of him and is coming for him, and he says, quite calmly, "o shit", as if he'd left his shopping in the car.  Kane Hodder returns as Jason though I'm not why, he's hardly in it.  Harry Manfredini contributes some fairly exciting music for the opening and end credits, and a few okay cues during the film, but must have been given a tiny budget for the score, as it's all on one really weedy, badly recorded synthesiser.   Jason Goes to Hell is a real travesty, it screws around with the series a great deal, but that might have been bearable if it had been done well.  It's not, it's a pretty inept movie that is only really worth viewing for its gore and special effects, and, however much we love those two things, we all know that they can't carry a movie on their own.
ORDER OF SERIES SO FAR
1/ Friday The 13th Part 4:The Final Chapter
2/ Friday The 13th Part 2
3/ Friday The 13th
4/ Friday The 13th Part 5:A New Beginning
5/ Friday the 13th Part 3
6/ Friday  The 13th Part 8.Jason Takes Manhattan

7/ Friday The 13th Part 7:The New Blood

8/ Friday The 13th Part 6:Jason Lives
9/ Jason Goes To Hell:The Final Friday
In 2010, Jason Voorhees, captured by the US government, is being held at the Crystal Lake Research Facility.  Rowan La Fontaine, a scientist, tries to put him under cryogenic suspension, as nothing will kill him, but her superiors want to do more research and try to remove him.  Jason awakes and kills the soldiers but is then lured into the pod and frozen, only Rowan is accidently frozen with him.  In 2455, Earth has become too polluted to support life and humanity inhabits a new planet, Earth 2.  Some students find the frozen Jason and Rowan, and take them onto their shop.  They reanimate Rowan, but Jason also comes back to life…………………….
Jason X sounds like it's going to be awful.  Jason in space?  What a stupid idea.  Against the odds though, this is a solid piece of entertainment which succeeds in bringing most of the typical Friday The 13th film elements into a new and different environment, cleverly mixes the new with the old.  After Jason Goes To Hell, Freddy Vs Jason, as already stated, was going to be the next movie, but once again there were problems.   Sean Cunningham created his own production company, Crystal Lake Entertainment,  for the purpose of making the movie,  but nobody could agree on anything, with twelve [yes, twelve] scripts having been written and rejected.  There was also of course the fact that neither Jason Goes to Hell nor Wes Craven's New Nightmare [despite it being one of the best of the Freddy series] had performed anywhere near as well as expected.  Supposedly it was the idea of Jim Isaac, a special effects expert who was starting to direct, to make another Jason film.  The aim right from the start was to put Jason in a different environment, and ideas ranged from having him in the 'hood' to underwater to in the snow [what a great one that could be if done right!], before it was decided on outer space.  Todd Farmer's script was extensively rewritten by a whole bunch of people including Sean H. Cunningham, removing or toning down potentially expensive sequences, while various gory scenes, in a script which was originally extremely brutal, went in and came out and vice versa.  The film was transferred to high-definition video to make the extensive CGI required easier.  As it was about to be released, the  head of New Line, Micheal De Luca, who had been one of the few at the studio championing the film, left the company and Jason X then sat on the shelf for over two years.  When it was finally released, the film, despite getting a higher proportion of good reviews than usual, became the lowest grossing instalment of the whole franchise.  Some put this down to piracy, with more and more copies of Jason X floating around the internet during the two years it was on the shelf, so that eventually almost any fan with internet access could see it.
We open immediately with the slaughter of some soldiers and a great cameo from David Cronenberg, who, of course, also becomes a victim of Jason.  When we switch to the future, and Jason comes back to life [which, it is nicely suggested, is caused by people having sex] on the ship Grendel  [a nice literary reference], the film starts to resemble Alien, there's even a character called Dallas, except that while the ship in that movie was dark and forbidding, this movie's ship is bright and colourful, with lots of neon lighting.  In fact, despite having a total of twenty two kills, the whole movie feels bright and colourful, it has a real upbeat feel.  This negates much of the suspense and some of the horror, but I can't deny its fun to watch.   It moves at a furious pace and climaxes with some great action scenes involving an android [more on her later] battling Jason, and depressurisation.  Isaac said "we wanted to take a $13 million dollar budget and make it look like a $so million dollar movie".   It's also very inventive-around half way through there's a hologram gag that pays off towards the end with a hilarious scene where Jason is projected into a hologram of Camp Crystal Lake, is greeted by two nude female campers and ends up bashing one against the other [in a variation on a kill from The New Blood].   Around three quarters of the way through Jason himself, for reasons not important enough to get into, gets turned into 'Uber-Jason', a cyborg variant of himself but even more powerful.  Some fans of the early films understandably found all this hard to take, and I must admit, I did at first, but one just has to get into the spirit of the thing.  Unlike Jason Goes To Hell, it's fairly well made, and more consistent in tone than Jason Lives.
Jason X certainly succeeds with its many kills [tying with A New Beginning for number of murders], which range from your typical impalings and decapitations [there's a great gag where one guy sees someone's head beside him and turns to see said head being held by Jason!] to more inventive stuff.  One man is cut in half, sliced right down the middle, while another falls onto a giant drill, and a woman [my favourite, this one] has her face shoved into a sink of hydrochloric acid, then smashed into pulp on the surface.   Perhaps because of the film's tone and principal setting, the MPAA only asked for the removal of a few seconds, while in the UK it was the first in the series to get a '15' rating, despite it being gorier than at least four other instalments. [later on though, the BBFC did reclassify Part 2, Part 3 and Jason Lives as '15's, though oddly not The New Blood].   Some of the kills do suffer from bad CGI, but for the most part, the effects and sets are pretty good considering the film's budget and the weaponry certainly looks impressive.  The characters aren't too interesting  and even a little boring, with one exception-the android KM-13. She's introduced to us with fake nipples that tinkle to the floor like dropped coins, and later on gets new circuits that transform her into a acrobatic, leather-clad dominatrix with two machine guns and an attitude to match.
Jason Isaac directs with tight efficiency-he doesn't let a moment go to waste and makes it the fastest paced Jason film yet.  The performances are definately better than those in Jason Goes To Hell, though still not great.  Having now watched ten of these films, I'm not sure that good performances would be right though. Lexa Doig, as Rowan, seems to take events too much in her stride, but Lisa Ryder really has fun as KM-14, in some ways the most rounded character in the film. Composer Harry Manfredini composes a score which is probably his most diverse yet, full of varying motifs and subtly adjusting his sound and style to suit the film's setting, though Isaac wanted a more techno-orientated score, something I don't think would have worked.   Jason X is certainly not a great movie , but considering it's the tenth movie, it's far better than anyone has a right to expect.  It is loads of fun, and perhaps the instalment of the franchise that goes best with a curry and a six pack.
ORDER OF SERIES SO FAR
1/ Friday The 13th Part 4:The Final Chapter
2/ Friday The 13th Part 2
3/ Friday The 13th
4/ Jason X

5/ Friday The 13th Part 5:A New Beginning
6/ Friday the 13th Part 3
7/ Friday  The 13th Part 8.Jason Takes Manhattan

8/ Friday The 13th Part 7:The New Blood

9/ Friday The 13th Part 6:Jason Lives
10/ Jason Goes To Hell:The Final Friday
Freddy Krueger is trapped in Hell, powerless and unable to escape because the children in Springwood have been given a substance called Hypnocil which stops them having dreams.  Determined to change this, Freddy finds Jason Voorhees in Hell, and, disguised as Jason's mother, tells him to kill all the teens in Springwood so that Freddy will be blamed, become stronger and escape.   This starts to go wrong when Jason kills too many people and the public starts to become more afraid of him than Freddy………..
Freddy Vs Jason sounds like it should be a total blast, and it is pretty entertaining, though with a concept like this, every fan has a different idea of what the film should be like in their own head, and in the end it's actually quite a difficult concept to get right [think about it], which I'm not sure they entirely succeeded in doing.  This was in spite of its lengthy gestation history, which of course can be traced back to just after Jason Lives. I mentioned during my review of Jason X that there were eighteen scripts written, and they ranged from having a cult of Freddy-obsessed teenagers called the Fredheads [an idea that then remained in most of the successive scripts until the final couple] to Freddy being the camp counsellor responsible for his death to….um…Freddy raping Jason as a boy.  It seems that many of the more interesting ideas were removed when Mark Swift and Damian Shannon wrote the script that was eventually approved, though it was still quite a lengthy, complexly plotted affair, and David Goyer was brought in to tighten it.  Most importantly, he streamlined the third act, which was originally going to centre on a construction site being built on Camp Crystal Lake, and introduce a whole new set of victims.  It was the ending that caused the most problems though.  Ideas, some of which would have cost far too much, ranged from the duo being dragged into Hell by the souls of the damned to them battling in Hell and being watched by the Devil to the combatants having chains rip into them and Pinhead appearing to say "now, what seems to be the problem"?.   About fifteen minutes were cut from the initial cut, and then a few more after test screenings, plus an epilogue which had the two surviving characters Lori and Will having sex and Will turning into Freddy.   This was replaced by the ending we now have, which I think is satisfactory.  Freddy Vs Jason, aided by a huge marketing push, was a big hit and the most commercially successful of the series, unless you take into account admissions, where the first Friday The 13th still reigns supreme.
Freddy Vs Jason is an extremely fast paced movie, in fact it's too fast paced for its own good.  Cutting down a script and then a movie that had so much going on meant that often things pass in such quick succession that if you blink you'll miss what is happening, while many scenes are often cut ridiculously short.  The prologue, replete with narration by Freddy, and the scene soon after where Freddy, disguised as Jason's mother, gets him to go on his mission of terror, are almost unintelligible unless you've already read what the plot is.  Aside from the main story featuring Freddy and Jason, you also have the mystery of Lori's dad supposedly killing her mum, the subplot about Hypnosil which even involves a trip to the laboratory where it was made, and so many dream scenes, that, as with a few of the A Nightmare On Elm Street movies, they lose their surprise and even a bit of their interest.  These sequences, while they do have the occasional effective jolt and inventive touch, such as the very wierd Freddy 'caterpillar', lack much of the inventiveness of some of Freddy's earlier adventures.  It also doesn't help that Jason is sidelined for rather too much of the movie, and the great concept of Jason causing mayhem at a rave isn't quite made the most of-it's a fun scene, but could have been so much more inventive and thrilling.  The film does have a few effective jolts,  but is rarely actually frightening.  Still, the film races through an almost non-stop series of dreams and kills to its climactic fight, which is definitely worth it.  Extremely lengthy, but never boring as it ranges from Freddy's boiler room to a burning harbour, it benefits enormously from director Ronny Yu's experience in Hong Kong filmmaking, with fantastic wirework and great touches throughout ,such as Jason being bounced about the room like a pinball.
Unsurprisingly, the amount of gore in Freddy Vs Jason is considerable, because as well as Jason's kills you also get some Freddy mayhem such as a wince-inducing bit where he slits off a nose.  The Jason deaths are, aside from a great bit where a guy is stabbed on a bed and then folded up in the bed, and a ripping-in-half, not that inventive, mainly the usual impaling and stabbings, and suffer from most of them being done by none-too-impressive CGI, but the staging often makes up for that, and the hacking and slicing at the climax, replete with a heart ripping, is impressively extreme.   None of this was cut from the movie amazingly, something that must have annoyed makers of the 80s Jason films no end!   Despite the obvious temptation to go the more comical, less bloodthirsty route, there is a real nasty edge to Freddy Vs Jason, with even references to Freddy having been a paedophile [something that they backed away in the earlier Freddy movies but mentioned in the dreary 2010 remake].  There's a really haunting scene of a girl with no eyes saying "Freddy likes children, especially little girls", and this and the occasional other moment, such as the faces of kids on 'missing' posters turning to watch someone passing by, suggest a more disturbing and creepy movie than what we actually have.  Sadly the script for this movie, whilst probably better in its initial version so that it had room to breath, is pretty poor when it comes down to things like character and dialogue.  Most of the teens are almost funny in their unoriginality-the dope head, the virgin, the geek, etc- though I'm wondering if this was intentional,  while some of the dialogue is atrocious.  "Freddy was killed by fire, Jason was killed by water, maybe we can use that"?   says Lori in one especially cringe-worthy dialogue scene round a table.    Freddy does have some good one-liners though which are sometimes [though this probably sounds like a contradiction in terms!] agreeably tasteless.   "How sweet, dark meat" he sees upon spying Kelly Rowland from Destiny's Child.
Yu, who had just come off Bride Of Chucky, gives the film a stylish look which is sometimes quite ambitious-check out the blue lighting in one set-and, although it hampers the 'slower' scenes[well, what few there are], the action is edited in that great Hong Kong way which is fast and furious, but you can still see exactly what's going on, unlike many movies today.   Robert Englund, in his final appearance as Freddy , is clearly having loads of fun, but Kane Hodder as Jason was replaced by Ken Kirzenger, who had actually doubled for Hodder in two scenes in Jason Takes Manhattan. Despite many people fighting for Hodder to remain in the role, New Line, for reasons that are not entirely clear [apart from things like "more expressive eyes"] , decided Hodder wasn't needed.  They also slightly changed Jason's look-his clothes and head are darker, and even the mask is slightly different [the differences are subtle but they are there].   Greame Revell's score is okay but unmemorable.  Freddy Vs Jason is probably about as good as a movie with that title could be, and at times is wildly entertaining,  but doesn't altogether come off.   As a conclusion to two of horror's best franchises though, it certainly served it's purpose.
ORDER OF SERIES SO FAR
1/ Friday The 13th Part 4:The Final Chapter
2/ Friday The 13th Part 2
3/ Friday The 13th
4/ Jason X

5/ Friday The 13th Part 5:A New Beginning
6/ Freddy Vs  Jason

7/ Friday the 13th Part 3
8/ Friday  The 13th Part 8.Jason Takes Manhattan

9/ Friday The 13th Part 7:The New Blood

10/ Friday The 13th Part 6:Jason Lives
10/ Jason Goes To Hell:The Final Friday
1980-young Jason Voorhees sees his mother decapitated by the last of a group of people she has been killing off.   2009-five young backpackers allow their curiosity to get the better of them and find themselves at the abandoned Camp Crystal Lake, where Jason possibly still lives.   A man in a hockey mask brutally murders them.  Meanwhile Trent invites six of his friends to party in his cabin by the lake, but their fun is disrupted by lone traveller Clay, who is looking for his missing sister Whitney, and then by Jason himself…….
My heart tends to sink every time a horror remake is announced, something which is happening more and more often these days.  Perhaps my feelings are irrational-after all, stories like Dracula and Frankenstein have been remade many times, and if the original movie isn't too great, then a remake could maybe improve on it.  Nonetheless, I had a bad feeling about the 2009 'reboot' [how I hate that term!] of Friday The 13th, despite all the talk about it returning to the spirit and style of the early films in the series, before Jason went to Manhattan, fought Carrie and Freddy, became an evil 'entity' and a cyborg.  Watching it at the cinema, my negativity consumed me and all I could do afterwards was slag it off and make unfavourable comparisons to the originals.  Upon second viewing, it improves a little bit, if not by a great deal.  It was made of course by Platinum Dunes, the company set up by Micheal Bay and Brad Fuller to primarily remake horror films, and I always feel I want to hate the company, though their remake of The Texas Chainsaw Massacre I was rather impressed with [the less said about The Hitcher, The Amityville Horror and A Nightmare On Elm Street the better].  Initial rumours were that the new Jason film was going to be an origin story [a bit of that remained],  and that Tommy Jarvis from The Final Chapter, A New Beginning and Jason Lives was going to feature, but writers Damian Shannon and Mark Swift, who had written Freddy Vs Jason, were instructed to base their script mostly on the first four movies.   Unlike the last few films, production went very smoothly and the film went on to have the biggest opening weekend for any horror movie, though personally I don't go by these kinds of calculations much because seat prices rise year after year.  Admissions dropped off very sharply, and the general opinion is that it was a failure, even though it did make a great deal of money.  Plans already put in place for a sequel were ditched, though rumours that there may still be one do return every now and again!
We open with the boy Jason seeing his mother, who has been killing the counsellors who supposedly let him drown, killed, which gets part of the plot from the first movie out of the way!  Immediately the tone and look is different, from the black and white colouring of this particular scene, to the fast cutting, but the scene does work.  Then we move onto the first set of victims,[obviously it was thought that modern audiences would get impatient if they didn't get to see Jason really early on]  and, as they slowly wonder about in the forest, in a barn etc, and are dispatched, we are treated to some of the best stalking sequences for ages.  These really are suspenseful, but sadly when Jason actually attacks, we are treated to the extremely fast cutting that is sadly the norm in such scenes these days, and even some of the dreaded 'shakycam', which in this movie especially, just looks like bad filmmaking  [I do admit it can work sometimes].  I can't help thinking of how economically the filmmakers staged such sequences in the early movies, yet still made them exciting.  There's a potentially really intense scene where Jason is holding a girl upside down with her face in a fire, and her rescuer gets his foot in a trap [really gruesome bit, this], but it's considerably weakened by not being able to see much of what's going on.  Then, after at least twenty minutes have passed, we get the opening titles!  What follows is basically a lengthy rehash of what has come before, with a very slow mid-section and a fast-paced final third with loads of kills. The final struggle is okay, and they resisted the temptation to have Jason constantly being 'killed' and then returning to life again, but that's one of the things  I missed about this version, I love it when you think he' s dispatched and then…………….!   One big problem I have with parts of this movie is that at times it approximates the look and feel of director Marcus Nispel's The Texas Chainsaw Massacre remake, replete with a brownish, almost sepia look to some scenes and some similar settings.  This worked for that film but more effort should have been made to make Friday The 13th different.  As it is, you keep expecting Leatherface and his wonderful family to make an appearance!
The kills, aside from the  afore-mentioned burning, are mostly standard, with familiar weapons like arrows, machetes and knives doing the damage, though there's a great spike going into a neck that brings back fond memories of Kevin Bacon!  Sadly most of these deaths suffer from the editing, especially a multiple stabbing by garden rake, as the victim lies on the floor and is impaled in various places from beneath-I couldn't really see where he was being stabbed.   The film wasn't hampered by MPAA cuts, but even during its opening weekend I heard Nispel say he already had a longer cut which was going to come out on DVD.  This version does have longer kills, plus some other extra scenes such as a lengthy sequence of the imprisoned Whitney escaping through a tunnel, but I reckon, with the possible exception of two sex scenes,  it would have got through the MPAA intact, considering what they let through nowadays, and it just seems that they were holding back this cut [which is a little better] to make more money from the DVD release!   This leads me to another big problem I have with this effort-the change to Jason's character, to the point where he's too different from the Jason I know from before.  His new agility works okay [though I find it far scarier that the earlier Jason usually didn't run, just strode, and yet he would still always get you!], and I like the way he progresses from a Part 2 cloth over his head to the familiar mask, but why have him kidnap someone and chain them  up?   Jason should kill and that's all.  Also, showing where he lives and giving clues as to actually how he survives ruin Jason's mystery [and are we supposed to believe that he grows magic mushrooms?!].  In my opinion it's best when you don't know all this, at least until near the end, it makes Jason more of a terrifying bogeyman who can leap out at you anytime and anywhere.  The script's attempts to make Jason more believable backfire in my view, while it's massively increased profanity might be more realistic in terms of the way modern teens talk and act, but jar with the fact that the characters are mostly the same old stereotypes all over again.  I also found them less likeable than normal, with their attitude and their constant sexual talk, but maybe I'm just an old fuddy-duddy!
Nispel's direction is fast, tight and exactly the same as in his Leatherface outing.  The acting by the cast is possibly worse than that in most of the earlier films, with even heroine Danielle Pannabaker as Genna and the Final Chapter-derived, potentially interesting character of the revenge-seeking Clay thrown away by Jared Padelecki's dull performance.   Derek Myers does an okay job as the swifter, more intelligent Jason, and cinematographer Daniel Mears does give him some great shots and entrances.  There's an especially good scene set in a shed which is lit by a Psycho-style swinging lamp, and Jason just appears suddenly behind his victim's back.  Sadly Steve Jablonsky's score is mostly discordant noise which actually weakens, rather than improves, key scenes.  I said near the beginning of this review that this movie does improve a bit when watched a second time, and many things in this Jason outing which I'm not too keen on are typical for horror films these days, so some of this might just be me!   I don't know how good a modern Friday The 13th could really be though- the older ones, especially the first few, have the benefit of nostalgia to help them along now-but I still like to think that it could be better, more inventive and more exciting than this one.  Maybe next time.
FINAL ORDER OF SERIES

1/ Friday The 13th Part 4:The Final Chapter
2/ Friday The 13th Part 2
3/ Friday The 13th
4/ Jason X

5/ Friday The 13th Part 5:A New Beginning
6/ Freddy Vs  Jason

7/ Friday the 13th Part 3
8/ Friday  The 13th Part 8.Jason Takes Manhattan

9/ Friday The 13th Part 7:The New Blood

10/ Friday The 13th Part 6:Jason Lives
11/ Friday The  13th 2009

12/ Jason Goes To Hell:The Final Friday