Whilst previously known as The Memorabilia Show, which features several stars from the world of movies, TV and sport, as well as a sea of stores and attractions, there is a new addition/twist to an already fantastic convention. The MCM Birmingham Comic Con brought some of the best in pop culture to the NEC, so HCF loosened the shackles, and let Juan loose amongst the film stars and the many, many cosplayers.
To be greeted by the cold dead stare of an Ewok was quite something, and was just a taster of the types of costume I would see throughout the day. Once inside, there was a sea of stores, stalls, signing booths and various other pop culture coated stands. Fans of Japanese pop culture were certainly in for a treat, with a large Tokyo Toys store, many stalls selling clothes and accessories, as well as anime DVD's/Blu-ray's and lots of comics. It's safe to say, that if I had money on me, I'd have been in the dog house when I got home. And that's just the Japanese section. There were countless stalls, full to the brim of collectibles, ranging from comics and toys, to posters and records, to clothes (including some Green Lantern Y-fronts!) and DVD's.Yep, if I'd had money, I'd have been skint!

One of the more exciting prospects of Birmingham Comic Con was seeing some of the cast of The Walking Dead in a Q&A panel. And luckily, it was the first panel of the event, so there wasn't long to wait at all. It is somewhat surreal, seeing those you watch on TV of a Friday night – doing their best not to become the next meal for the undead- in person. A lot of what was discussed at the panel, in front of what was a rather timid/over-polite(?) audience, was quite a nice insight into what the actors like, experience and feel about the show. One thing that was reiterated, is that apart from the obvious, the main cast will not even tempt fate by zombie-ing up. As cool as it would be, it's not an option! Unfortunately, not much could be said about the next series without being horrendously spoilerific, so it was seldom touched upon. Once the panel was over, we had a look round at all the cosplayers. I've got to be honest, a lot of costumes went over my head, so luckily I had my J-nerd photographer with me, filling me in on who's who.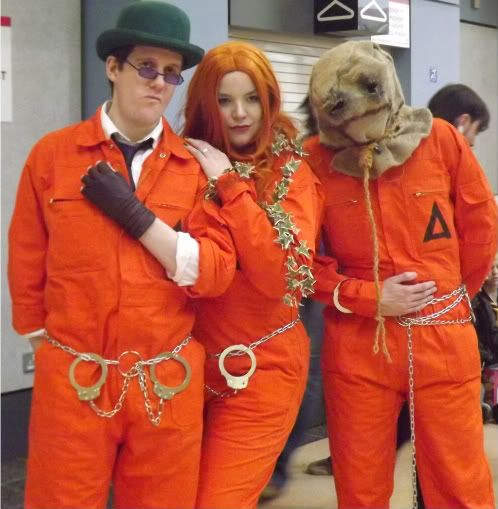 It would be too difficult to say who had the best costume, as it seemed there was a mix between the attendees and those hired to be there, all looking superb, making the event even more entertaining and memorable. Moving on from dressing up, there was a corner set aside for a few playable Japanese videogames, including some FOC arcade units, with the likes of Dance Dance Revolution. Just before I'd decided to make myself look awesome with some sweet DDR moves, one of the reps from DDR UK was showing us how it's done. Backwards. With his eyes closed. And using his hands and face too. It really was a sight to behold. After that display, I didn't want to make him look bad, so I decided I'd have a go on the Gamecubes and 360's that were available to play. All the other other games available in this section were beat-em ups, with the likes of Bleach, Super Street Fighter IV and Super Smash Bros Melee. THQ also had their own little section, showing off some new, as well as older titles such as Warhammer Space Marine and WWE Raw 2012. These obviously didn't tickle some peoples fancy as on the occasional return to the pods, Hexic and Peggle were also being played.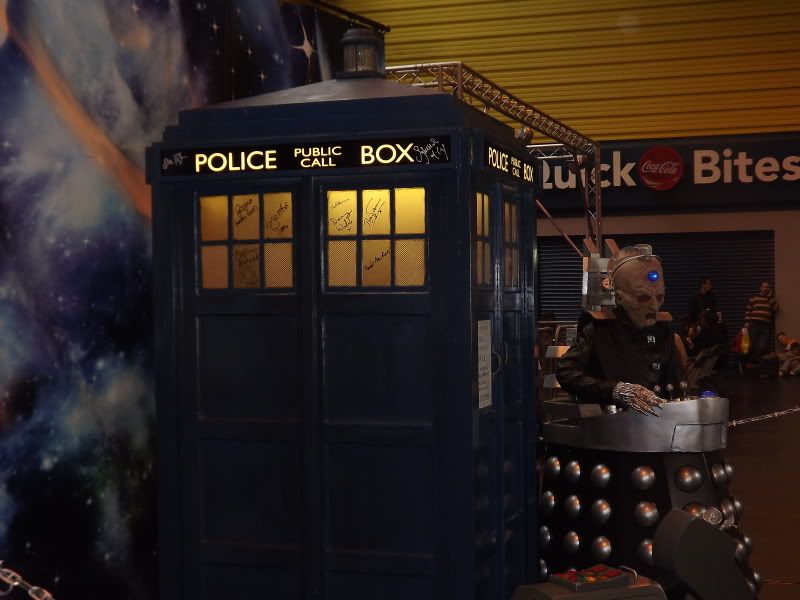 Doctor Who proved to be a dominant and popular feature of the event, with the above police box and Davros, there for photo opportunities, including a spot on look-a-like for the Doctor's current incarnation. He was also popular with the cosplayers too. I lost count of the amount of Fez's, pinstripe/converse combo's and massive scarves being donned by those in attendance. Not too far away from the Tardis, was a Robot Wars arena, as well as a wresteling show. And either those rings look a lot smaller in the flesh, or they had a scaled down version. But after a few moments of men in tight trousers hitting each other, moved on as it wasn't my thing. Nearby in the Comic Village, were several up and coming writers and artists, all there with their work, available for signing, and there was also an opportunity for those in attendance to show off what they could do as well. Universal had taken advantage of the occasion, with a small screening booth, showing off some of the latest trailers for likes of The Lorax, Battleship and Paranorman. There were also trailers for the likes of Prometheus and Titanic 3D being screened at the venue, too. All of this and we've not even mentioned the TV and film stars there for signings. There were a lot of those that had appeared in small roles in the likes of Star Wars films, those from cult TV shows and stars of old Hammer films.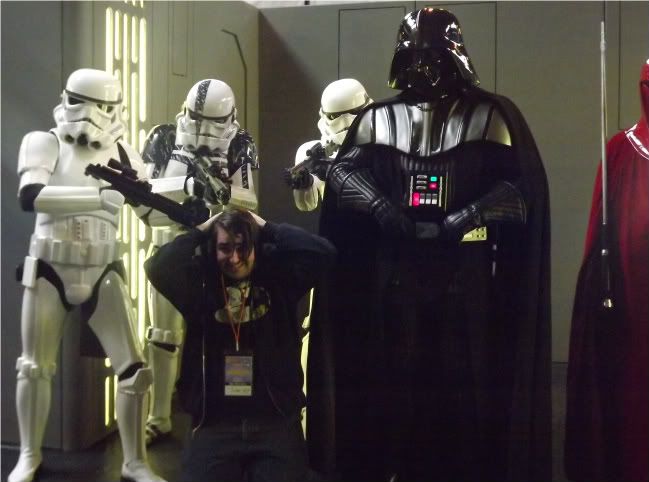 It was a huge event (where I really felt at home!), with lots to see, do, buy and more. The next Birmingham Comic Con is something to really look forward to, and while that won't be for sometime, there's always Manchester and London, who will both be hosting MCM in the near future. A fabulous weekend to lose yourself in nerd-vana. An absolute must. For more info on this years Birmingham Comic Con, and the upcoming events, check out www.mcmexpo.net.
[nggallery id=98]