The Tourist (2010)
Directed by: Florian Henckel von Donnersmarck
Written by: Christopher McQuarrie, Florian Henckel von Donnersmarck, Jérôme Salle, Julian Fellowes
Starring: Angelina Jolie, Johnny Depp, Paul Bettany, Rufus Sewell, Steven Berkoff, Timothy Dalton

[youtube]https://www.youtube.com/watch?v=GrqpKEOF8uw[/youtube]
The Tourist (2010)
Right, so you're making a film and you want to ensure bums on seats. So,  you first have to have a good enough storyline –
Elise is a woman involved with a wanted man, Alexander Pierce. After being apart from Alexander for 2 years, she seeks to be reunited with him, but she must follow his exact instructions in order to be safe. She is being tracked by police and Interpol who know about her relationship with Pierce, but have been unable to catch him so far, as they do not know what he looks like. All they know is that Elise and Alexander are in love, and that Elise will ultimately lead them to their man.
Sitting at a cafe, a letter is delivered to Elise. She is being watched by undercover police from all angles, as she opens the letter and reads it. It's from Alexander, informing her that she is being watched by the police and in order for them to be reunited, he needs her to catch the Eurostar train to Venice and find a man on the train who is similar in height and build to himself, to fool the onlooking police into thinking the man is Alexander. Elise burns the letter at the table and sets off to the train station, whilst undercover agents try to recover the burnt letter to discover its contents. Elise boards the train and eventually comes to a lonely maths teacher reading a book. His name is Frank Tupelo and Elise decides he's the man to use.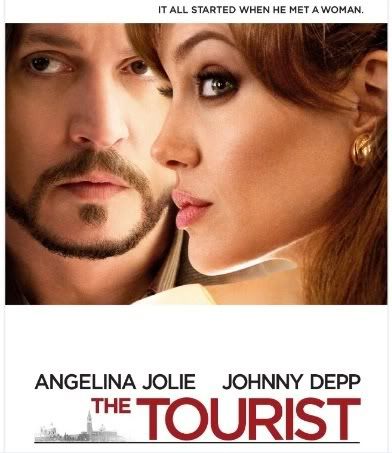 So…. secondly you want a good cast that will guarantee audiences – so you cast Johnny Depp as Frank and Angelina Jolie as Elise. Well,this guarantees both men and women will turn up, by having 2 global sex symbols on screen with a plot that involves some romance and action pieces. The men will be drooling at Angelina's sultry, seductive Elise, wearing such beatiful dresses and pouting those famous big lips (the lips get a close up, guys!). The ladies will be fantasising of undressing Johnny Depp after seeing him run across a Venitian rooftop in striped pyjamas. So, there's something for everyone.
There are some beautiful shots of Venice in the film and the shots inside the lavish hotels (The Danieli being one of them) are pretty good. The action sequences aren't over the top, they are pretty believable which is bang on the money, as Depp is like you and me, an unsuspecting tourist who gets mistaken for a criminal wanted in 14 countries. The reaction from Depp as he is confronted by angry mobsters is exactly what you would expect. Of course, some parts are over exaggerated but it is a film after all.
However, whilst this is an enjoyable action-romance, with some comedic moments from Depp and some twists and turns along the way, the script is a bit on the weak side, so both Depp and Jolie perform as best they can with the script they've got. You don't really need a brain to watch this one and its nice to watch a film every so often that you can just watch and enjoy. A feelgood film. And this is definately in that category.
Rating:
[pt-filmtitle]The Tourist[/pt-filmtitle]