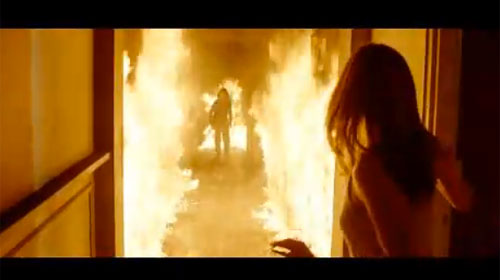 Saw 2-4 director Darren Lynn Bousman is currently in post-production on his forthcoming religious horror 11.11.11. His other horror, Mother's Day, starring Rebecca DeMornay has had its April 1st release date scrapped, and is in limbo right now, but i don't care about that right now. What i do care about is how incredibly stylish and creepy this current trailer is for his film 11.11.11, which is due for release later this year, maybe even on November 11th!!! The film stars Timothy Gibbs, Michael Landes, Wendy Glenn, Lluis Soler, Angela Rosal, Brendan Price, Salome Jimenez, Benjamin Cook and Montse Alcoverro and the plot centres around the date on November 11th 2011 and how it will open the gates to another world and allow something to pass into ours…
Here is the full synopsis:
'After the tragic death of his wofe and child, famed American author Joseph Crone travels from the United States to Barcelona, Spain to reunite with his estranged Brother Richard. However, fate has a different plan for Joseph as his life becomes plagued with strange happenings, and the constant sightings of the number 11. Curiosity quickly turns to obssession, and Joseph soons realizes that this number holds a horrific meaning not only to himself but possibly to all of religion. Isolated in a foreign country with only the support of his companion, Sadie, Joseph soon realizes that 11.11.11 is more than just a date, it's a warning!!!'.
I cannot bloody wait i tell ya!!!