Released June 3rd:
X-MEN: FIRST CLASS (TBC) Running Time: TBC Director: Matthew Vaughn Starring: James Mcavoy, Michael Fassenbender, Jennifer Lawrence,Kevin Bacon
Set in 1963, years before the battle between Charles Xaviers X-Men and Magneto's Brotherhood, this film centres of the creation of a school for "gifted" humans, also known as Mutants. Xavier opens the school, with the help of close friend Erik Lensherr (who later becomes Magneto) and the two help teach the gifted students and fight a war against the world's most deadly threat. During the war a rift forms between Xavier and Lensherr and this leads to the ongoing battle between Xavier and Magneto. Directed by Kick-Ass' Matthew Vaughn, this should be a belter!
Released June 10th: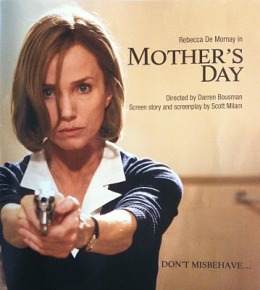 Mother's Day (TBC) 112 mins  Director: Darren Lynn Bousman  Starring: Rebecca De Mornay, Deborah Ann Woll, Shawn Ashmore, Lisa Marcos.
Rebecca De Mornay heads up a demented family in this home invasion shocker. Her three sons are on the run after breaking out of prison, and they decide to head back to the family home to lay low. They soon find out that Mother has lost the house in a foreclosure. With the family reunited, it's time to teach the new home owners some respect!
Released June 17th:
THE GREEN LANTERN (TBC) Running Time: TBC  Director: Martin Campbell  Starring: Ryan Reynolds, Blake Lively, Peter Sarsgaard
Another blockbusting superhero film just in time for the Summer Blockbuster season, the Green Lantern tells the story of a test pilot who is given a mysterious Green Ring. It gives him otherwordly super powers and also grants him membership into an elite intergalactic squadron who job it is is to keep the peace within the universe.
Stakeland (15) 98 mins  Director: Jim Mickle  Starring: Danielle Harris, Kelly McGillis, Michael Cerveris
In a post-apocalyptic America, zombies and vampire hybrids now rule and come out at night to hunt. A vampire hunter  by the name of 'Mister' must treck across America with his student (who is learning how to be a vampire/zombie killer) in the hope of finding the 'un-infected' zone, where humans can still call their own.
Released June 24th:
BAD TEACHER (15) Running Time: 92 mins  Director: Jake Kasdan  Starring: Cameron Diaz, Jason Segel, Justin Timberlake
Supposedly a bit of a dark comedy this, which is why its here! Anyway, Cameron Diaz plays a foul-mouthed junior high school teacher who has recently een dumped by her sugar Daddy. On the rebound, she woo's a colleage, a move that pits her against a well loved teacher in this romantic comedy.