Damned By Dawn (2009)
Directed by: Brett Anstey
Written by: Brett Anstey, Rob Townshend, Russell Friedrich
Starring: Bridget Neval, Dawn Klingberg, Renee Willner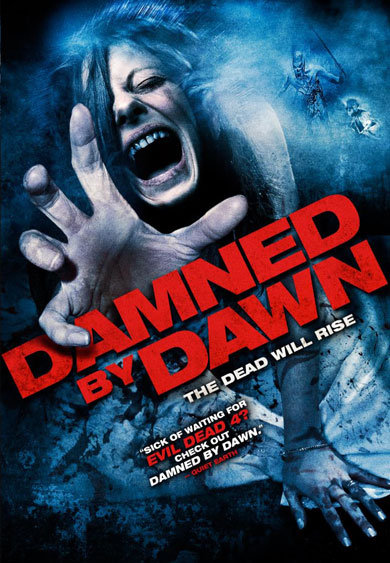 [youtube]https://www.youtube.com/watch?v=PHJLpiLy7pA[/youtube]
Damned By Dawn (15)
Running Time: 81 mins
Released:  March 7th 2011
Director: Brett Anstey
Writers: Rob Townshend, Russell Friedrich
Starring: Renee Wilner, Bridget Neval, Dawn Klingberg
This sinister little tale really really wants to scare its audience with its atmosphere, creepy setting and the odd little scene of terror. In the right hands, it most probably would have. That's not to say director Brett Anstey has done a bad job, more he just couldn't follow through on his promise. There are moments here that will delight fans of ghosts and things that go bump in the night, and there are scenes which both unsettle and haunt in equal measure. So, what has gone wrong for me to feel incredibly cheated by this film? Well, in all honesty, its crap, the acting is crap, the pace is crap and nobody appears to actually be scared. The cast do their best to scream and look terrified but it feels incredibly forced.
A family is hanging out with their poor dying Gran in a house in the country, and Granny has some spooky tales to tell. This is in the first ten minutes, and if you haven't nodded off yet then fair play, you're giving it a chance. It's incredibly slow, and whereas well made films with substance can get away with being slow and interesting, this film is sleep inducing to the point you may actually want to overdose on sleeping pills and get it over with. A piss poor Banshee arrives to terrorise the dying Gran, Grandad, his son and two daughters and the Banshee screams, and screams and screams and my Christ does it begin to grate on your temper. Fair enough, when you don't know what the screaming is or who is doing it, the woods outside the house appear agreably spooky. You can't see what is making the noise, and you almost don't want to see. Sadly though, the Banshee arrives and screams some more and by now my patience was running incredibly thin "Shut the fuck up!!" i screamed at my TV, waving my fist in anger at this awful, awful sound. Thankfully, one of the daughters pushes the annoying screamer out the window and onto a spike, hooray!!!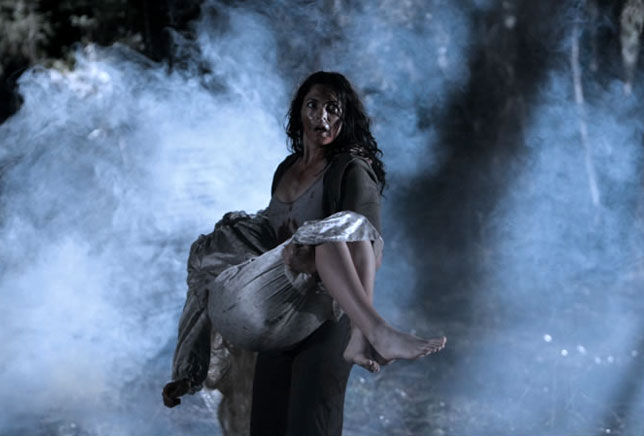 Bad news is that the Banshee has summoned the dead, and here they come to terrorise the poor family who came together to look after Gran as she starts to get worse. The dead really know how to choose their times to make an appearance! And so the usual nonsense follows as ghosts and gouls and the undead attack the house. I make out here that there are loads of them, there's not but a black shodowy ghost is very well made and hovers outside the house, just waiting. It is actually a little unsettling, but then the actors start panicing again and all tension is lost. There is also violence but most is done out of harms way, you can't actually see it and it's so unbearably staged its laughable, which pretty much sums up this entire movie. It really really wants to be good, to be scary and to haunt, but it just doesn't have the skills to do it. What a waste, a big fat waste.
Rating:
[pt-filmtitle]Damned By Dawn[/pt-filmtitle]