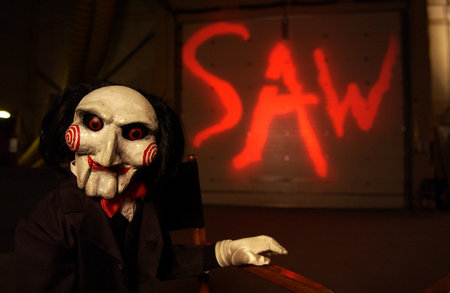 Saw creators James Wan and Leigh Whannell are busy promoting their new film Insidious, tipped to be the scariest film of the year. In a recent interview with IGN, the subject of Saw 8 was brought up.
Saw was a masterful horror and the first was so popular is spawned 6 sequels, all released in the UK for Halloween, and the franchise became a worldwide phenomenon. In all honesty, none of the sequels matched the sheer brilliance and originality of the first, and the franchise became more about the traps more than anything. The plots for each sequel got messier and messier and too confusing at times, but the traps actually got more and more clever and gruesome, and to be fair, that is what the audience wanted.
Wan and Whannell were asked if the franchise was really laid to rest and they said  that it was. However, the interviewer then asked if the pair would ever return to make another Saw film, and their response was not a definite no, and thankfully a much more promising one. The pair said that if the studio's in charge of the franchise were interested in trying something new and taking the film in a brand new and exciting direction, then they would almost 100% be up for it.
Saw needs a good injection of a new idea I reckon, the final film in the franchise was dreadful. Maybe, just maybe a Saw 8 would be on the cards in the future. There is clearly still a strong market for this franchise, and to bring back the creator's would be a very good move indeed.