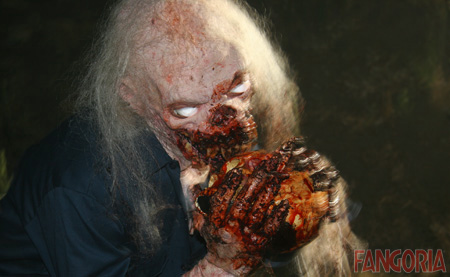 [youtube]https://www.youtube.com/watch?v=SwX8V0QqQls[/youtube]
Ah, you can't beat a good monster chasing victims through the woods, and it looks like Maneater delivers exactly what we horror fans love. This will be a straight-to-DVD release, but i'm sure you'll agree from the trailer that the quality looks top notch. The film is the directorial debut of Michael Emanuel and is set for a dvd release in the States in July, so expect to see it here in the UK shortly after that.
Based on the urban legend of the Wendigo, Emanuel had this to say "It's really a throwback to sexy, scary creature features in the vein of The Howling", when interviewed by Fangoria, he also promised the monster will "scare the peuntuts out of your M&M's". The film stars Dean Cain, Conrad Janis, Stephen Lunsford, Walter Phelan (Dr Satan from House of 1000 Corpses) and newcomer Lacy Phillips.
Emanuel based the film on a story he learnt as a child based on a small Indian village where the Wendigo (here spelt Windigo) would come to the village and clear out the sick, old and impure. The story terrified him, and for Maneater that was his influence, as was the movie Manhunter. The film is based on a small town sherriff (Cain) who moves to the town to become Sherriff, and one day his wife heads to the shops and never returns. He works on the case and build a profile, be never solves the mystery. Nine years later, with a daughter at high-school age, the mysterious disappearing happen again. Already building a profile, it would seem that the evidence points to the Sherriff himself.
There is blood, guts, sex and mystery galore in this movie, says Emanuel "There are a lot of red herrings, we really wanted to try and craft a horro-noir kind of movie" Knowing what makes horror work, he concluded "There are certain things in all horror movies: tha's why they are successful. Which is why there's a lot of gore and a lot of sexy young people running around doing what sexy young people do. But we're definitely playing up the mystery elements, and feel that the only way to have this movie stand out is to make it character based". Sounds perfct to me, so i will keep you informed of a release date. Here's hoping we don't have to wait too long!
(Source: Fangoria)