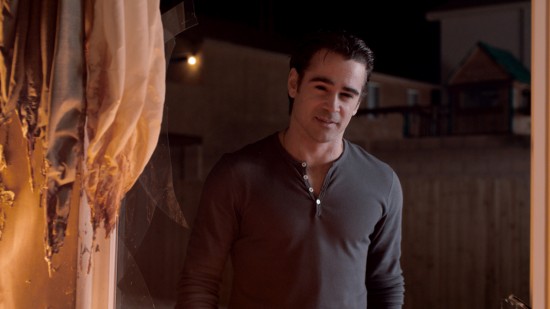 [youtube]https://www.youtube.com/watch?v=z82ThHFx-CU[/youtube]
MTV recently aired this exclusive clip from Craig Gillespie's highly anticipated Fright Night remake. Due to be released in 3D, the film is set to hit UK cinemas September 2nd. Colin Farrell stars as Jerry Dandridge, the vampire next door and it is clear from this clip that he is loving the role. Farrell always has a bit of a cheeky side, and it fits perfectly to this scene where he pretty much taunts his younger neighbour who suspects him of being a vampire. However, having recently received an R-rating in the US for sex, violence and language, couldn't we see something with a bit more, ahem, bite?
Here's the plot: "Senior Charlie Brewster finally has it all going on: he's running with the popular crowd and dating the most coveted girl in his high school. In fact, he's so cool he's even dissing his best friend. But trouble arrives when Jerry moves in next door. He seems like a great guy at first, but there's something not quite right—but everyone, including Charlie's mom (Toni Collette), doesn't notice. After observing some very strange activity, Charlie comes to an unmistakable conclusion: Jerry is a vampire preying on the neighborhood. Unable to convince anyone, Charlie has to find a way to get rid of the monster himself."
David Tennant also stars as Peter Vincent, the TV show host called in the sniff out the vampire. I can't wait for this!!
By Matt Wavish