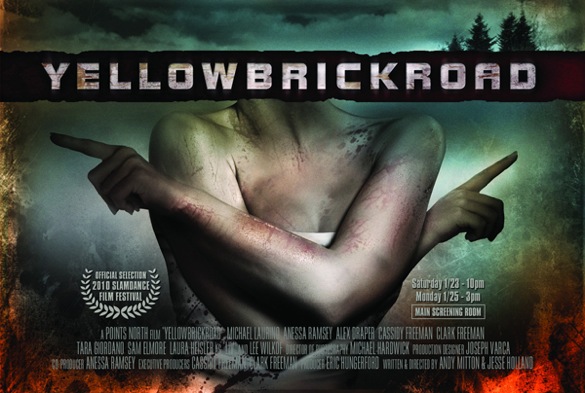 [youtube]https://www.youtube.com/watch?v=umNP2p4QjdI[/youtube]

Yellowbrick Road is about to make its cinema debut over in the US on today, while here in the UK the fantastic looking horror will make its debut on DVD July 25th. I have included the superb trailer as well as the brand new clip which has appeared courtesy of Dread Central. With just a small hint towards the Blair Witch Project, Yellowbrick Road is really gathering up quite a fearsome reputation and could well be one of the surprise horror hits if the year. Directed by Jesse Holland and Andy Mitton, here is the synopsis:
New England, 1940 and a town called Firar New Hampshire. Population 572, and one day they all leave behind their clothes and belongings and head up a mountain trail into the wilderness. None come back, however nearly 300 are found by a search party either frozen to death or mysteriously slaughtered. The rest are never found. The story is covered up, the town re-populated and the story becomes the a spook story. The mountain trail has never been used since, but one day the directions to the 'Yellowbrick Road' trail are found, and a group of fun-seeking youngsters head up the mysterious path. You can guess the rest…
Word is the film is a throwback to the slow burning and ultra creepy horrors of the 70's so expect big things from this!
By Matt Wavish