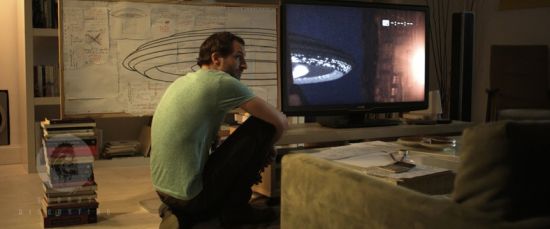 Nacho Vigalando's Timecrimes was one of the finest examples of brain-melting cleverness I have seen in many years. If you have never seen it, I highly recommend you go out and get it right away, it is a stunning piece of time-travel weirdness with endless possibilities. Clearly, anything the director does now will get me very excited indeed.
His new film is a twist on the alien invasion genre, and early pictures have suggested something of a romantic comedy. However, knowig what Vigalando has done before, I doubt very much his latest will be as straight forward as a simple love story. I believe the film will be a bit of a comedy/sci-fi thriller, and I read an unofficial tagline that went like this "the aliens are coming, and if played correctly, someone might just get laid as a result" (Source: Twitch).
We have the poster here for you, along with s synopsis and a couple of stills. Enjoy!
"There's only one sane response when you wake up to a sky full of alien invaders – run like hell. But what do you do if the invasion starts when you've just met the girl of your dreams?
Julio wakes up – horribly hungover and with no memory of the night before – next to a mindblowingly sexy girl, in a stunning apartment. She wants him to get out now but the alien invasion that's just begun outside is the perfect excuse for Julio to stay. And even though things are growing worse by the minute, even though the girl's husband has arrived on the scene… even though the alien threat is getting more and more terrifying, Julio's clear about one thing. Just like the monstrous creatures that have traveled across galaxies to destroy Mankind, he's here to stay."
By Matt Wavish (Source: Bloody Disgusting and Twitch)