Dead Hooker in a Trunk (2009)
Directed by: Jen Soska, Sylvia Soska
Written by: Jen Soska, Sylvia Soska
Starring: Jen Soska, Rikki Gagne, Sylvia Soska

[youtube]https://www.youtube.com/watch?v=9SAEN43OHZc[/youtube]
Dead Hooker in a Trunk (2009)
(18) Running time: 92 mins
Directors:  Jen and Sylvia Soska
Writers: Jen and Sylvia Soska
Starring: Rikki Gagne, Jen Soska, Sylvia Soska
Reviewed by: Matt Wavish, official HCF critic
Written, directed by and starring the Soska sisters, it is fair to say Dead Hooker in a Trunk is their show, but is it any good? Well, let's begin with telling you that the horror comedy has won multiple horror and festival awards, and the awards are plastered all over the sleeve. The Soska sisters are also being hotly tipped as the next big thing in horror, this being their first feature film, and judging by their efforts here they may very well be the next best thing, but his here critic is gonna need more convincing than this…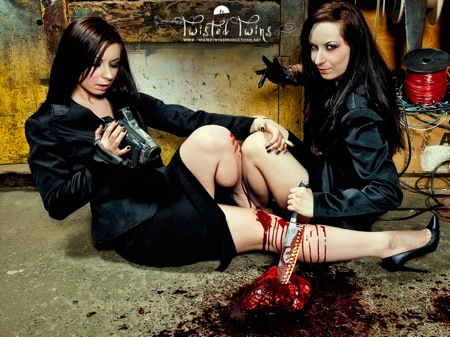 Dead Hooker in a Trunk follows a group of friends with the most pleasant of character names: we have The Junkie (Rikki Gagne), The Geek (Jen Soska with glasses!), Goody Two-Shoes (CJ Wallis) and, please excuse my language here, The Cunt (Sylvia Soska). With names like that, you know you are on dangerous ground here. The film introduces the characters at an embarrassingly bad rock concert where two of them are singing on stage, out of tune and completely out of sync with the other person. I couldn't tell you which characters they were as I had to fast forward, it was THAT bad. I really couldn't bare to hear another second! We get past this and move on to the plot which is simply the friends, oddly enough, finding a dead hooker in the trunk of their car and the whole thing leads to a series of events, some quite comical, some plain stupid, as the friends try and get rid of the body. High on booze and drink, they believe the hooker to be their doing and become shady, arguments develop, and they seem to have dangerous people after them? Add to this the police sniffing around and a dangerous Cowboy Pimp who wants to claim the body as his own and you have a recipe for disaster and often well put together scenes of violence and, at times, clever comedy.
Dead Hooker in a Trunk does not offer up anything new to the horror genre, and uses reliable plot ideas but the whole thing is let down by some truly awful acting, terrible music and bad production. The film borders on those really really cheap and tacky looking straight to DVD style horrors, but there is a level of quality on offer here that lifts the film to an acceptable level of badness that somehow makes it quite enjoyable. It is clear the Soska sisters have potential, but they are just not quite there yet. Their ideas are simple but work well, but the budget just isn't there to make it look any good. The pacing is quite well done and one event nicely leads to the next as the friends try and figure out where this body came from. Events lead to violence, some at times nasty while others are so horrendously bad you don't know whether to laugh or switch off. Witness one of the girls have here arm ripped off by a passing truck followed by 'The Cunt' attempting to look mean and attack the truck driver. Another girl gets whacked in the back of the head with a metal bar and her eye gets popped out. The camera trickery actually makes it look quite convincing! And when the violence suddenly does begin, it rarely lets up.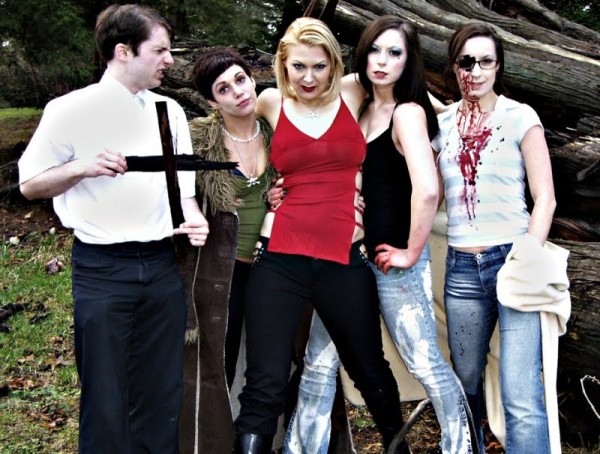 There is also the odd bit of sex just to spice things up, and its hard not to have any since the plot focuses on this dead hooker. But once the final reveal happens, sex suddenly becomes the main angle for the jokes and, in a bizarre turn of events, what should have been a big twist ending will have you pissing yourself with laughter instead! Whether it was meant to be funny or not only the Soska Sisters know, but the comedy in this films more often than not, works. The violence, more often than not, looks pretty good. Sadly it is the acting, awful music and terrible script which let this so-called cult classic down. The word 'fuck' is used far too many times for my liking, it feels like the writers have just discovered the 'f' word and want to show it off as much as humanly possible. It drains you, and the bad delivery of the lines also make the film quite hard to really enjoy. Maybe this was the intention? Well, if it was, it doesn't work and we are left with a bad film with something special trying desperately to get out.
Rating:
[pt-filmtitle]Dead Hooker in a Trunk[/pt-filmtitle]