DEAD HOOKER IN A TRUNK PREMIERES ON HORROR CHANNEL – PLUS THERE'S A NASTY NAZI WEEKEND!
Stand by for gunfights, guts, gore and goats in The Soska Sisters debut film that Eli Roth called "f……ing awesome". Directed, written and produced by Canadian twin sisters Jen and Sylvia Soska, the Horror Channel will be showing the UK TV premiere of DEAD HOOKER IN A TRUNK on Friday 29 July at 10.55pm.
Set in beautiful Vancouver, four friends set out on an everyday errand and end up in a fight for their lives when they discover the body of a dead hooker left in their trunk. Lead by a sexy, impulsive Badass, her distant Geek twin sister, their bible thumping, Jesus loving Goody Two Shoes friend, and a chaotic, rock star Junkie pal, the group has to put aside their differences to dispose of the body before they're next. Will they uncover the truth behind the body and be able to stand up to their demons?
And if that wasn't enough mayhem The Horror Channel is invaded by those archetypal screen baddies – the nasty Nazis, with two titles receiving their UK TV premieres.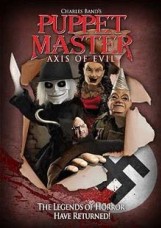 First up, on Friday 15th July at 9pm, is PUPPET MASTER: AXIS OF EVIL (2010) directed by David DeCoteau (Puppet Master III: Toulon's Revenge). This is the 10th entry into the Puppet Master series of horror films and centres around the young Danny Coogan (Levi Kiehler) who dreams of joining the war effort. When he finds a dead man's crate of mysterious puppets he is thrust into a deadly battle against the Nazis – and it is up to him and the living deadly Puppets to stop the Axis of Evil.
On Saturday 16th July at 9pm, the low-budget action-horror NAZI DAWN (2008) gets its UK premiere.  Directed by Roel Rience and starring Lance Henrikson, Gary Stretch & James Russo, the plot concerns a dark and ghostly wartime secret which is about to be uncovered when a battle between good and evil breaks out aboard a WWII-era battleship.
TV: Sky 319 / Virgin 149 / Freesat 138