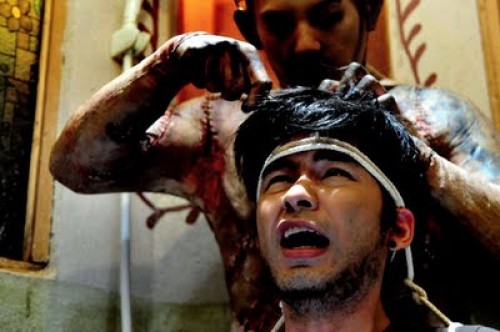 [youtube]https://www.youtube.com/watch?v=NdsR9OUcqyM[/youtube]
I am struggling to find much news on this fantastic looking horror from Thailand. You may remember that I posted this trailer a while back when I had found out the movie was called 'Ghost: The Cinerella'. It has now come to my attention that the film is actually called Nang Phee and I'm buggered if I can find anything on IMDB to tell me anything about it. I have tried all sorts of spelling and key words but it just aint there, however I have found out that it hit Thai cinemas in April.
The trailer is brilliant, I do apologise at the lack of subtitles, but who needs subtitles when you have gorgeous girls in bikinis and brutal violence on screen, oh and the usual Asian Ghost as well. The trailer actually shows the film to be very well prodced as well, and I must say I cannot wait to see it.
The story is basically this: hot tempered film star Rashane has a fall out with some cast members on his latest film, he is soon found dead, only to be summoned from beyond the grave to have his revenge.
Much more on this as we find out!
By Matt Wavish