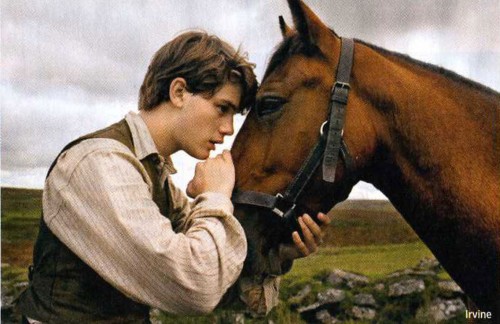 [youtube]https://www.youtube.com/watch?v=FzwGG-8hZGM[/youtube]
My play on words is terrible tonight, so please accept my apologies but there is too much to tempt me tonight! Steven Spielberg's Warhorse is going to be a massive film, not only based on the fact it is a war film, or a film about a horse which will make the audience fall in love with the animal and give off loads of ooh's and ahh's and get upset if the poor old fella gets into trouble, this is also a Steven Spielberg film, enough said!!! Steven Spielberg could make a film about pain drying and make it interesting! There is no doubt the bearded one is the biggest filmmaker in the world, and deservedly so.
His latest movie, Warhorse, stars Jeremy Irvine, Emily Watson and the always superb David Thewlis and, somehow, Spielberg has fit this film around producing one of the biggest sci-fi films of the year Super 8, along with producing Cowboys and Aliens, Transformers: The Dark of the Moon, the TV show about Dinosaurs Terra Nova AND directing the animated The Adventures of Tin Tin!!! Blimey, talk about a busy man!! Warhorse is due to hit UK cinemas January 13th 2012, and here is the official synopsis released by Dreamworks:
From director Steven Spielberg comes "War Horse," an epic adventure for audiences of all ages. Set against a sweeping canvas of rural England and Europe during the First World War, "War Horse" begins with the remarkable friendship between a horse named Joey and a young man called Albert, who tames and trains him. When they are forcefully parted, the film follows the extraordinary journey of the horse as he moves through the war, changing and inspiring the lives of all those he meets–British cavalry, German soldiers, and a French farmer and his granddaughter–before the story reaches its emotional climax in the heart of No Man's Land.
The First World War is experienced through the journey of this horse–an odyssey of joy and sorrow, passionate friendship and high adventure. "War Horse" is one of the great stories of friendship and war– a successful book, it was turned into a hugely successful international theatrical hit that is arriving on Broadway next year. It now comes to screen in an epic adaptation by one of the great directors in film history.
By Matt Wavish