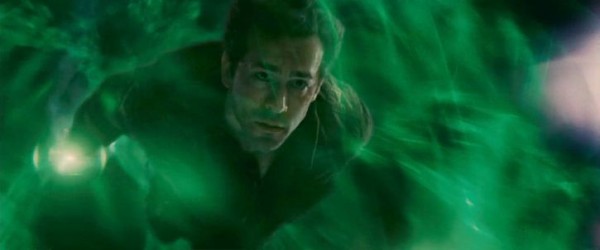 [youtube]https://www.youtube.com/watch?v=uJL9RmQSOBo[/youtube]
A brand new clip for The Green Lantern has just landed. Here we see Ryan Reynolds as Hal Jordan, the Green Lantern, and his first visit to Oa. Clearly being shown the ropes by a rather well spoken alien, well, actually he's a Green Lantern as well, we get a nice glimpse of where a lot of the movie will be set. Now, the trailer has shown plenty of Oa as well, but honestly the more I see of this film, the more I want to see it. We also witness what I believe is Jordan's first attempt at flying. It may look a bit cheesey, but seriously, if you were suddenly able to fly, how would YOU react?
I'm hoping the Green Lantern delivers on its promise, and with the distributors pouring an extra boost of cash into the film recently to spruce up the special effects and add more, I can't see why it won't deliver. The film is directed by Martin Campbell and stars Ryan Reynolds, Blake Lively, Peter Sarsgaard and Mark Strong. It is set to hit UK cinemas on June 17th, a week this Friday!!
Update!!!! We actually have tons more clips to share with you now, watch and enjoy them below!
"We are the corps!"
[youtube]https://www.youtube.com/watch?v=0aANli4wrN4[/youtube]
Wing-Man decoy
[youtube]https://www.youtube.com/watch?v=66y0wGtiErs[/youtube]
The Oath
[youtube]https://www.youtube.com/watch?v=oA1TheUTCbM[/youtube]
"The Ring chose you"
[youtube]https://www.youtube.com/watch?v=8n4GhSY3_H8[/youtube]
Parallax
[youtube]https://www.youtube.com/watch?v=9u06JYTy8wo&feature=related[/youtube]
By Matt Wavish