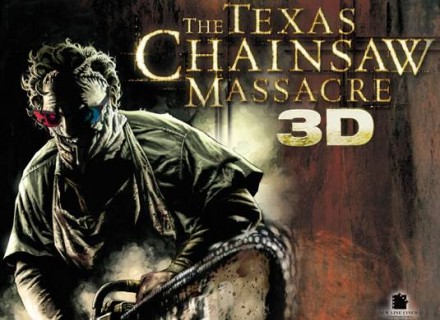 Finally the news has landed as to who will be playing Leatherface in John Lussenhop's direct sequel to Tobe Hooper's original. Rumours were spreading that the original actor who first played Leatherface might be getting the part but this is not true. However, Gunnar Hansen who first played Leatherface, will be returning in a cameo in this brand new film. Word is that Tobe Hooper will also have a small came in the film, which I think is a nice touch by the director. The all important news is who will play the new Leatherface and, thankfully, it is an unknown who Lussenhop had a chat with and instantly thought he was right for the role. At 6'6″ Dan Yeager is a giant, with "huge farm boy arms, a brooding brow. He's quiet, circumspect, and immediately struck a menacing chord with me. After five minutes I could no longer think of anyone else for the role." Said Lussenhop.
Recently announced was that Tania Raymonde (Lost) would be playing Nikki, a small town girl with a big attitude and she is best friends with lead girl Heather, played by Alexandra Daddario. Heather now has a boyfriend, Ryan, being played by R&B singer Trey Songz and we all know that Bill Moseley is also returning in the role of Drayton Sawyer. A new piece of casting information finds another veteran from the original film returning, Marilyn Burns (who played Sally in the original) will also return playing Verna Carson. This is all exciting stuff, and with the amount of original cast members Lussenhop is adding it shows his respect for the original and want to get things right, so lets hope he does.
Bloody Disgusting had the full details, read on:
GUNNAR HANSEN, the original Leatherface who has never acted in another Texas Chainsaw franchise film, is set to appear in a cameo, with MARILYN BURNS, the original film's lead actress, playing the role of Verna Carson. Reprising his role as the Grandfather, JOHN DUGAN also makes his first series appearance since the original film.
Beloved character actor BILL MOSELEY, who played the role of Choptop in Tobe Hooper's 1983 sequel, will play Drayton Sawyer in this film. Moseley will be standing in for Jim Siedow, who previously played the part before his passing in 2003. The two actors appeared together in the 1983 film and were quite comfortable together. Director Luessenhop explains how "Moseley is the perfect choice to capture some of the essence that Siedow had brought to the character."
Playing Leatherface will be discovery DAN YEAGER. Director John Lussenhop knew he was perfect for the role immediately, after a chance meeting. He describes the 6' 6" actor as having "huge farm boy arms, a brooding brow. He's quiet, circumspect, and immediately struck a menacing chord with me. After five minutes, I could no longer think of anyone else for the role."
ALEXANDRA DADDARIO (PERCY JACKSON & THE OLYMPIANS: THE LIGHTNING THIEF, HALL PASS) has been cast in the lead female role of Heather Miller. The story centers around Heather, as she makes a trip to small-town Texas to collect her inheritance, unaware that her inheritance includes a live item – her cousin, the notorious serial killer Leatherface.
Rounding out the cast of friends visiting the inherited house are TANIA RAYMONDE ("Lost") playing the role of Heather's best friend Nikki, with acclaimed R&B singer TREY SONGZ making his film debut as Heather's boyfriend Ryan and KERAM MALICKI-SANCHEZ (PUNISHER: WAR ZONE and JOHN Q) as Ryan's friend. SHAUN SIPOS ("Melrose Place," FINAL DESTINATION 2 and the upcoming HICK) plays Darryl in the film, a hitchhiker along for the ride who knows more than he lets on.
An all new cast of law enforcement and government professionals take on Leatherface in this chapter of the saga: THOM BARRY (THE FAST AND THE FURIOUS, INDEPENDENCE DAY, "Cold Case,") plays the role of Sheriff Hooper, with PAUL RAE (TRUE GRIT) in the role of town mayor Burt Hartman. SCOTT EASTWOOD (FLAGS OF OUR FATHERS, INVICTUS, GRAN TORINO) will portray Deputy Carl Hartman, a young officer who is battling a powerful attraction to Heather while hunting Leatherface. Noted character actor RICHARD RIEHLE (OFFICE SPACE) will play Sawyers family attorney Farnsworth.
(Source: Bloody Disgusting)
By Matt Wavish