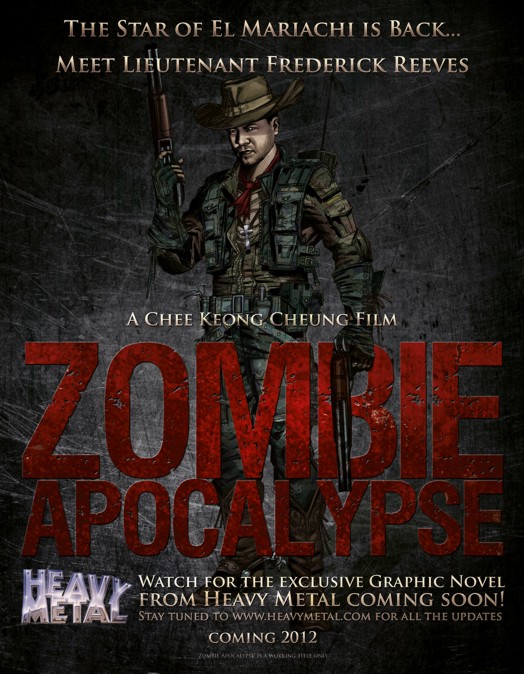 It's been a long time since we last saw the original El Mariachi, Carlos Gallardo, on our screens and this time he's coming back with a bang in Chee Keong Cheung's, ZOMBIE APOCALYPSE.
Zombie Apocalypse is a unique combination of the action, zombie horror and war genres with the added element of mixed martial arts and will be produced by UK based Intense Productions. The first ever Zombie film to feature mixed martial arts, based on an original screenplay written by Chee Keong Cheung, and lined up as the first in a new trilogy, Zombie Apocalypse will be a multi platform project, which will include graphic novel and merchandise tie ins. Heavy Metal Publishing headed by Kevin Eastman will be the first to exploit the rights with the graphic novel featuring world class Heavy Metal writers and artists to coincide with the film's intended 2012 release. The production will also team up with Heavy Metal as a promotional and merchandising partner on the picture. A computer game is also envisaged.
 In Zombie Apocalypse, when zombies start to take control of the world they turn into malevolent versions of their former selves with any previous physical combat skills enhanced to almost superhuman level, making eradication near impossible. Into this seething hell a squad of eight Special Forces soldiers are assigned a suicide mission to rescue a scientist from a city ruled by the undead. Carlos Gallardo stars as one of the 8 special forces operatives abut also is taking role as producer alongside Kevin Eastman.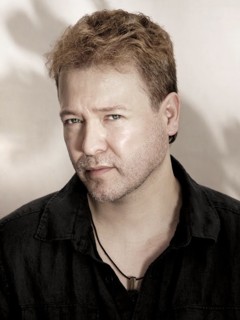 Executive Producer, Carlos Gallardo, star and producer of El Mariachi and a long-time collaborator with filmmaker Robert Rodriguez, explains his involvement: "When I read the screenplay for Zombie Apocalypse I was completely mesmerised. I found the script to be powerful, dynamic and fast paced. Chee is a great young director with a lot of talent and I believe a big career ahead of him and he reminds me of my early days and collaboration with my good friend Robert Rodriguez and I am very keen to be involved with the next generation of independent filmmakers who can deliver something new and fresh to fans and I feel with both Chee and Zombie Apocalypse we have something truly exciting and special."
Executive Producer, Kevin Eastman describes why he's on board: "I'm a big action and zombie fan and I'm really excited Chee asked me to be part of the film. When Chee showed me the script and told me what he wanted to do with it, I just thought it was awesome. I think what's interesting is Chee's taken the best elements of all the zombie films I'd ever seen and turned it on its ear by adding this element of mixed martial arts to it. I think it's going to be new, fresh and what he's going to do with it is exceptional. I love Chee's vision and style and honestly believe Chee is a part of the 'next wave' of new directors that will take the genre-based medium I thrive in to newer and greater heights! We're really excited about launching the first promotional campaign for Zombie Apocalypse at Comic Con."
 Gaining the experience and expertise of two figures that spearheaded such iconic franchises and revolutionised their respective genres, both Kevin Eastman and Carlos Gallardo will support rising talent Chee Keong Cheung's vision for a film showcasing the action/horror genre in a way never before seen.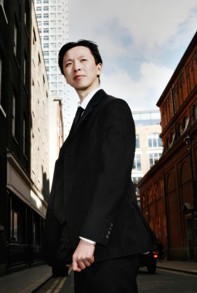 Writer and Director Chee said "I'm incredibly excited and very honoured to be working with both Carlos and Kevin on the production. Their work speaks for itself, both having had incredible success with the franchises they've created. They've been hugely inspirational. Having been fascinated by zombie and war films I felt a fusion of the two, combined with martial arts, would provide a unique experience for film fans, and the opportunity for a unique action-packed event movie and Carlos and Kevin's formidable experience in successful genre movies will help me realise that vision. I have profound respect for both the action and zombie genres and I hope to really thrill fans with the approach I have planned. We have some very exciting talent attached that we hope to announce soon and rest assured that every second of screen time is going to be dedicated to delivering what genre fans deserve. I'm also excited to confirm that Carlos Gallardo will not only act as an Executive Producer but will also be joining the cast as one of the as one of the eight Elite Special Forces Soldiers in the movie"
 Rising talent, British-Chinese writer, director and producer, Chee Keong Cheung's last picture the action/drama, Bodyguard: A New Beginning, was filmed in the UK and Hong Kong and released through Lionsgate in North America.
Production for Zombie Apocalypse is estimated at towards the end of 2011 in the UK with an expected Autumn 2012 release.
Casting is currently underway and further announcements are expected shortly.
 Zombie Apocalypse is set to be the first in a trilogy and will also be the first of several pictures which Chee Keong Cheung, Carlos Gallardo and Kevin Eastman will collaborate together on.
I'm rubbing my hands already. MMA zombies! 🙂 Somebody inform Dana White that the UFC needs to open up a zombie division!
Check out the rest of the artwork below!
[nggallery id=30]