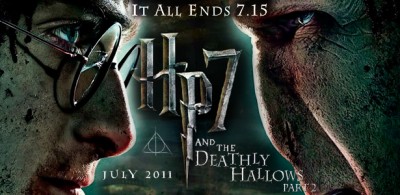 So, the Summer 'Blockbuster' season is upon us. In less than a week, the kids will be off school, the Great British weather is likely to rain and the film studios are gearing up for what is rumoured to be one of the biggest Summer's ever in the movie business. Saying that, all the talk of how this Summer will be one of the busiest for films, the amount of true big blockbusters is not really great. Granted, the cinema's will have a vast range of movies on offer, and the majority of them looking very very promising indeed for us fans of horror, cult and sci-fi but I don't see many really breaking any records, apart from a certain boy Wizard who will no doubt dominate the Summer and everything else will have to compete with him for supremacy. Nothing will come close, and with Transformers: Dark of the Moon strangely being released before the Summer holidays, there is not really any competition for Mr Potter's reign. I have seen Harry Potter and the Deathly Hallows part 2, in 3D, and let me tell you it is something quite special and quite brilliant. Expect to see my review up in the next few days.
What I plan to do here though, is guide you through the great films on offer this Summer, so you can plan your weeks and days based on what is out and let me tell you there is some truly great stuff coming our way. This Summer, however, is the Summer of Sci-fi as we have a number of big sci-fi releases from Super 8 and Cowboys and Aliens to Rise of the Planet of the Apes and Conan the Barbarian, and with Transformers: Dark of the Moon still on release, there is plenty for fans of sci-fi to get excited about! Along with the important cinema releases, I will also give a little insight into the big releases on DVD and Bluray, as we all know a night in is just as important as a night out. Who knows, maybe you saw something at the cinema a while back and some noisy, irritating moron spoiled in for you in the cinema and you'd prefer to watch it in your own living room with no interruptions. Whatever your reasons, I hope this guide serves you well. So, without anymore waffling, let's get started!
This Friday (or midnight Thursday for the fans) see's the release of Harry Potter and the Deathy Hallows part 2, presented in both 3D and 2D, I strongly suggest giving 3D another chance as some of the effects here are just genius in 3D. A fitting end to a ten year legacy of Potter madness, the slogan reads "It all ends here", it doesn't as Potter will live on in the hearts of movie fans and book lovers for decades to come. Without doubt the most important thing to happen to British cinema in decades, Potter is massive. The final film ends the series perfectly, and pays respect to both fans and characters. If you are likely to get a little emotinal watching a film, Harry Potter is guaranteed to have you getting a little tearful but what a film, what a finish. All I will say is be prepared for the cinemas to be packed, this is the film of the Summer, possibly the film of the year and you are gonna be hard pushed to get your favourite seat in the cinema if you go and watch this in the first week of release. Summer Blockbuster rating: Rating:
Only a fool would release anything on the same week as Harry Potter, but Rutget Hauer's Hobo with a Shotgun offers up a slight alternative to Potter on the same day. Don't expect to see this in many cinemas, and I reckon the majority of cinemas will only be showing this during the evenings, but if you can catch it then I promise you will not be disappointed. Hobo with a Shotgun is pure brilliance from start to finish; it is violent, funny and often sadistic. Rutger Hauer owns his character in a staggering performance that truly has to be seen to be believed. The plot couldn't be simpler, Hobo moves to big city, gets mad, gets even. Miss this and miss out on one of THE horror events of the year! Summer Blockbuster rating: Rating:
July 29th see's Captain America beef himself up for cinema screens. 2011 has been full of superhero movies, some have been great and some have been a bit rubbish. After seeing the trailer for this I belive that Captain America will be one of the greats. If you have seen the trailer then you would have witnessed the staggering transformation of Chris Evans from skinny nobody to muscle bound hero.  With the always superb Tommy Lee Jones playing the fella in charge of these super army chaps, and Hugo Weaving leading the vicious Nazi army against them, this could well be one of the surprise hits of the Summer. There is not a huge buzz around Captain America, but the timing is perfect for the film, and should see it reach a much wider audience, giving it the chance to really show off its skills. Joe Johnston's Captain America just may turn out to be brilliant! Summer Blockbuster rating: Rating:
August see's the return of the big boys as we have a number of really massive releases. Leading the charge of August 5th is the Steven Spielberg produced, JJ Abrams directed sci-fi extravaganza, Super 8. The marketing people have really gone to town on this film, and after some ups and downs in the early trailers, I am now utterly convinved that Super 8 is THE sci-fi film to beat this year! Total Film recently gave it a five out of five rating, calling JJ Abrams a young Spielberg in his prime. From what I have seen, this looks like one of those classic 80's style films, with a strong cast of youngsters who are all likeable, and their adventurous nature gets them into trouble. Think the Goonies or Stand By Me with an Alien! Nothing in the UK has been released about what the monster actually looks like, but we will soon find out. The plot is simply a bunch of friends are making a video on their new Super 8 camera, film a truck drive into a train, derailing it, and then all hell breaks loose on the unsuspecting country town as the cargo of the train breaks free! Summer Blockbuster rating: Rating:
August 12th see's the release of Troy Nixey's adaptation of the classic TV series Don't Be Afraid of the Dark. Starring Guy Pearce and a returning Katie Holmes, early word is promising. The Guillermo Del Toro produced horror has released numerous images of the cast and the creepy house and grounds where it is based, along with a rather excellent trailer. The film tells the story of Sally who goes to live with her Father and his girlfriend in an old mansion they are restoring, however Sally unleashes some horrific creatures that live in the house. It looks creepy enough, but will not be a full on adult horror, think more a family friendly horror aimed at adults. Summer Bloackbuster rating:                                    Rating:
August 12th also see's the release of Rupert Wyatt's Rise of the Planet of the Apes, a film which will hopefully kill off any memories you may have of Tim Burton's dreadful Planet of the Apes remake. This film looks deadly serious, and actually quite brilliant as an Ape is trained in the ways of being a human while Doctor's use the ape to try and cure alzthseimers. Living with humans, the ape becomes protective over his carer, attacking someone who is arguing with the carer, the ape is locked up and turns nasty. This film looks truly stunning and word of mouth is quickly growing and, hopwfully, people are beginning to buy into the fact that this is actually gonna be rather good. Summer Blockbuster rating: Rating:
Possibly the second biggest sci-fi film of the year arrvies on August 19th as Jon Favreau's Cowboys and Aliens arrives in cinemas. The cast sells the film by itself as Harrison Ford, Daniel Craig, Olivia Wilde and Sam Rockwell share the screen in this genius blend of old Western and Alien action. In the action comedy, aliens arrive in the Old West and a strange cowboy with otherwordly powers seems to be the residents only hope. Craig plays the mysterious cowboy, while Ford plays the bullying town sherrif. With the appeal to both families, people of all ages, comedy fans, action fans and sci-fi fans, this will be massive. Just to keep with the genre of Summer Blockbusters, there are lots and lots of big budget special effects to keep everyone very happy. Summer Blockbuster rating: Rating:
On August 26th you might wanna tread carefully in cinemas as Conan the Barbarian gets unleashed today, in 3D! No one could ever replace our beloved Arnie, but Jason Momoa looks like he's done a truly excellent job filling Arnie's tied up boots. Hell bent on revenge, Conan wants to get back at the evil ruler who killed his Father and destroyed his village. A simple tale that won't requite much effort, films like this are perfect for a Friday night, pop on your 3D specs and enjoy Conan killing everyone in sight, smashing everything up, getting angry, getting revenge and fighting big monsters. Oh, and he also has the odd chance to crack a joke, all in glorious 3D! Summer Blockbuster rating: Rating:
Keeping with the style of total carnage, the same week see's the release of Final Destination 5 3D. An accident on a suspension bridge see's a new group of youngsters 'cheat' death and survive, but once again, Death is not happy at this and proceeds to hunt the survivors and kill them off in new an inventive ways. Tony Todd also returns in this 5th instalment of the popular horror franchise. Hopefully Part 5 will rejuvinate the series, recent trailers and images have promised that. Summer Blockbuster rating: Rating:
The third film released this week takes things a bit darker and a bit stranger as Pedro Almodovar's freakish The Skin I Live In arrives. Antonia Banderas plays the surgeon who is conducting an experiment to create a skin that is a shield against assault. His wife beibng burned in a car crash is the reason for his creepy experiments, and he needs a human guinea pig to practice on. Don't expect to see this in every cinema in the country as the subject matter and subtitles may well be too much for some to handle, but if you can get to see it, this could well be one of the strangest and darkest films of the year. Summer Blockbuster rating: Rating:
The final weekend of the Summer, as the kids prepare to go back to school see's the release of Craig Gillespie's remake of 80's horror comedy Fright Night. Released on September 2nd, Fright Night 3D looks great fun. Recently achieving a vicious R rating in the US for violence, sex and swearing, this will be one of the biggest horrors of the year. Colin Farrell plays the vampire next door while David Tennant plays the gameshow host hired by Anthon Yelchin to prove his neighbour is a blood sucker, and hopefully kill him. With a new genration of fans wanting to see what Fright Night is all about, old fans wanting to see how the classic can be improved, and the added bonus of 3D, this should be a huge hit and a total blast at the cinema. Summer Blockbuster rating: Rating:
So, that's your lot for cinema releases, pretty impressive stuff don't you think? There is certainly plenty of choice on offer, but what about DVD and Bluray? What treats are in store for you if you decide to have a night in instead? Well, let me fill you in on what delights should be gracing you collections this Summer, click on the following link to go direct to the DVD & Bluray releases for the Summer!
https://horrorcultfilms.co.uk/2011/07/what-will-you-be-watching-this-summer-let-our-easy-to-read-guide-help-you-chose-dvd-bluray-releases/
I hope this list gives you some ideas as to how you can enjoy yourselves at the movies this Summer, but for further information click the link below to take you to my regularly updated New Releases pages. Expect something like this in the run up to Christmas too! Thanks for reading.
For more on New Release dates, click on the following link which will take you to our New Releases page which are updated regularly:
https://horrorcultfilms.co.uk/category/new-releases/