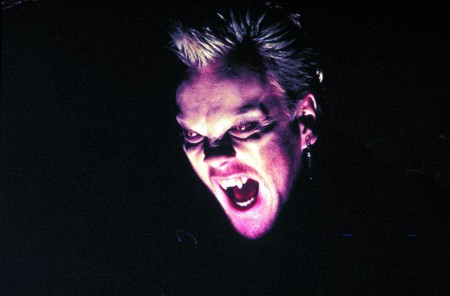 FUTURE CINEMA, the creators of SECRET CINEMA, create large-scale cinematic experiences, fusing feature film with music, theatre and live performance. Conceived in 2005, Future Cinema is famed for taking audiences on multi-sensory rides that have become genuine 'Don't Miss' events. 
Last week, Future Cinema announced two very special film experiences in partnership with California Tourism. 'California Classics' will see 80s cult classics
The Lost Boys (Saturday 3rd September) and Top Gun (Sunday 4th September) brought to life as Future Cinema transforms a secret site along the banks of the River Thames into the sunny shores of California. The weekend will allow the audience a unique opportunity to relive their favourite films from the 80s, in true California
style.
The pioneers of Live Cinema, Future Cinema will fully immerse the audience in the films by bringing the beautiful beaches, surf and seaside amusements of California to the capital city. Fusing film, music, performance and design, The Lost Boys and Top Gun will welcome up to 4,000 guests per night dressed as their favourite characters from the films. Envision Top Gun naval aviators or angst-filled teenage vampires, an epic sing along and one of the biggest fancy dress events of the year.
Future Cinema, in partnership with California Tourism present "California Classics"
Saturday 3rd September "The Lost Boys" and Sunday 4th September "Top Gun" Time: 16.00h Tickets: £24.50 Full / £21.50 Concessions (per day)
For additional information on Future Cinema, please visit: