Possibly the greatest Video Nasty of them all, Ruggero Deodato's classic Cannibal Holocaust, is making the jump to Bluray on 26th September priced £16.99 RRP courtesy of Shameless Screen Entertainment. This is an absolute must have for any horror fan so get pre-ordering now! The new re-edit has removed some of the animal cruelty, however, sadly this is still not the full uncut version. If you want the full, uncut version you will need to spend out a little extra and buy the region 1 DVD version below: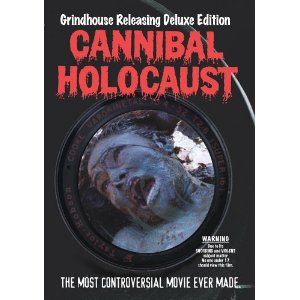 I won't go into too much detail on the film now as it will soon be getting the full critical review as part of my on-going Video Nasty's Project, so for information purposes, I can share with you the press release for the film, and the bonus features you can expect to see on the second disk:
From the Press Release:
THE MOST CONTROVERSIAL FILM EVER MADE, NOW ON BLU-RAY FOR THE FIRST TIME EVER AND FEATURING A BRAND NEW EDIT BY DIRECTOR RUGGERO DEODATO.
Director Ruggero Deodato's Cannibal Holocaust remains one of the most shocking and controversial films of all time. Now, for the first time ever and in association with Shameless Screen Entertainment, Deodato has revisited his classic of horror cinema to produce a brand new Director's Edit of the film especially for its high definition debut on Blu-ray on 26th September 2011.
This new Director's Edit, which removes or partially hides several instances of real-life animal slaughter, will be released as a special Blu-ray and as a two-disc DVD edition that includes both the new version and the original full version of Cannibal Holocaust, along with a host of extras specially commissioned for this release.
In a statement explaining the artistic decision to re-edit the film, Deodato says, "At the time, I would have preferred not to kill the animals during the making of the film, but this was requested by the producers. We'd sent them some early dailies and they kept calling us on set in the jungle asking us to shoot increasingly bloody scenes.
"I would not change anything to the film, its structure and content, aside from the fact that, now – thirty years later – I've reassessed the way the animals were dealt with. Now I would not do it."
An extremely violent and gory film, containing strong sex, sexual violence and animal slaughter, Cannibal Holocaust is a powerful and provocative work concerning a crew of documentary filmmakers who go missing while filming primitive cannibal tribes deep in the Amazonian rain forest. The horrific footage they shot before disappearing is found by the members of a second expedition who soon discover the horrific truth behind their demise.
Special Features
– Original long version of the film (only 14 secs cut which has been seamless replaced by reaction shots)
– The director s own edit of the film reducing the on-screen violence to animals whilst preserving the jaw-dropping, gut-wrenching impact of the film
– Introduction to the film by director Ruggero Deodato
– Ruggero Deodato on the Animal Edit
– Interview of Ruggero Deodato & Karl York & Francesca Cirdi
– Specially commissioned documentary by Cine Excess and critical analysis featuring critics such as Kim Newman etc.
– Easter Egg & Shameless Trailer Park
By Matt Wavish