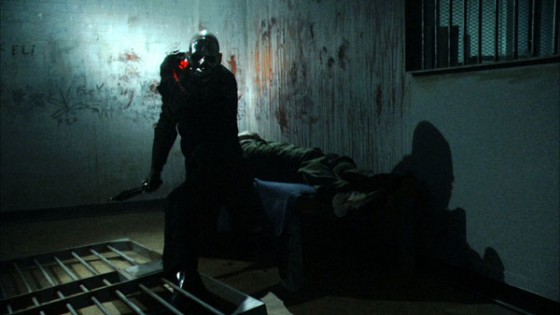 Directed by Robert Hall and written by Hall and Kevin Bocarde, the ultra violent sequel to Laid to Rest, Chromeskull: Laid to Rest 2, has arrived on VOD in the US. Starring Danielle Harris, Nick Principe and Thomas Dekker, the horror won huge praise at the recent Comic Con in San Diego and now, after messages from the fans, the film is ready to watch. Again, those lucky folk in the US get there first, and I do feel a bit left out and, well, saddened really. I have been waffling on about this superb looking horror for some time now, and yet, it would seem we will have to wait here in the UK a little longer to see it. No official release date has yet been announced. Have a look at our previous Chromeskull stories to see clips and trailers, but for now, just to make all UK residents jealous, here is what the US fans have to look forward to:
From the Press Release
After a triumphant premiere at San Diego Comic-Con and in response to unprecedented fan feedback, Image Entertainment announces that ChromeSkull: Laid To Rest 2 is now available on video-on-demand!
ChromeSkull – the chrome face-plated, technologically savvy homicidal maniac that made his debut in the 2009 cult hit Laid To Rest – returns in ChromeSkull: Laid To Rest 2. Starring Brian Austin Green ("Desperate Housewives"), Johnathon Schaech (That Thing You Do, The Poker Club), LTR 1 alum Thomas Dekker (A Nightmare on Elm Street), Danielle Harris (Halloween), Owain Yeoman ("The Mentalist") and Gail O'Grady ("NYPD Blue," "Hellcats"), with Nick Principe returning as ChromeSkull, the sequel is once again directed by award-winning director Robert Hall (Laid To Rest, "Fear Clinic," Lightning Bug).
After his gruesome encounter with the girl with no name, ChromeSkull has to rely on his assistant Preston, (Green) to take care of business. With a growing taste for bloodlust, Preston slashes his way from one gory mess to another. Not to be outdone, ChromeSkull resurges with a massacre of his own that is nothing short of "jaw dropping insanity!" -Dread Central
Mimi Michaels (The Ugly Truth, Gamer), Christopher Allen Nelson (Sin City, Star Trek) and Angelina Armani (Bucky Larson: Born To Be A Star) also star in the bloodiest sequel you'll ever see. ChromeSkull: Laid to Rest 2 is directed by Robert Hall, who also co-wrote and executive produced, and produced by Chang Tseng and Kevin Bocarde. Brian Austin Green and Stephen Niver are co-producers.
Please consult your local cable systems or satellite provider for more information about ChromeSkull: Laid to Rest 2 on VOD.
Keep up to date with all the latest Chromeskull happenings here at HCF or check out the following links:  Twitter via @LaidToRestMovie, "like" ChromeSkull: Laid to Rest 2 on Facebook, or check out the official Laid to Rest 2 website!
By Matt Wavish