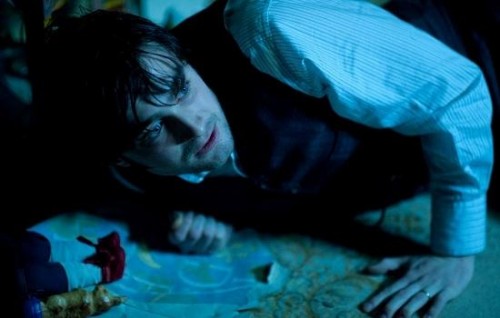 With this and Don't Be Afraid of the Dark, it feels like good old fashioned spooky horror is well and truly back as the gore splattered torture-porn seems to be going quiet. This is a very good thing, and The Woman in Black looks superb. Impressive setting and with James Watkins (Eden Lake) directing and Daniel Radcliffe about to prove there is life after Potter, I can see this film turning out to be something truly special indeed. Rumours started a while a go that this would be the scariest film of 2012, but then Six Degrees of Hell is also claiming to be just that, so we'll have to wait and see.
After a short teaser trailer, we can finally now see a full length US  trailer and I must admit that I think it is rather brilliant and has confirmed to me that this film will be scary as Hell. The trailer is chilling, doesn't give too much away and uses the age old trick of a little girl singing  poem to add real menace and chill factor. The sound of wind and ghostly images all add up to an absolutely terrifying trailer, and I am sure the film will easily live up to its promise, besides, we know what Watkins is capable of after the superb Eden Lake.
The Woman in Black arrives in UK cinemas on the 10th February 2012, and also stars Ciaran Hinds, Janet McTeer and Shaun Dooley and the film is based on a novel by Susan Hill. The creepy trailer follows this synopsis:
A young lawyer travels to a remote village to organize a recently deceased client's papers, where he discovers the ghost of a scorned woman set on vengeance.
By Matt Wavish
[youtube]https://www.youtube.com/watch?v=n96ecWNkFhU[/youtube]