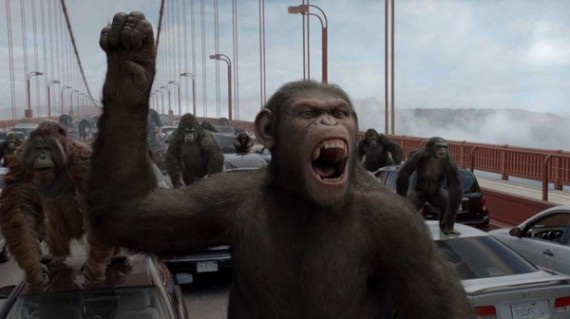 Rise of the Planet of the Apes is without doubt one of the best films of the year, and certainly THE film of the Summer. I loved it, and if you want further proof of this then read my review. The film debuts is UK cinemas at half past midnight tonight, and then goes on general release tomorrow and I really really hope the marketing campaign has worked and you all go and see it. It truly is nothing like Tim Burton's remake, this is serious stuff with special effects that could well be the best of the year! So, we all knew this was going to lead on to a number of sequels which would eventually get to the Planet of the Apes story, but it would seem that Wyatt is keen to continue down the prequel path right now, which is a good thing. Speaking to Bleeding Cool, here is what Wyatt said about a proposed sequel:
"The ideas I've had are all sorts of things, ranging from Full Metal Jacket with apes… you could start this story again eight years from where we left off, the next generation of apes, those that have come from our protagonists, perhaps going in to a conflict with humans and showing real fear, in the same way as going into war for young soldiers in this day and age, telling their story. Or how apes are taking over cities, and being moved into human environments and having to interact with them and deal with things that are part of our culture and understand and evolve through them. Spies that are in the employ of the apes, working against humans and humans maybe existing underground, because that's a way they can avoid the virus, coming up above ground wearing gas masks, and maybe that's what dehumanises them."
Whatever his ideas, so long as he directs I'm there!!
(Source: JoBlo.com)
By Matt Wavish