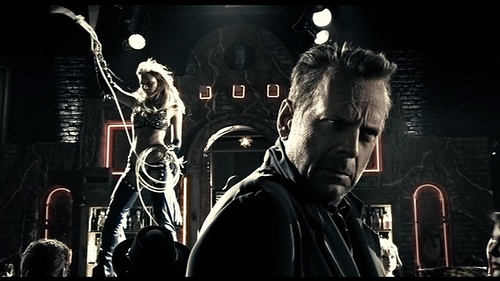 Director Robert Rodriguez announced at the San Diego Comic Con back in July that financing on the hotly anticipated sequel to his superb Sin City, had been organised and filming would be getting under way once a script had been sorted. Well dear readers, that time is now hopefully getting closer as news of an Oscar winning writer has been announced  to help with the story.
The original film was based on the comics by Frank Miller, who also co-directed the film with Rodriguez, and made a healthy profit and has become one of the biggest cult films of recent times. For the sequel, writer William Monahan has been drafted in, and he won an Oscar in 2006 for his screenplay for Martin Scorsese's quite brilliant The Departed. Mohaha also write screenplays for London Boulevard,Edge of Darkness, Body of Lies,Kingdom of Heaven and the upcoming Tom Cruise sci-fi epic Horizons (formerly called Oblivion), so it would appear Sin City 2 is in good hands.
No news yet of who will be returning, but with the help of Monahan, it means the script will now move forward quicker, and with Rodriguez and Miller both returning, we could be in for a real treat with this sequel. Fingers crossed this will begin shooting by the end of the year!
By Matt Wavish