The Boogeyman (1980)
Directed by: Ulli Lommel
Written by: David Herschel, Suzanna Love, Ulli Lommel
Starring: John Carradine, Ron James, Suzanna Love

[youtube]https://www.youtube.com/watch?v=A9tBxVqQnIo[/youtube]
The Boogeyman (AKA The Bogeyman) (1980)
First Released: 1980
Director: Ulli Lommel
Current UK Status: Available uncut as an 18 certificate
The Bogeyman was first released in UK cinemas uncut in 1980, and then Vipco released it on VHS in November 1981. In October 1983 the film was listed as a Video Nasty and removed from shelves. The Bogeyman never had the chance to build the reputation the true notorious Video Nasty's gained due to it being dropped from the list in July 1985. Vipco then re-released it in 1992 with 44 seconds of cuts, however the film was later released uncut in 2000 certified 18. Better still, an extended cut was released in 2004 by Hollywood R2 DVD and this too was uncut and passed as 18.
German born director Ulli Lommel originally wanted to be an actor, something which his Father Ludwig Manfred Lommel, did not approve of. At the age of just four, Ulli was put on stage in theatre by his Father, however by the age of sixteen Ulli wanted to pursue acting and so ran away from home after his Father's disapproval of his chosen career. It was acting where Lommel got his start in the world of movies, acting in 28 plays including the lead role in Shakespeare's Hamlet, 22 TV movies and 18 feature films. After this Lommel moved on to an inspired theatre collective, known as Rainer Werner Fassbinderand the Anti Theatre, along with a few other German actor's including Kurt Raab, Hanna Schygulla and Margit Carstensen. Creator Fassbinder moved from theatre to films in the 1970's and quickly became one of the leading voices in the German New Wave, and Lommel spent ten years working very closely with him. Making 41 films in 13 years, Fassbinder was well known for his prodigious output, and Lommel himself either served as producer, assistant director, production designer and even acted in a number of Fassbinder's movies. Fassbinder died in 1982, and Lommel still travels the world taking part in retrospectives of his friend and collaborator.
Lommel directed his first film in 1971 titled Haytabo, and his second film, Die Zartlichkeit der Wolfe (1973) was produced by Fassbinder. The cult classic was voted one of the one thousand films to change your life in Time Out magazine. Lommel moved to New York in 1978 and began working with Andy Warhol and then in 1980 he made the move to Hollywood where he directed the Boogeyman. The horror became a huge success grossing $25 million worldwide (a lot in those days!) After the Boogeyman Lommel toyed with a few genres before settling into horror as being his main genre, and has been making a feature film almost every year since, often two of three a year! Most recently he has made films like The Tomb, Absolute Evil and Nightstalker. In 2004 Lommel set up his own repertory group in Venice, working with a number of collaborators, they have released sixteen genre films on the Lionsgate label.
The majority of the Video Nasty's actually feel like they were made simply to be on 'The List', cheap, tacky and holding a minimal story for the sole purpose of simply adding the scenes of violence together. On the odd occasion one of the films on The List fits that bill, but there is something about it which makes it stand out from the rest, it feels like the film was actually made as a genuine film with violence as a necessary part of the story, and not just a cheap shock fest looking for notoriety. Granted The Boogeyman does contain plenty of violence and shock tactics, but there is a quality about this film, and it actually has a very engaging and interesting story which, in places, catches you off guard. In this film the killer is more a supernatural Demon, haunting the mirrors of a broken Brother and Sister and hungry for revenge. The Brother and Sister had a traumatic childhood, with a Mother who would rather get drunk and have sex than look after them. The opening scene of the film see's the Mother in a sexual clinch with another man, a man who bullies the kids and decides to tie up the Son because he was watching them through a window. The bullying has to stop, and so the Son breaks free and murders them both. It is a creepy opening scene, there is little music and the man has a sinister stocking on his head which adds a whole new level of unease as we watch helplessly the tortured kids.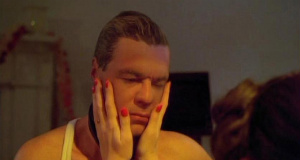 Some years later the kids have grown up, Willy (Nicholas Love) is mute but gets a job working happily on the farm of the family they now live with. Lacey (Suzanne Love) looks after Willy, but is terrified of mirrors as it was in a mirror she witnessed the murders as a child. While seeing a psychiatrist Lacey freaks out at the thought of mirrors and screams. It is clear there is still some deep rooted trauma for these two kids, and things are about to get a whole lot worse. We learn that Willy is not normal and scared now of women after a young, attractive girl advances on him in a barn. Panicking, Willy decides to strangle her until she runs off, the poor lad not knowing his own strength and unable to communicate. He felt threatened and all he knew to do was be aggressive. See, already we are building up a story, a level of realism in a way, that many Video Nasty's did not bother with. The Boogeyman draws you in, becomes quite sinister and you do start to build relationships with the poor victims. Further into the film a mirror in the house is smashed and now things turn a little strange, and things begin to get bloody. The Boogeyman, see, is a spirit living in the mirrors and now it is free to cause mayhem, and it does exactly that.
What I really liked about this film is that it is not your average 80's slasher, this is actually quite inventive due to the fact the 'killer' doesn't exactly kill it's victims, more causes accidents or forces them to commit suicide. Its a clever idea and it really works and leads to some quite nasty scenes. The first suicide comes in a disturbing bathroom scene. Already the mood has been set by Lommel's brilliant camera work. The camera follows its victims around, becomes almost intrusive as it spies on a young, sexy girl in the shower. Suddenly you feel like maybe you shouldn;t be watching in such a perverse way, and as the camera suddenly hides behind a wall as the girl looks over, its clear Lommel is up to some kind of clever trickery, we suddenly realise that this is actually a Point of View shot, of the killer? Anyway, the poor girl suddenly grabs a pair of scissors and stabs herself in the neck on a glorious scene of everything the Video Nasty's stood for, gratuitous violence coupled with naked breasts!! Well, of course her dressing gown had to fall off, why wouldn't it! In one of the funniest and most bizarre scenes I have EVER seen in a horror, a little boy, clearly wanting to spy on a naked girl appear at the bathroom window, laughs and screams out something like "FLEA BAGS!" and no sooner has he said it, the window comes crashing down on his head in a terrible choreographed scene that is so ridiculously bad it is genius! The film then carries on with one death after another, including some teenagers on holiday where a girls and her boyfriend end up 'spiked' together whilst kissing. For thirty or so minutes its one nasty death after another and you feel that just maybe Lommel ran out of ideas, but then he delivers a shock ending that has to be seen to be believed. The mirrors comes into play once again, and an actually very scary scene involving a woman and a demonic voice wraps up the film superbly. Special lighting effects are used to create a strong supernatural atmosphere and, believe it or not, the clear budget restraints actually make the whole thing look better. Sometimes its the simple things we appreciate. The parting shot of the film is a creepy one indeed, and will probably haunt you for a few days after.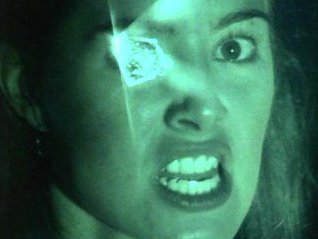 So, The Boogeyman, a Video Nasty that is very very nasty, but is actually very very good too. This is a film that should be seen by all horror fans, young and old as it is, in my mind anyway, a genre classic that does everything it can with what it has, and delivers a clever, sinister and creepy little violent horror that can stand proud with the best of what the 80's horror had to offer!
Rating:
Should the Boogeyman have been added to the Video Nasty's List? Strangely enough this is one of the few with certain scenes which would have at least warranted being cut in those dangerous times!