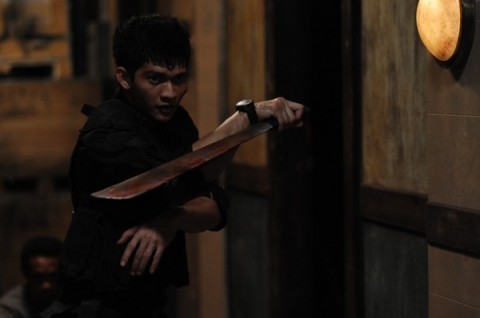 It's not a genre classic as yet, but based on the totally mind blowing trailer, The Raid is set to become one of the biggest action films of 2012. Written and directed by Gareth Evans and starring Iko Uwais, the Indonesian action film is set to hit theatres in its homeland in January 2012, and just the other night debuted at the Toronto International Film Festival. Evans and star Uwais both worked together on the excellent kung fu film Merantau, and the pair look to vastly improve on that film with The Raid. Just take a look at the trailer and try and tell me this won't be one of the best kung fu films of 2012!
Sony Pictures will distribute in the US, with Linkin Park working on the soundtrack, and a red band trailer was recently released which you can view below.Here is Sony's official announcement:
Culver City, CA (September 9, 2011) – Sony Pictures Worldwide Acquisitions (SPWA) has teamed-up with LINKIN PARK's Mike Shinoda to create an entirely new musical score for the ultra-intense action picture
THE RAID, starring break-out martial arts sensation Iko Uwais (Merantau) and Joe Taslim (Rasa). 
This collaboration will mark Shinoda's first feature score.
 
"This film is wall-to-wall action, and one of the most exciting pictures of the year.  Dropping a brand new score by Mike Shinoda on it will be like adding a whole new main character to a picture that's already cranked to 11!," said Dan Primozic, who negotiated the agreement on behalf of SPWA.
Adds Shinoda, "The intense visuals and compelling story of THE RAID have made this an exciting first venture into scoring for me.  I'm thrilled for Linkin Park fans to see–and hear–this film."
The high-adrenaline film produced by PT. Merantau Films and XYZ Films and directed by Gareth Evans (Merantau) enjoyed its North American debut last night at the 2011 Toronto International Film Festival's "Midnight Madness" screening, but included the original score as yet untouched by Shinoda's sonic stylings.  
Director Gareth Evans said, "It's an incredibly exciting opportunity for us to collaborate with such talent on the score for the film.  I can't wait to see what new angle they will take to enhance the impact of the film."
Nate Bolotin of XYZ Films commented, "Working with a talented musician like Mike Shinoda is a dream scenario because his vision and sound are a perfect compliment to the intense energy and emotion of THE RAID. Gareth and our collective teams are thrilled to be able to fuse these extraordinary elements together."
SPWA has U.S. rights and Celluloid Nightmares is the worldwide sales agent for the film.
By Matt Wavish
[youtube]https://www.youtube.com/watch?v=V7B__KkLCLM[/youtube]