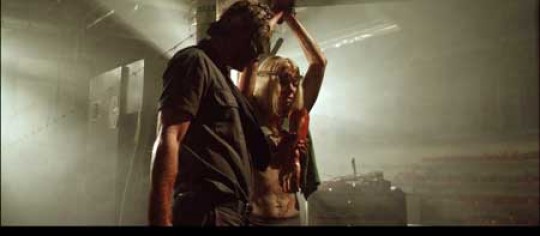 Prepare yourselves horror fans, there is a new killer fresh on the horror scene looking to join the ranks of such classics killers as Michael Myers, Freddy, Jason and even the more recent Chromeskull. The Orphan Killer goes by the name of Marcus Miller, and the demented murderer enjoys slicing people up, torturing them and swinging his axe around in a fit of rage!
Director Matt Farnsworth both directed and wrote this vile new horror which will please all fans of horror on the more sadistic side, and is a vicious new approach on the slasher genre. Check out the below trailers if you don't believe me, there is a reason why this film has got fans crying out for more. The film stars Diane Foster, Matt Farnsworth himself and David Backus as Marcus Miller.
Synopsis:
The Orphan Killer is a tour de force murder flick that defies classification. It goes far beyond current trends in gore and breaks open a new suffering genre of horror. Marcus Miller is a serial murderer hellbent on teaching his estranged sister Audrey what it means to have family loyalty. His lessons are taught in massive doses of vulgar and unimaginable pain. Throughout her brutal torture we learn that Marcus is not the only Miller with Killer in the bloodline as Audrey proves to be a formidable adversary.
From the Press Release
A bloody star is born. The first horror franchise of the 21st century spawned in social media. The latest sensation in the slasher genre. Fans have gone crazy over The Orphan Killer movie. They are already asking for sequels, masks, action figures, and video games, before the independent horror film has yet to be fully released.
Critics and Major genre festivals have gotten news of The Orphan Killer's studio sized 100,000 Facebook fan base, it's stellar reviews in market tests, and have asked to premiere the film in October and November.
It will now play at Shriekfest LA (U.S.) on October 2nd, Sitges Film Festival (Spain) on October 13th, San Sebastian Horror and Fantasy Film Festival (Spain) October 28th, MORBIDO Film Festival (Mexico) on October 31st, Bram Stokers International Film Festival (UK) also on October 31st, Terror Molins Dei Rei (Spain) on November 6th, and the TOhorror Film Festival (Italy) on November 11th.
Creator Matt Farnsworth, star Diane Foster, and The Orphan Killer character are scheduled to attend in Hollywood, Spain, and Italy.
Mike Bowhatch CEO of HorrorNews.net says, "The Orphan Killer is great horror and great genre potion. I'm gonna have to call this one outstanding and a return to classic horror with a lethal bang! An impressive visceral contribution that will be talked about for quite some time."
Horror jungles says "The Orphan Killer ended climatically and very tense. I enjoyed every minute of this film. Let me tell you this is a huge hit. As of right now TOK is in my Top 10 horror films of 2011 list. I highly recommend this horror film. 9 out of 10."
The Orphan Killers viral activity and Facebook phenomenon continues to burn up the web.
By Matt Wavish
[youtube]https://www.youtube.com/watch?v=09THMQqWjac&feature=related[/youtube]
[youtube]https://www.youtube.com/watch?v=tdyfe6x0aPg[/youtube]
[youtube]https://www.youtube.com/watch?v=td7kCfFWk_c&feature=related[/youtube]
[youtube]https://www.youtube.com/watch?v=HecAmHrDjEc&feature=related[/youtube]