Released November 1st:
[youtube]https://www.youtube.com/watch?v=fdadZ_KrZVw[/youtube]
In Time (15) Running time: 109 mins

Director: Andrew Niccol,   Writer: Andrew Niccol
Starring: Justin Timberlake, Amanda Seyfried, Cillian Murphy
Synopsis:In the not-too-distant future the aging gene has been switched off. To avoid overpopulation, time has become the currency and the way people pay for luxuries and necessities. The rich can live forever, while the rest try to negotiate for their immortality. A poor young man who comes into a fortune of time, though too late to help his mother from dying. He ends up on the run from a corrupt police force known as 'time keepers'.
Released November 2nd:
[youtube]https://www.youtube.com/watch?v=T48oq-WlIGc[/youtube]
Machine Gun Preacher (15) Running time: 129 mins
Director: Marc Forster,    Writer: Jason Keller
Starring: Gerard Butler, Michelle Monaghan, Michael Shannon
Synopsis: The story of Sam Childers, a former drug-dealing biker tough guy who found God and became a crusader for hundreds of Sudanese children who've been forced to become soldiers.
Released November 4th: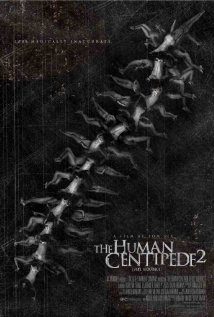 [youtube]https://www.youtube.com/watch?v=okZZca4EfAQ[/youtube]
The Human Centipede 2: Full Sequence (18) Running time: 84 mins
Director: Tom Six,   Writer: Tom Six
Starring: Laurence R. Harvey, Ashlynn Yennie, Maddi Black
Synopsis: Martin is a mentally disturbed loner who lives with his mother in a bleak housing project. He works the night shift as a security guard in an equally grim and foreboding underground parking complex. To escape his dreary existence, Martin loses himself in the fantasy world of the cult horror film The Human Centipede: First Sequence, fetishizing the meticulous surgical skills of the gifted Dr. Heiter, whose knowledge of the human gastrointestinal system inspires Martin to attempt the unthinkable.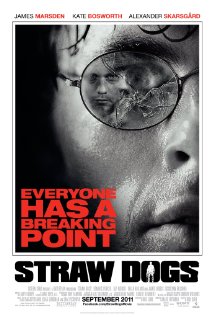 [youtube]https://www.youtube.com/watch?v=7krZZabaC_U[/youtube]
Straw Dogs (18) Running time: 110 minutes
Director: Rod Lurie,  Writers: Rod Lurie, David Zelag Goodman
Starring: James Marsden, Kate Bosworth, Alexander Skarsgard, James Woods
David and Amy Sumner (Marsden and Bosworth), a Hollywood screenwriter and his actress wife, return to her small hometown in the deep South to prepare the family home for sale after her father's death. Once there, tensions build in their marriage and old conflicts re-emerge with the locals, including Amy's ex-boyfriend Charlie (Skarsgard), leading to a violent confrontation.
Released November 11th:
[youtube]https://www.youtube.com/watch?v=Udzuty4XMt8[/youtube]
The Awakening (15) Running time: 107 mins
Director: Nicky Murphy,  Writers: Stephen Volk, Nick Murphy
Starring: Rebecca Hall, Dominic West, Imelda Staunton
Synopsis:   Haunted by the death of her fiancé, Florence Cathcart is on a mission to expose all séances as exploitative shams. However, when she is called to a boys' boarding school to investigate a case of the uncanny, she is gradually forced to confront her skepticism in the most terrifying way, shaking her scientific convictions and her sense of self to the very core."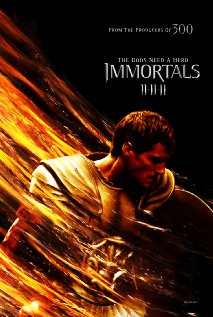 [youtube]https://www.youtube.com/watch?v=GSmJ5UXtUnk[/youtube]
Immortals (15) Running time: 110 mins

Director: Tarsem Singh,  Writers: Charley Parlapanides, Vlas Parlapanides
Starring: Henry Cavill, Mickey Rourke, John Hurt, Freida Pinto, Stephen Dorff, Luke Evans
Eons after the Gods won their mythic struggle against the Titans, a new evil threatens the land. Mad with power, King Hyperion (Mickey Rourke) has declared war against humanity. Amassing a bloodthirsty army of soldiers disfigured by his own hand, Hyperion has scorched Greece in search of the legendary Epirus Bow, a weapon of unimaginable power forged in the heavens by Ares. Only he who possesses this bow can unleash the Titans, who have been imprisoned deep within the walls of Mount Tartaros since the dawn of time and thirst for revenge. In the king's hands, the bow would rain destruction upon mankind and annihilate the Gods. But ancient law dictates the Gods must not intervene in man's conflict. They remain powerless to stop Hyperion…until a peasant named Theseus (Henry Cavill) comes forth as their only hope. Secretly chosen by Zeus, Theseus must save his people from Hyperion and his hordes. Rallying a band of fellow outsiders-including visionary priestess Phaedra (Freida Pinto) and cunning slave Stavros (Stephen Dorff)-one hero will lead the uprising, or watch his homeland fall into ruin and his Gods vanish into legend.
[youtube]https://www.youtube.com/watch?v=nml8KRfAnx4[/youtube]
Kill Keith (15) Running time: 93 mins
Director: Andy Thompson,   Writer: Andy Thompson
Starring: Keith Chegwin, Susannah Fielding, Marc Pickering, Simon Phillips
Synopsis: Kill Keith: Volume 1. Keith 'Cheggers' Chegwin is a household name and has been at the top of his game for nearly 40 years. He's an all round entertainer and has lived with us via our TV screens on Swap Shop as kids through to GMTV as parents. He is undoubtedly a national treasure, and for nearly four decades has been much loved by viewers young and old. The year is 2010 and hidden away in a damp dark and blood stain cellar is a stranger, a man, a figure in the dark, someone we'd rather not know. He sits through the small hours torturing himself watching Swap Shop on fast forward over and over again. Cheggers Plays Pop posters decorate the cellar walls. The stranger moves slowly around his memorabilia filled shrine; terrifying equipment of torture fill the cellar together with several slabs of dead meat hanging from meat hooks. In the corner a man is bound and gagged in a cage while being subjected to archive TV clips of Keith Chegwin. The stranger is on an evil crusade. What is this unhealthy obsession with Keith Chegwin? Is the stranger plotting to kill our much loved Keith? Innocent victims from around the country slowly start to disappear. The damp cellar accrues more bodies. The news headlines build of reports of a serial killer. Cheggers continues his daily TV show while the nation lives in fear of evil roaming the country. Body parts begin to surface hundreds of miles from where they disappeared. How safe is Keith? How long before the stranger fulfills his obsessive desires?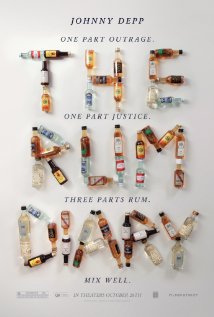 [youtube]https://www.youtube.com/watch?v=-m0yqS3jodU[/youtube]
The Rum Diary (15) Running time: 120 minutes
Director: Bruce Robinson,   Writers: Bruce Robinson, Hunter S. Thompson
Starring: Johhny Depp, Amber Heard, Aaron Eckhart
Synopsis: Paul Kemp is a freelance journalist who finds himself at a critical turning point in his life while writing for a run-down newspaper in the Caribbean. Paul is challenged on many levels as he tries to carve out a more secure niche for himself amidst a group of lost souls all bent on self-destruction.
[youtube]https://www.youtube.com/watch?v=1rolBdc_mjs[/youtube]
Trespass (15) Running time: 91 mins
Director: Joel Schumacher   Writer: Karl Gajdusek
Starring: Nicolas Cage, Nicole Kidman, Cam Gigandet
Synopsis:  As they're held for ransom, a husband and wife's predicament grows more dire amid the discovery of betrayal and deception.
Released November 18th: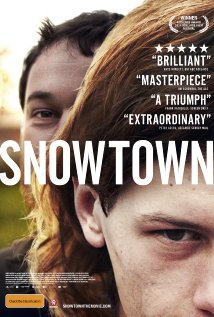 [youtube]https://www.youtube.com/watch?v=fvu_tBQgZyI[/youtube]
Snowtown (18) Running time: 119 mins

Director: Justin Kurzel,  Writers: Justin Kurzel, Shaun Grant
Starring: Daniel Henshall, Lucas Pittaway, Craig Coyne
Sixteen-year-old Jamie lives with his mother, Elizabeth, and two younger brothers, Alex and Nicholas, in a housing trust home in Adelaide's northern suburbs. Their home is but one of many sun-starved houses crammed together to cater for a disenfranchised society. Jamie longs for an escape from the violence and hopelessness that surrounds him and his salvation arrives in the form of John, a charismatic man who unexpectedly comes to his aid. As John spends more and more time with Jamie's family, Elizabeth and her boys begin to experience a stability and sense of family that they have never known. John moves from the role of Jamie's protector to that of a mentor, indoctrinating Jamie into his world, a world brimming with bigotry, righteousness and malice. Like a son mimicking his father, Jamie soon begins to take on some of John's traits and beliefs as he spends more and more time with him and his select group of friends. The protection and guidance that John presents to Jamie is initially welcomed however as events occur around him, including the disappearance of several people, Jamie begins to harbour deep suspicions about John and his motivations. When the truth is finally revealed to Jamie his hopes of happiness are threatened by both his loyalty for, and fear of, his father-figure John Bunting, Australia's most notorious serial killer.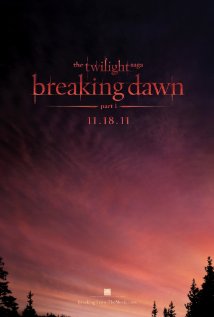 [youtube]https://www.youtube.com/watch?v=sIpeBi6SG4A[/youtube]
The Twilight Saga: Breaking Dawn Part 1 (12A) Running time: 117 minutes
Director: Bill Condon,  Writers: Melissa Rosenberg, Stephenie Meyer
Starring: Kristen Stewart, Robert Pattinson, Taylor Lautner
The Quileute and the Volturi close in on expecting parents Edward and Bella, whose unborn child poses different threats to the wolf pack and vampire coven.
Released November 25th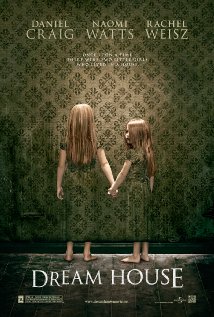 [youtube]https://www.youtube.com/watch?v=ncLFpGdd8O8[/youtube]
Dream House (15) Running time: 92 mins
Director: Jim Sheridan,  Writer: David Loucka
Starring: Daniel Craig, Naomi Watts, Rachel Weisz, Elias Koteas
Some say that all houses have memories. For one man, his home is the place he would kill to forget. A family unknowingly moves into a home where several grisly murders were committed…only to find themselves the killer's next target. Successful publisher Will Atenton (Craig) quit a job in New York City to relocate his wife, Libby (Weisz), and two girls to a quaint New England town. But as they settle into their new life, they discover their perfect home was the murder scene of a mother and her children. And the entire city believes it was at the hands of the husband who survived. When Will investigates the tragedy, his only lead comes from Ann Paterson (Watts), a neighbor who was close to the family that died. As Will and Ann piece together the disturbing puzzle, they discover that the story of the last man to leave Will's dream house will be just as horrifying to the one who came next.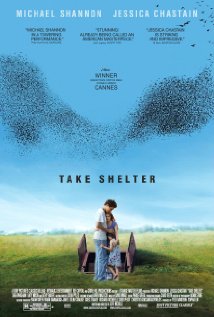 [youtube]https://www.youtube.com/watch?v=I5U4TtYpKIc[/youtube]
Take Shelter (15) Running time: 120 mins

Director: Jeff Nichols,  Writer: Jeff Nichols
Starring: Michael Shannon, Jessica Chastain, Shea Whigham, Katy Mixon
Plagued by a series of apocalyptic visions, a young husband and father questions whether to shelter his family from a coming storm, or from himself.