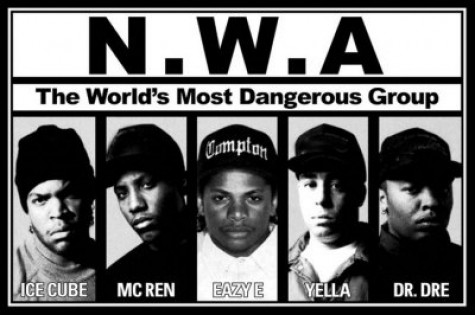 They were known as 'the world's most dangerous group', and pretty much invented and perfected 'Gangta rap'. Had the world never been introduced to five young lads from Compton, L.A, the world of rap and hip hop may have been much different to what their legacy created. Eazy E, Ice Cube, Dr Dre, MC Ren and DJ Yella are five names known to every hip hop fan, and to most other music fans too. Like it or not, Straight Outta Compton, their debut album, is a masterpiece, and one of those 'must own' albums. Ice Cube left the group shortly after, with NWA continuing without him and finally making their second proper album, Niggaz4Life, and then, sadly, Eazy E died after getting HIV and Aids.
The story of NWA is an interesting one, and a biopic on the group could, and should, be welcomed with open arms. It s said that Ice Cube will be producing the film, and he has been working closely with script writer Andrea Berloff (World Trade Centre) At a press conference for his latest film Abduction starring Taylor Lautner, director John Singleton confirmed he was working on a film called 'Straight Outta Compton', a biopic on the fearsome group NWA.
Singleton stated that the script is " really, really good". New Line will be releasing the film, which reunites Singleton and Cube for the first time since the greatest 'hood 'movie of them all, Boyz N The Hood. That is reason in itself to want to see the film. If Singleton, who's output of late has been a bit hit and miss over the last decade, can reignite that passion and brilliance he showed off in his debut, Oscar nominated film Boyz N The Hood, we could be in for something very special indeed here.
More as it happens.