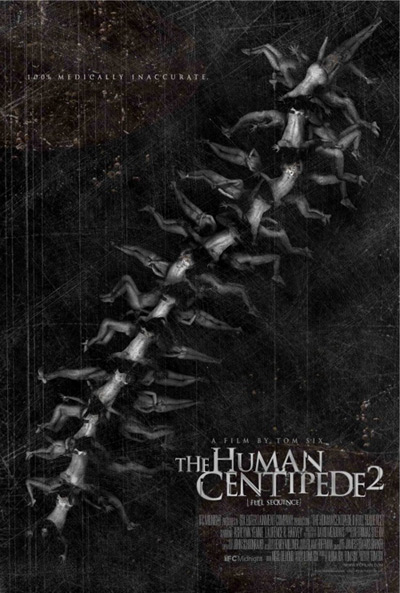 The official poster has been released for the sequel to Tom Six's The Human Centipede – The Human Centipede 2: Full Sequence.
The poster shows a spine made up of 12 'attached' people, same as the human centipede in the film, but with extra bodies attached horizontally.
The first film was 100% medically accurate with 3 people attached ass to mouth using the gastric system to bypass waste. However, in this second film, which has been banned in the UK, 12 people are being used and the film is advertised as being 100% medically INACCURATE.
The film features Martin, a disturbed loner who has a sexual fixation with the first Centipede film and decides to reenact it for his sadistic and sexual desires.
Early reports from the USA tell tales of tendon slicing and brutal sodomy with the use of barbed wire. Ouch!