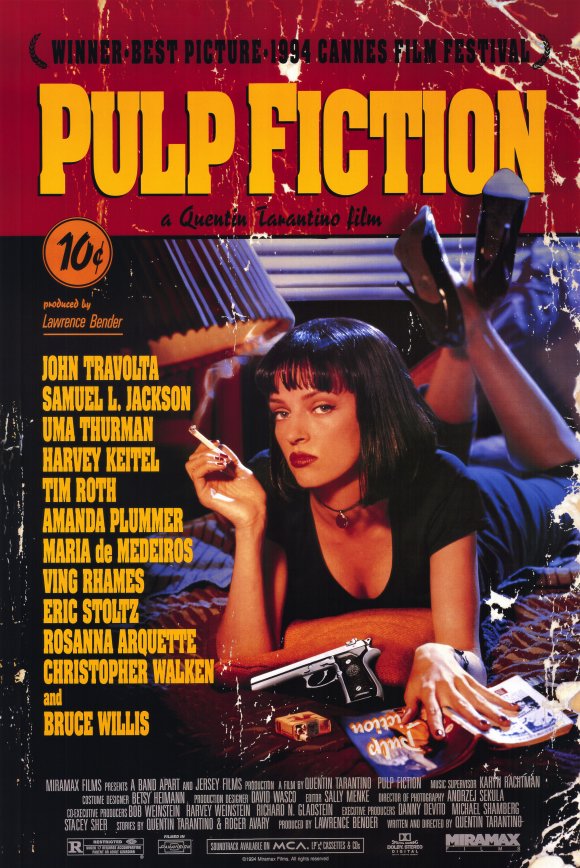 We know what you're thinking.  You can't believe it's taken this f*cking long…
Today, Lionsgate and Miramax are declaring next month 'Tarantober' as Quentin Tarantino's 'Pulp Fiction' is released on Blu-ray.  October 17th sees the release of the director's seminal film, completely re-mastered and with six hours of extras.
 Quentin Tarantino, hailed as "the most inventive filmmaker alive" (Newsday), will debut his ground-breaking film, re-mastered under the filmmaker's direct supervision with new high definition lossless audio and 1080P video.  Containing new bonus materials that delve the film's iconic status, the release will be packed with hours of archival content that includes numerous behind the scenes featurettes, interviews and marketing galleries.  Extras include:
 • Stunning New 1080P Transfer Approved by Quentin Tarantino
• NEW 5.1 Lossless DTS-HD Master Audio™
• NEW Interviews with Cast including: John Travolta, Samuel L. Jackson, Rosanna Arquette, Eric Stoltz, Tim Roth and more
• NEW Critics' Retrospective on the Movie's Place in Film History
• Behind-the-Scenes Footage
• 'Pulp Fiction: The Facts' Featurette
• Production Design Featurette
• Siskel & Ebert "At the Movies" – "The Tarantino Generation"
• Independent Spirit Awards Footage
• Cannes Film Festival Footage
• 'The Charlie Rose Show' Tarantino Interview
• Still Galleries
• Trivia Track
• Deleted Scenes
 Excited?  You should be…
[youtube]https://www.youtube.com/watch?v=0FedFmFRjtY[/youtube]
Also set for Blu-ray release on October 17th are Tarantino's other legendary flicks 'Jackie Brown', which boasts 3 hours of extras and 'From Dusk 'Till Dawn' (On Blu-ray for the first time in the UK).