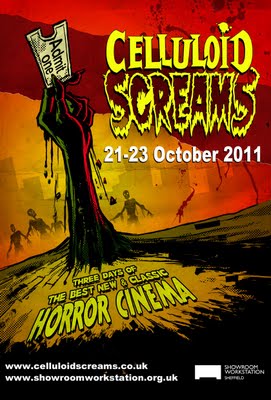 It's only been a few days since we brought you the line up for this years Manchester Horror Festival, Grimm Up North. Now, Celluloid Screams, Sheffield's own horror festival has announced what will be showing between 21st and 23rd of October. What looks to be a brilliant line up of films, including old classics and new movies, not to mention some forgotten gems, the line up, as seen on www.celluloidscreams.co.uk, is as follows (Note: Each feature will be partnered with a short film):
OPENING GALA: INBRED
Director: Alex Chandon | UK | 2011 | 95 mins
Welcome to Yorkshire! More specifically to the picturesque village of Mortlake, where the locals are friendly and you're sure of a warm welcome… Call in at the local pub 'The Dirty Hole' and sample the local rustic cuisine (tip: try the homemade pork scratchings) and if you ask nicely you might even get in to see one of the locals' "special" barn shows. We guarantee you'll not be able to tear yourself away…
From director Alex Chandon comes Inbred, a deliriously un-PC gorefest that adds a warped new dimension to the notion of Northern hospitality. Four young offenders and their care workers embark upon a weekend of community service and after a minor run-in with some of the local youths, they run afoul of the Mortlake locals' "unique" customs and traditions, and pretty soon they're running for their lives.
We are delighted to welcome the cast of Inbred – Jo Hartley, Paddy Doherty, Seamus O'Neill, Terry Haywood, Chris Waller, Nadine Mulkerrin & James Burrows – and Line Producer Rob Speranza to Celluloid Screams for a Q&A after the screening
Screening with:
SPIDER
Director: Nash Edgerton | Australia | 2007 | 9 mins
Jack and Jill are always hurting each other's feelings. But like Mum said, "It's all fun and games until someone loses an eye."
HELLDRIVER 
Director: Yoshihiro Nishimura | Japan | 2010 | 106mins | Subtitled
From the mind of director Yoshihiro Nishimura, the man behind Tokyo Gore Police andVampire Girl Vs Frankenstein Girl comes Helldriver, his most ambitious and deranged gorefest to date. After a comet crash-lands, a mysterious alien mist descends upon the northern half of Japan and transforms the population into slavering zombies, complete with antennae-like horns. As the country's economy crumbles and all hope of survival seems lost, a saviour emerges in the form of Kika, a pole-dancing Samurai warrior with an artificial heart and a mean command of her chainsaw katana sword. Kika is deployed by the government to infiltrate the zombie wasteland and destroy the evil zombie queen Rikka (Audition's Eihi Shiina.) who also happens to be her homicidal mother.
In Helldriver, Nishimura has created a multi-faceted monster: a wonderfully over-the-top action horror hybrid, complete with cannibals, bizarre anatomical mutations, furious swordplay and ludicrously messy special effects. Your poor brain won't know what hit it…
Screening with:
BRUTAL RELAX
Director: Adrián Cardona, Rafa Dengrá & David Muñoz | Spain | 2011 | 15 mins
Mr. Olivares has already recovered, but now he needs a vacation. To go to some heavenly place where he can relax and blithely enjoy himself.
VAMPYRES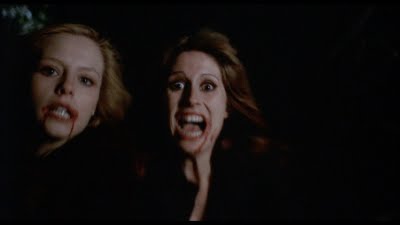 Director: José Ramón Larraz | UK | 1975 | 87 mins
Never has the savage bloodletting and rampant eroticism of the vampire legend been so fully realized as in José Ramón Larraz's Vampyres. Fran and Miriam, two alluring young women roam the English countryside in search of unsuspecting victims to feed their insatiable bloodlust. When a young couple unwittingly falls into the vampires' trap, they find themselves embroiled in a nightmare vortex of sex, violence and forbidden desires. With a highly memorable score courtesy of composer James Clarke (who later moved into the director's chair to helm the controversial video nasty Exposé), Vampyres is 70s Euro-Horror at its best.
At the witching hour(12am) three sexy vampire ladies with synthesisers will play a very special live set for ticket holders only before our screening of Vampyres. Please arrive promptly to avoid disappointment.
DUST DEVIL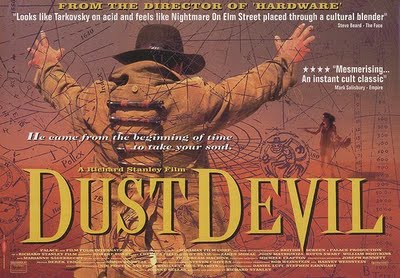 Director: Richard Stanley | UK | 1993 | 107 mins
To celebrate Richard Stanley's attendance as guest of honour at this year's festival, we proudly present a rare screening of Dust Devil, his second feature film.
A mysterious hitchhiker travels across the desert landscape in Namibia, preying on those lonely souls who are unfortunate enough to cross paths with him. After leaving her abusive husband, troubled housewife Wendy Robinson flees into the desert and encounters the hitcher, only to discover the truth behind his façade– that he actually is The Dust Devil – a shape-shifting demon intent on possessing the souls of the lost. With a police detective on the creature's trail who is determined to stop its grisly task, time is running out for Wendy. Dust Devil is a distinctive and memorable British horror film that is guaranteed to stay with you.
Dust Devil is available on DVD from Optimum Releasing/Canal Plus.
Screening with:
MANDRAGORE (UK PREMIERE)
Director: Fabrice Blin | France | 2010 | 17 mins
Marie lives alone with her son Alex in a remote house deep in the forest. She cures David, a fugitive man, injured and with no memory. David's health miraculously gets better in only a couple of days…
SOME GUY WHO KILLS PEOPLE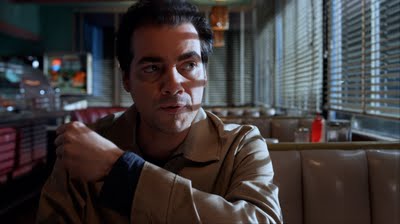 Director: Jack Perez | USA | 2011 | 97 mins
Ken Boyd, a lonely man fresh out of a mental institution, has returned to his small hometown, where he works at the ice cream parlor and lives with his overbearing mother, Ruth. When not scooping ice cream for his bully of a boss or dealing with his mom's incessant insults, Ken spends his time either drawing, or trying to kill each of the guys he deems responsible for his miserable life. However, carrying out his murderous plan becomes more difficult for Ken when his estranged daughter shows up, eager to get to know her father. Executive produced by John Landis, Some Guy Who Kills Peoplesuccessfully captures the subtle balance of horror, humour and pathos that many films try and ultimately fail to grasp.
Screening with…
CLICK
Director: William Price | UK | 2010 | 15 mins
At the end of a long day, five children look to fill in the remaining hours of sunlight before they return home by exploring an old decaying building with a dark secret. A cursory tale that reminds us why we should be afraid of the dark…
MASKS (UK PREMIERE)
Director: Andreas Marschall | Germany | 2010 | 84 mins | Subtitled
In this visually striking German giallo, Stella, an ambitious acting student is accepted to the mysterious Mateusz Gdula school and soon discovers the story of the school's founder, who committed suicide when his very particular training method was banned following the deaths of several students. When strange things start to happen in an abandoned wing of the school, Stella suspects that Gdula's method is still very much alive and practiced in the darker recesses of the school, and she wants to participate at all costs…
Following on from the sumptuous Amer (Celluloid Screams 2010) the spectre of the Italian giallo continues to haunt the hearts and minds of contemporary filmmakers. Andreas Marschall's stunning ode to the genre goes way beyond mere homage, recalling the style and vivid murder set-pieces of Dario Argento's greatest hits (particularly Suspiria and Deep Red) whilst retaining a strong narrative flair and style of its own.
Screening with:
BEATING HEARTS
Director: Matthew Garrett | USA | 2010 | 11 mins
An eruption of brutal violence shatters one family's tranquil morning in this sickening twist on the 'killer child' sub-genre. 
NIGHT OF THE DEVIL (UK PREMIERE)
Director: Florian Puchert | Germany | 2011 | 15 mins
When charlatan Paul pretends to exorcise a ghost from an old Bavarian farmhouse, he encounters the impossible – an actual supernatural presence. In his attempt to save this seemingly poor, lost soul he unleashes the vengeful spirit of a fire starter.
THE THEATRE BIZARRE
Directors: Richard Stanley, Tom Savini, Douglas Buck, Karim Hussain, Buddy Giovinazzo, Jeremy Kasten, David Gregory |USA/France | 2011 | 108 mins
The spirit of the Grand Guignol Theatre is alive and well in THE THEATRE BIZARRE… please take your seats, the show is about to begin…
A young woman creeps into a seemingly-abandoned theatre in her neighborhood at night and encounters a creepy human puppet (played by genre veteran Udo Kier) who takes her on a journey through six tales of the bizarre and the fantastic: A couple traveling in a remote part of the French Pyrenees cross paths with a lustful witch; A paranoid lover faces the wrath of a partner who has been pushed to her limit; The Freudian dreams of an unfaithful husband blur the lines between fantasy and reality; The horrors of the real world are interpreted through the mind of a child; A woman addicted to other people's memories gets her fix through the vitreous fluid of her victims' eyeballs; And a couple's perverse obsession with sweets turns sour.
We are delighted to welcome director Richard Stanley and co-writer Scarlett Amaris for a Q&A after the screening.
Screening with:
8 (UK PREMIERE)
Director: Raul Cerezo | Spain | 2011 | 13 mins
In this virtually dialogue-free short film, a young boy begins to face the distinction between good and evil on the occasion of his eighth birthday.
TOMIE: UNLIMITED (UK PREMIERE)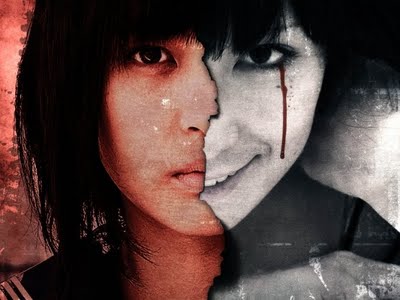 Director: Noboru Iguchi | Japan | 2011 | 85 mins | Subtitled
Hell hath no fury like a vengeful Japanese schoolgirl with multiple heads – welcome to the bizarre world of Tomie: Unlimited… While having her photograph taken by her timid sister Tsukiko, the beautiful and popular Tomie is killed in a tragic accident. One year later, on the occasion of the anniversary of her death, Tomie miraculously appears at the door of the family home, seemingly back from the dead. It soon becomes clear, however, that something is very, very wrong, and Tsukiko begins to suspect that her sister may not be the girl she used to be… Machine Girl/Robogeisha director Noboru Iguchi succeeds in performing a double-resurrection here, injecting new life into both the Tomie franchise (this is technically the ninth film based on the seminal manga by Junji Ito) and the ailing J-Horror genre as a whole. By combining classic genre traits with his own twisted and unique style, Iguchi has paved the way for Tomie to live once more…
Screening with:
 GOOD MORNING BEAUTIFUL (UK PREMIERE)
Director: Todd Cobery | USA | 2011 | 20 mins
A twisted and surreal tale of one man's grief following the death of his child.
RE-ANIMATOR
Director: Stuart Gordon | USA | 1985 | 86 mins
Gory, hilarious and ludicrously entertaining from start to finish, Re-Animator tells the macabre tale of Herbert West, a decidedly peculiar and self-righteous medical student (brilliantly played by Jeffrey Combs) who arrives at Miskatonic Medical School with the aim of continuing his highly dubious research into the reanimation of dead tissue. West soon befriends fellow-student Dan Cain, who is unwittingly dragged into his twisted experiments, which soon spiral out of control.
When he penned Herbert West: Re-Animator in 1921, it's highly improbable that H.P. Lovecraft could have foreseen the gory excesses that would dominate Stuart Gordon's 1985 adaptation. Famously censored in the UK because of "that scene" (if you haven't seen it, we won't spoil the surprise!), we are delighted to bring this demented vision of science-gone-mad back to the big screen at Celluloid Screams in its full uncut version.
Screening with:
EMPLOYEE OF THE MONTH (UK PREMIERE)
Director: Olivier Beguin | Switzerland | 2011 | 18 mins
Stéphanie assists the unemployed in finding work, but when the jobseekers in question turn out to be mythological creatures, finding them a suitable job may be a little problematic.
BEAR (UK PREMIERE)
Director: Nash Edgerton | Australia | 2011 | 11 mins
In this sequel to Spider (also screening at Celluloid Screams 2011), Jack has a new girlfriend, but hasn't quite learnt his lesson…
HALLOWEEN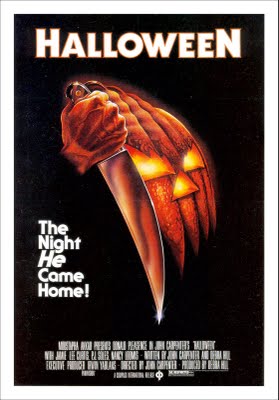 Director: John Carpenter | USA | 1978 | 91 mins
Some horror films require no introduction… John Carpenter's Halloween is one such film. The movie that spawned seven sequels (not to mention a tidal wave of imitators following its release in 1978) is just as effective today as it always has been. From the iconic score composed by Carpenter himself to the masterful use of the widescreen frame, Halloweenset the blueprint for the modern slasher film, a sub-genre that would eventually grind itself into formulaic oblivion in the 1980s. At the centre of the film's success is its monster – Michael Myers, a silent masked psycho who relentlessly terrorizes babysitter Laurie Strode (Jamie Lee Curtis) whilst being pursued by his psychiatrist Dr Loomis (Donald Pleasance.) So many genre archetypes were established in this low-budget masterpiece, so join us as we return to Haddonfield and reacquaint ourselves with a bona fide horror classic…
Screening with:
THE UNLIVING (UK PREMIERE)
Director: Hugo Lilja | Sweden | 2010 | 28 mins
Thirty years after a zombie outbreak, people have got used to living alongside them: Zombies are a cheap source of labour. However, the 'normal' people, like Katrin and Mark, first have catch and lobotomize them…not bring them home.
THE WHISPERER IN DARKNESS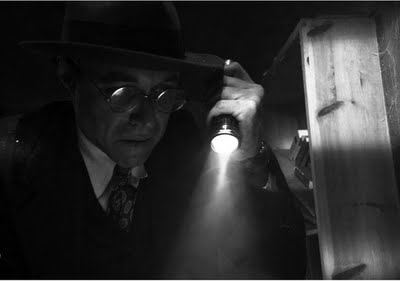 Director: Sean Branney | USA | 2011 | 103 mins
Only a handful of adaptations of H.P. Lovecraft's literature have succeeded in capturing his unique brand of horror, and now The Whisperer in Darkness can join Stuart Gordon's Re-Animator (also screening at Celluloid Screams 2011) on that very short list. When he receives a letter from a terrified farmer describing sightings of mysterious hoof-prints surrounding his farmhouse, Miskatonic University Professor and sceptic Albert Wilmarth journeys to Vermont to investigate and uncovers an otherworldly secret that threatens to shatter his sanity.
Conceived by filmmaking collective The H.P. Lovecraft Historical Society and filmed in the style of a classic 1930s monster movie, The Whisperer in Darkness brings Lovecraft's 1931 novella to life in stunning detail in a style that never once descends into parody. The Society's dedication to capturing the essence and ethos of Lovecraft's work is evident in every vivid frame and the result is a unique and immaculately constructed horror film.
Screening With: 
THE HAIRY HANDS
Director: Ashley Thorpe | UK | 2009 | 12 mins
Dartmoor: the dead of night… 953sq kilometres of desolate moorland…1000 ghosts…and a fugitive racing a haunted road to meet one.
HAROLD'S GOING STIFF
Director: Keith Wright | UK | 2010 | 77 mins
Harold Gimble is in a bad way. As the first-known sufferer of Onset Rigors Disease (ORD) – a neurological condition that begins with stiffness of the limbs and ends in violent, zombie-like state – Harold faces an uncertain future, not least because of a group of zombie-killing vigilantes who have placed him at the top of their hitlist. A glimmer of hope emerges in the form of therapy nurse Penny Rudge, who strikes up an unlikely friendship with the lonely pensioner. Penny initially appears to offer Harold the potential for recovery, but as his condition worsens, Harold becomes a target for both the medical establishment who intend to use him as a guinea pig and the idiotic thugs who are anxiously awaiting the opportunity to hunt him down. Filmed entirely on location in and around Penistone,Harold's Going Stiff is a refreshingly original take on the zombie genre that is both touching and very funny.
We are delighted to welcome Director Keith Wright*, Producer Richard Guy and cast members Stan Hope and Sarah Spencer to Celluloid Screams for a Q&A session after the screening.
* subject to work commitments
Screening with:
INTERVIEW
Director: Sebastian Marka | Germany | 2010 | 19 mins
An overambitious reporter questions a serial killer in a tense face-to-face session.
COLD SWEAT (UK PREMIERE)
Director: Adrián García Bogliano | Argentina | 2010 | 80 mins | Subtitled
When Roman's girlfriend disappears, he enlists the help of their friend Ali to find her. After searching her online history they trace her back to an old stately home in the centre of Buenos Aires, but they soon regret setting foot in the house when they discover it is home to two geriatric former-members of the Triple-A, one of Argentina's most notorious death squads in the 1970s. These two cantankerous old coots may not be as physically active as they were in their heyday, but this hasn't been an obstacle to their deranged retirement plan: to lure young women online to subject them to a series of re-education experiments for some unspecified purpose. Old habits clearly die hard, and with 25 boxes of decades-old explosives at their disposal, these failed revolutionaries will stop at nothing to force the compliance of their captives, even if they have to douse them in highly unstable nitroglycerine to do it…
Screening with:
ANIMAL CONTROL (UK PREMIERE)
Director: Kire Paputts | Canada | 2010 | 16 mins
Larry works for Animal Services. His job is picking up road kill along the highway; his hobby is taxidermy. One night at work, Larry spots a dog, seemingly dead, just off the shoulder of the road. After taking it home and discovering that the dog "Sammy", is still alive, Larry begins to realize that that animals should be preserved before they are dead, rather than after. 
INCUBATOR (UK PREMIERE)
Director: Jimmy Weber | USA | 2011 | 7 mins
A young man wakes up in a bathtub full of ice in a dingy motel room only to discover his problems have only just begun. You've heard the urban legend…this is worse.
THE CELLULOID SCREAMS SECRET FILM
Director: TBC | Country TBC | Year TBC | Running Time TBC
The Secret Film is now an annual tradition at Celluloid Screams, and this year we've made it all the more exciting by making you wait until the very end of the festival to find out what's in store. Ever since we screened Paranormal Activity as our first secret screening in 2009, we've enjoyed handpicking a film that we think will make for the perfect mystery screening. Have we succeeded once again in 2011? You'll just have to wait and see, but trust us, it'll be worth the wait…
Celluloid Screams runs from 21st to 23rd October 2011 at the Showroom Workstation Cinema, Sheffield. For more information, visit www.celluloidscreams.co.uk