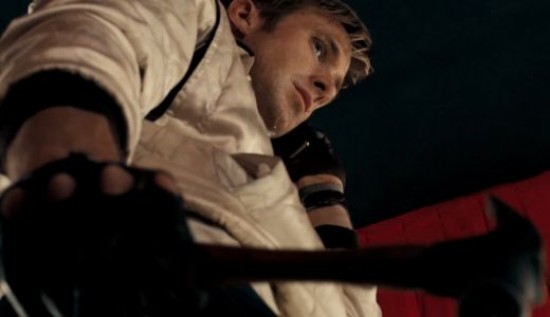 Nicolas Winding Refn's Cannes winning thriller Drive is almost upon us, September 23rd to be exact, and to get you even more interested, two brand new clips have appeared online. I am literally counting down the days for this superb looking, 80′ themed thriller about a driver who gets caught up with the wrong people. Winding Refn won the Best Director award at Cannes for this film, and its about time he won something, the guy has already given us one of 2009's best films, Valhalla Rising, along with Bronson, Fear X and Pusher. Drive looks to see the director as the top of his game, and the same can be said for he films main star, Ryan Gosling. If you have already seen the trailer posted on here a while back, you will see that Gosling looks to give a truly mesmerising performance. You can see more of him in action in some of the films more gentle moments, concentrating on the relationship between Gosling character and also Carey Mulligan's character.
Synopsis:
Ryan Gosling stars as a Los Angeles wheelman for hire, stunt driving for movie productions by day and steering getaway vehicles for armed heists by night. Though a loner by nature, Driver can't help falling in love with his beautiful neighbor Irene (Carey Mulligan), a vulnerable young mother dragged into a dangerous underworld by the return of her ex-convict husband Standard (Oscar Isaac).
After a heist intended to pay off Standard's protection money spins unpredictably out of control, Driver finds himself driving defense for the girl he loves, tailgated by a syndicate of deadly serious criminals (Albert Brooks and Ron Perlman). But when he realizes that the gangsters are after more than the bag of cash in his trunk-that they're coming straight for Irene and her son-Driver is forced to shift gears and go on offense.
DRIVE was written by Academy Award® nominee Hossein Amini (THE WINGS OF THE DOVE) and adapted from the eponymous novel by James Sallis. It was produced by Marc Platt, Gigi Pritzker, Michel Litvak, Adam Siegel and John Palermo; executive producers are David Lancaster, Gary Michael Walters, Bill Lischak and Linda McDonough.
By Matt Wavish
[youtube]https://www.youtube.com/watch?v=syjF8GUSBmY[/youtube]
[youtube]https://www.youtube.com/watch?v=A8-FC9jlZ-A&feature=relmfu[/youtube]