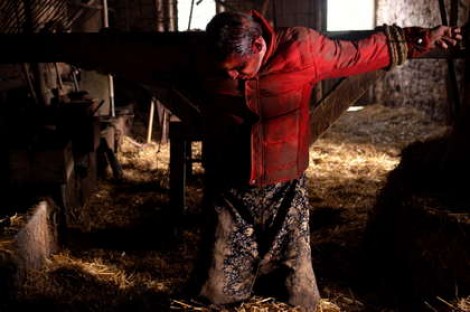 The Profane Exhibit is a horror anthology featuring ten of the newest and most extreme director's working in horror today. The project is scheduled for a May 2012 release, and a new director is being announced as each week goes by. The first director was announced last week as Michael Todd-Schneider, director of the vile and banned in the UK gore-fest August Underground's Mordum. If you have had the pleasure of viewing any of the August Underground films, you get the idea of what to expect from this sick-fest. Schneider will direct Manna, the first short film for the anthology.
Today some new stills have appeared for the second segment of the project, and keeping up with the reputation of the director's, the second chap involved will be Ryan Nicholson. As with the previous director, the majority of Nicholson's films have been banned in the UK. Gutterballs is a vicious rape revenge horror featuring some incredibly shocking, but inventive deaths, although the rape itself it a little hard to digest, he has also made Hanger, again not available in the UK and also Live Feed which is available, although heavily cut. Nicholson's entry into this project is a short called 'The Good Wife' and we have two stills from it to show you below.
Nothing is known about the plot, just that it was filmed in Vancouver, British Columbia and stars Monique Parent and Tina Krause.
"The Profane Exhibit promises to be an extreme film guaranteed to shock and disturb even the most brazen viewer" (Dread Central)
A new director will be announced next week.
By Matt Wavish