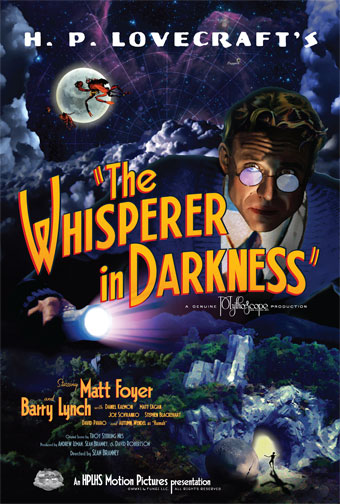 From the creators of the amazing black and white, silent version of The Call of Cthulhu comes The Whisperer in Darkness. Directors and writers Andrew Leman and Sean Branney seemed to have captured the essence of H.P. Lovecraft in their adaptions of his work and to date have created the best versions of his stories on film. With the H.P. Lovecraft Historical Society having input into this vision, this is truly a film made by the fans for the fans.
Synopsis
Following a series of floods in rural Vermont, the bodies of grotesque creatures are reportedly found floating in several rivers. The creatures match descriptions given in certain local myths and legends – but Miskatonic University Folklorist Albert Wilmarth is sceptical.
That is, until he starts to receive a series of increasingly disturbing letters from Vermont farmer Henry Akeley that hint at a horrifying truth. He travels to Vermont to investigate further and uncovers a conspiracy that extends out into the furthest reaches of space and the darkest pits of hell.
The film will premiere in the UK at this year's 3rd Annual Grimm Up North film festival, held at the AMC Cinema in Manchester on Sunday 9th October 2011. For those who attend the screening, prizes such as a Lovecraft Arkham Asylum boardgame and 'Whisperer' poster can be won.
Tickets for the screening of The Whisperer in Darkness and information on the film and the rest of the Grimm Up North Festival can be found here
Tickets can also be obtained from AMC Cinema for £5.80
[youtube]https://www.youtube.com/watch?v=A_ee9K9hXtw[/youtube]