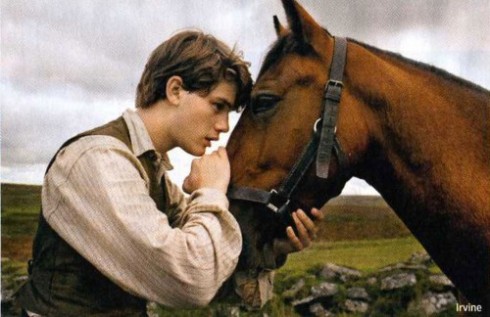 The first trailer for Steven Spielberg's World War One epic, War Horse, arrived a few months back and was impressive, but didn't quite have that Spielberg wow factor. Well, forget all that as the brand new trailer landed today, and it is a massive improvement showing much more action, loads of emotion and plenty of horses!
The film is due to hit UK cinemas 13th January 2012, and is perfectly timed for Oscar season. January is usually a quiet month for cinemas, so War Horse could well become the biggest film of the month, and my suspicions are that this will be a slow burner. Word of mouth will spread and I predict cinema goers coming two, three or four times to see this, much like this years King's Speech did.
Jeremy Irvine, Emily Watson, David Thewlis, Tom Hiddleston, Benedict Cumberbatch, Toby Kebbel, Eddie Marsden, Peter Mullan, David Dencik, Johnny Harris and David Kross round up a highly impressive cast. Richard Curtis and Lee Hall wrote the screenplay.
The film follows a young man named Albert and his horse, Joey, and how their bond is broken when Joey is sold to the cavalry and sent to the trenches of World War One. Despite being too young to enlist, Albert heads to France to save his friend.
By Matt Wavish
[youtube]https://www.youtube.com/watch?v=tv1Qvi0GOWw[/youtube]