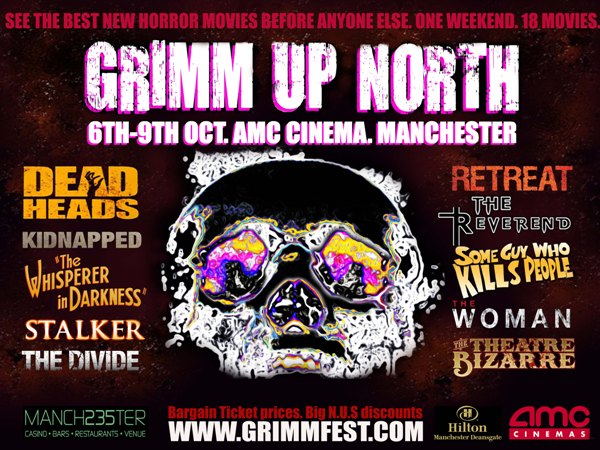 Day 2 and the Grimm Up North 3 film festival kicked off with The Dead Zone, the 1983 David Cronenberg film starring Christopher Walken.
It really is fabulous seeing the oldies up on the big screen. They seem to pack a punch that some modern films lack and are often timeless pieces of cinema which work now as well as back in the day.
Following The Dead Zone, Starburst Magazine held a Q+A Seminar with Jonathan Sothcott, Martin Kemp and Billy Murray of Black and Blue Promotions. Here they showed a clip montage of their upcoming films, Strippers vs Werewolves, Airborne and Stalker, the latter to be shown later in the evening. I sat in the audience as we asked questions about film making in the UK, the funding, production issues and casting films, as well as a bit of information regarding Martin Kemp's first feature film, Stalker. You can watch parts of the seminar below
Shortly after 5pm, we filed into the auditorium for the screening of Urban Explorer.
With the help of a guide, four urban explorers discover the hidden tunnels under Berlin. When their guide has an accident, the group splits to look for help but help finds them when a mysterious border guard appears. Reluctantly, the pair follow the border guard but soon realise trusting him wasn't the best idea.
I enjoyed the first half of the film, with the five exploring the tunnels under Berlin. It had a gritty feel to it, a raw authentic darkness. The second half turns into torturous territory and quite gratuitous, even for this hardcore gorehound! The story was solid and would have turned out better had it gone for a supernatural angle, but unfortunately it ended up how most horrors do these days and resorted to guts galore. A bit of a disappointment but still a well made, enjoyable film that needs to be seen for it's eerie build up.  Rating:

Read Matt's review of Urban Explorers

Finally, I watched Martin Kemp's debut feature film, Stalker, which he also wrote.
Stalker follows Paula, a successful author who's struggling with her current novel. At the advice of her agent, she moves into her Uncle's country manor to relax and gain inspiration for her novel. When her agent sends a PA to help Paula out with the book, things look brighter but first impressions can be deceiving….
Stalker used a slow pace to build the tension and the story, so we became connected with and knew the background of the characters.  As each event unfolds, the impact snowballs, getting bigger each time until the climax. Whilst the film is a bit predictable in places, Martin Kemp's Hammer style approach is favourable. In all, Stalker is a commendable effort that relies on storytelling rather than copious amounts of blood and gore…. although we are treated to a bit of that as well! Rating:
After the screening, we were treated to another Q+A with the director Martin Kemp, actor Billy Murray, producer Jonathan Sothcott and actress Jane March, who plays the Paula's PA in the film. You can see a clip of the Q+A below
So that's day 2 of Grimm Up North 3
Come back tomorrow for the third instalment
For more information or to purchase tickets for the screenings, visit https://www.grimmfest.com