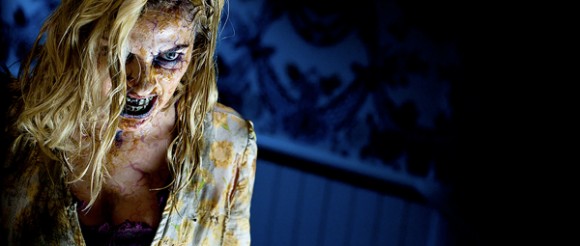 Director Anthony DiBlasi was responsible for the superb adaptation of Clive Barker's Dread, he has also produced The Midnight Meat Train, Book of Blood (another Barker story) and The Plague, so the fella is no stranger to horror. With Dread, the director showed incredible skill and brought back the classic Hellraiser feel to the story, that cold and frightening atmosphere that many horrors are missing these days. The news that the director has a new film on the way should get everyone excited, but you haven't seen the trailer yet!
The trailer, even though quite long, is fantastic, and would appear to be throwing almost every element of horror into the mix. There's torture, ghosts, evil people and spiritual elements, along with the always reliable attractive female in peril, what could possibly go wrong? Nothing, if you ask me! Titled Cassadaga, the film stars Kelen Coleman, Louise Fletcher, Kevin Alejandro, Rus Blackwell and Brooke Bezick. The film will make its world premier at the L.A Screamfest.
Check out the awesome trailer and two fantastic posters after the synopsis:
Devastated by the death of her younger sister, Lily Morel seeks solace at the spiritualist community of Cassadaga. But instead of finding closure, she contacts something else – the vengeful ghost of a murdered young woman. With her life crumbling all around her, Lily races to unravel the mysterious circumstances surrounding the woman's death – a task that will bring her face-to-face with a sadistic serial killer known only as "Geppetto".
By Matt Wavish
[youtube]https://www.youtube.com/watch?v=SLZu8hLEz64[/youtube]