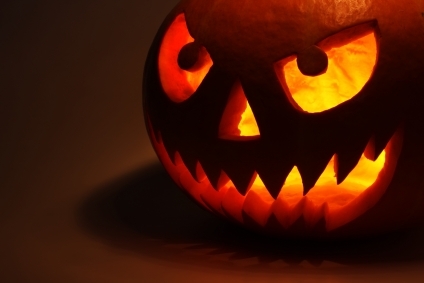 Believe it or not, here at Horror Cult Films we love Halloween. In fact, it is safe to say that it is probably our most favourite time of year. It is the chance to celebrate all the dark, horrible and nasty creatures that roam in the shadows, waiting for their chance to strike. Halloween is when they come out, and Halloween is a time to be afraid, for this is their night and we must play by their rules! I have no idea who 'they' are, but they are there, watching, waiting, that little shiver you feel crawling up your back, well, that's them isn't it, stood behind you!
I love being scared, we all love being scared and that is what makes Halloween so special, it is a chance to really enjoy scaring yourself silly and openly admitting you are too terrified to go out to the kitchen by yourself to get the next alcoholic drink. It takes a lot to scare us here at Horror Cult Films, but let me tell you, there are certain films which have even us cowering behind pillows or screaming like babies. Hell, I once saw Ross Hughes burst into tears he was so scared and the site of that scared me more than any horror film ever could!
Every year we gather round a large TV, grab a collection of alcoholic drinks and prepare to scare ourselves, and we feel it is only right that we should celebrate this glorious occasion with you, our readers. See, every year we argue over what we should watch and no one can ever agree, many of us have scars of battles lost over the choice of film, so this year, to be safe, we will all come up with our top five choices of horror films for Halloween and share it with our readers. With any luck, out of our choices will come five we all actually agree on, and if not, well the axes will be coming out once again!
So, let us share with you our personal top five films we believe would make the perfect Halloween night, and to make things interesting, each of our writers will list their five reasons for loving the film. As a pre warning, some of these reasons may not make any sense if you have not seen the film, but this is for fun and we hope you enjoy it. Hopefully you may choose to do your own Halloween night, like us, and hopefully some of our choices will make your night too! Enjoy…
Cludge Judge's Top 5
Halloween (1978)
There is no doubt about it, Halloween is not Halloween without John Carpenter's big daddy of slasher movies being on the small screen. By no means my favourite horror film but it's just gotta be there.
Creepshow (1982)
I love some good horror tales at Halloween and even if there are no classics in Creepshow, it does have the wicked and fun aspect of Halloween. The Crate and Cockroach cocktail finale are certainly worth a watch.
Cats Eye (1985)
More ghoulish tales from Stephen King. I watch this for The Ledge tale about an ex tennis player having to walk around the outside of a scorned gangster's top floor, penthouse apartment. It is must watch for this time of year. Cruel and wicked terror/ comedy.
Twilight Zone – The Movie (1983)
The last two tales in this are fantastic, especially John Lithgow's terrified aircraft passenger segment. Yes, Joe Dante and George Miller deliver in this patchy movie. What the hell was Steven Spielberg thinking about with his mushfest though?
Phantasm (1979) – I watch this every Halloween. Surreal, gory, funny and brilliant. Perhaps my favourite horror film of all time. A good reason to watch on a day like Halloween.
Darren William's Top 5
Most people automatically associate Halloween horror with John Carpenter and his legendary slasher. But for me, Halloween horror tends to be about the more traditional, supernatural scares. As much as I enjoy all kinds of horror, it's the supernatural, the kind that creeps under your skin and lingers there, that tends to unsettle me the most. And I like to celebrate that kind of film around this time of year. In fact, the period from Halloween to Christmas generally tends to be filled with supernatural horror, leading up to the likes of the BBC's Ghost Story for Christmas series, Dead of Night's 'Exorcism' episode and others around Christmas itself. But five films that generally get a October 31st viewing for me include these little gems.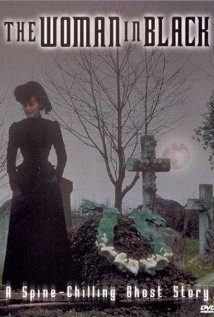 The Woman in Black
(1989; Herbert Wise)
Arthur Kidd is a young solicitor, ordered to Crythin Gifford, a small town on the east coast to attend to the estate of the recently deceased Alice Drablow. While there he finds the townsfolk hold a dislike for Drablow and for her home, Eel Marsh House, a secluded place that can be cut off from the town at high tide. Kidd settles down in the house to sort through Drablow's papers but he finds the house haunted by a mysterious woman in black who is rumoured to cause a death whenever she appears. Very much in the tradition of classic ghost stories, The Woman in Black has a good claim to the title of the scariest film ever made. It's a subtle and restrained piece, allowing the scares to build through atmosphere and character rather than shock effects, although there is at least one scene that can make you leap out of your skin. The script was adapted by the great Nigel Kneale, and while I'm not a fan of one or two changes he makes from the novel, he mostly does a superb job. The film is so good that you have to wonder why more filmmakers are unable to make films this tense, chilling and downright terrifying. And it's not even a tenth as frightening as the stage play of the story.
Ghost Watch
One of the great hoaxes, Ghost Watch was broadcast on Halloween night 1992, under the banner of a 'live' broadcast from a haunted house. Headed by some of t.v.'s most familiar faces, including Michael Parkinson and Sarah Greene, the setting alternated between a typical BBC studio and an average British house in an average British street. The show generated so many complaints that the BBC never repeated it and it didn't get released to buy for nearly a decade. It's not surprising so many people were taken in by this show, it all feels rather dull until the ghost, 'Pipes' turns up. By then you're so taken in by how ordinary everything is that it all seems quite plausible. A disturbing backstory and some camera trickery make this one hell of a scary show. Superb stuff.
The Innocents
The Innocents brings to the screen one of the greatest ghost stories ever written, Henry James's magnificent, 'The Turn of the Screw'. Miss Giddens (Deborah Kerr) finds herself a new post as a governess for two orphans at their uncle's country estate, Bly. Bly seems like Paradise at first, but Giddens soon begins to suspect evil there. Looking after Flora (Pamela Franklin), Miss Giddens thinks it's a perfect job. But when Miles (Martin Stephens) returns home things start to go wrong. Miles has been expelled for being a corrupting influence on the other boys at his boarding school and this coincides with Giddens hearing tales of her predecessor, Miss Jessel and the former valet, Peter Quint, Jessel's lover. There are rumours of an 'unnatural' relationship with the children and Giddens begins having visions of a mysterious man and woman she thinks are the ghosts of Quint and Jessel, come back to reclaim the children by possessing them. What makes The Innocents such a powerful film and one of the few filmed ghost stories to actually capture the atmosphere of the original story is that it realises that the atmosphere is more important than blatant shocks. The eerie mood is aided by Freddie Francis' exceptional cinematography and Georges Auric's score. But most importantly of all, everyone involved takes this seriously and treats it with a respect that isn't often given to horror films. The Innocents isn't just one of the greatest horror films ever made, it's one of the greatest films ever made.
Session 9
Danvers Hospital is a mental asylum with a troubled history that was closed in the mid 80s. An asbestos removal team owned by Gordon Fleming (Mullan) is hired to clean the abandoned hospital. Desperate for money, Gordon claims that his team can finish the job in the impossibly short time of the week, just to secure the contract. The team consists of Gordon, the bitter and shifty Phil (Caruso), the mercenary Hank (Lucas), the intense intellectual Mike (Gevedon) and Gordon's rookie nephew, Jeff (Sexton) The pressures of completing such a big job in limited time places strain on the five-man team and brings hidden tensions and resentments to the surface. They also all find themselves drawn into the mysterious past of the notorious hospital. Mike discovers a collection of audio recordings of sessions with a multiple-personality patient named Mary. As Mike listens to the tapes, we become familiar with all of her personas, except Simon, the one that scares them all. Shortly after Hank discovers valuable coins hidden in an asylum wall, he disappears. Gordon begins to worry that he was murdered by Phil in a fit of jealousy after Hank stole his wife. But is Phil a killer, or could there be something even more sinister lurking in the asylum? The atmosphere for the film is intense, largely thanks to the old-fashioned pacing, the terrifying sound work, and the superb use of location. Old deserted buildings are always going to have a naturally unsettling feel, but Danvers is in a league of its own. Those who think the Overlook was a frightening location should spend a little time with Danvers. Anderson builds his story through suggestion and through the strength of his characters. Instead of a cast of forgettable teens waiting to be killed one by one, we have a group of largely older men playing actual human beings. The group dynamic and the human tension is almost as interesting as the possible supernatural menace in the asylum. It's a remarkably well-crafted story, if the great M.R. James were still alive, I'd expect he'd find much to appreciate in Session 9 and in the dark corridors of Danvers.
It's the Great Pumpkin, Charlie Brown
Yep, my final selection is one of the greatest cartoon shorts ever made. A Halloween special from the Peanuts gang, It's The Great Pumpkin… sees Linus trying to convince everyone of the Halloween spirit, personified by the mythical Great Pumpkin. While the other kids are out trick or treating, Linus keeps a solitary vigil in the pumpkin patch, hoping that The Great Pumpkin will choose his as the most sincere pumpkin patch around. Everyone should watch this on the 31st of this month, then go and wait in the pumpkin patch for The Great Pumpkin to come visit. And why is it here, among these classic horrors? Because Halloween is also about childhood. It's about fun, it's about losing yourself in the spirit of the night. There are few better ways to relive your childhood than this cartoon.
Dr Lenera's Top 5
For my five, I decided to be a little different and go for five films that hopefully my fellow critics will not have picked, but that I personally love very much. I have tried to pick five movies that almost span the history of cinema [though there are two from the 60s!], and cover five distinct subjects that are covered by the horror film; monsters, ghosts, Satanism/the devil, aliens and slash!
BRIDE OF FRANKENSTEIN [1935]
Directed by: James Whale
Starring: Boris Karloff, Colin Clive, Ernest Thesiger, Elsa Lancaster
1."Insides is always the last to be consumed".
2. Dr Pretorius reveals his tiny creations in bottles
3.The Monster finds a friend in the woods
4. Boris Karloff's Monster; the most tragic, pitiful monster in cinema
5. The unveiling of the Bride
THE INNOCENTS [1961]
Directed by: Jack Clayton
Starring: Deborah Kerr, Peter Wyngarde, Meg Jenkins, Michael Redgrave
1. The ghost sitting the other side of the river
2. The face at the window
3. Miles's lascivious kiss goodnight
4. That whirring sound you hear, telling you a ghost is near
5. "All I ever wanted was to help the children. I love children"
THE DEVIL RIDES OUT [1967]
Directed by: Terence Fisher
Starring: Christopher Lee, Charles Gray, Nike Arighi, Patrick Mower
1. The succubus in the library
2. "The Goat Of Mendes, the very devil himself".
3. Charles Gray's Moccata, suggesting deep evil and infinite perversions that the film cannot show
4. Inside the pentacle
5. The Angel Of Death
THE THING [1982]
Directed by: John Carpenter
Starring: Kurt Russell, Wilfred Brimley, T.K.Carter, David Klennon
1. Kurt Russell's wonderful grouchy, none-too-competent 'hero'
2. Tentacle-sprouting dog
3. "You gotta be f*****' kidding"
4. Blood test
5. "Why don't we just wait here for a little while… see what happens"
SWITCHBLADE ROMANCE AKA HAUTE TENSION
Directed by: Alexandra Aja
Starring: Cecile De France, Maiwenn le Besco, Philippe Nahon, Franck Khalfoun
1. Receiving head
2. Francois Eudes' nerve jangling score
3. Cabinet decapitation
4. Trapped in the closet
5. The twist [which I love !] revealed in the security camera
Juan Vasquez's Top 5
Here's my Top 5 films to watch at Halloween, and 5 reason why you should watch them.
In no particular order.
Friday 13th Part VI: Jason Lives
1. This film is very self aware. It's not afraid to mock the genre clichés and is very tongue in cheek.
2. Over the top deaths. Some are so ridiculous, but it's what I love about it.
3. Zombie Jason. Not only is he back to his stalk and slash ways, but in this instalment he's decomposing too!
4. Returning to Crystal Lakeafter the relatively naff part 5.
5. As well as the OTT death scenes, it has some of the most inventive, too.
The Nightmare Before Christmas
1. What better film to see in the darker days of the year, than one that celebrates the scariest time of the year as well as the most enjoyable.
2. The very macabre sense of humour.
3. Danny Elfman's wonderful songs.
4. Henry Sellick's superb stop motion animation. This sort of thing has become more of a rarity since CGI took over.
5. Jack Skellington is a wonderful lead character. There are also many other comically sinister characters to enjoy.
Let Me In/Let The Right One In
1. The film is wonderfully shot. Watch it in HD if you can.
2. This is one of my favourite love stories. So innocent, yet tinged with tragedy.
3. The leads, although only young, are exceptional.
4. As with all great horrors, there's got to be some gore violence. While this doesn't dish it out, when it comes it's quite shocking.
5. I like the way the mother is always part of the background, as if never being really apart of what is going on.
The Hole (2010)
1. Joe Dante's return to form.
2. Just like the boundary pushing 'horrors' of the 80's that were aimed at a younger audience, this is an adventurous yet terrifying film.
3. Surprisingly graphic for a film 'suitable' for minors.
4. Creepy ghost girls. They never fail to scare me!
5. The states have yet to see this film released. Only recently, Joe Dante held a stateside screening of The Hole, which was one of the first times it has been seen over there. It has had neither a theatrical nor home video release.
Candyman
1. Tony Todd is terrifying as the titular character, with a voice that's so deep, you can feel it!
2. Phillip Glass' terrifically creepy score.
3. The scenes on Cabrini Green are filmed in a genuine run down high rise estate, with the cast and crew receiving a less than warm reception.
4. It's a refreshingly original horror (for its time), which does away with the genres conventions
5. It scared the shit out of an 11 year Juanvasquez. I didn't sleep properly for weeks!
Matt Wavish's Top 5

So, my choices may prove to be a little different. See, I wanted to go down the route of the obvious, you know, Halloween, Nightmare on Elm Street, Friday the 13th, the usual stuff that will no doubt turn up in many people's lists. Me, I decided to go for a much more personal list, a list that reflects Me as a horror fan and the following five films are what I would truly call a night of pure terror. I like my horrors serious you see, so here goes:
We would start the night off with:
1- The Blair Witch Project: I love this film, really love it, and early on in the Halloween evening, this will set the mood nicely. Here are five reasons why:
1. Coffin Rock
2. "You're still making movies!!!"
3. Running through woods at night "what the fuck is that?!!!"
4. Apology and snot
5. That final scene…
Now that we are feeling a little bit unsettled, let's push ourselves over the edge…
2- Session 9: Quite possibly the creepiest horror of the last two decades, and one that stays in the mind long after the credits, here's why
1. The wheelchair
2. Finding the treasure
3. Fear of the dark
4.  Listening to those tapes
5. "I live in the weak, and the wounded, Doc"
Now that we are really scared and in a bit of a dark place, let's go further into that dark place and end it with one of the greatest scare scenes of the last thirty years…
3- Ringu: The start of the J-Horror movement, and quite possibly the scariest, most precise horror to ever come from our friends in the East, Ringu is a timeless masterpiece, here's why:
1. Opening scene with schoolgirls and telephone
2. "I didn't know dead people could look like that"
3. Distorted photographs
4. The video and those sound effects
5. Sadako comes out of the TV
Before we finish on a more modern horror that will inject a bit of fun into our evening of intense stories and unsettling atmosphere, lets take things to the most ultimate tale of terror, the best Demonic film of all time, the best horror film of all time, the most respected and best tale of terror of all time…
4- The Exorcist, my personal favourite horror ever!! No other horror will ever come close to the power of this masterpiece, here's why:
1. Subliminal images of the Demon Pazuzu
2. "You're gonna die up there"
3. Pea soup!!!
4. "You're Mother sucks cocks in Hell!!"
5. "The power of Christ compels you!!!"
Now that we are truly on edge, scared and feeling a little bit frightened at all this evil in the world we could end on a film like Paranormal Activity, but it is time to change tempo, time to have some fun. I don't mean fun in a gore soaked Zombie film, or a horror comedy, I mean fun as in the most exciting, in your face horror this year, a horror that openly admits to being desperate to scare your pants off, a film that woke the world up to horror once more, a film that everyone is still talking about and became one of the scariest horrors of the year. And what made it even better, is that it made being scared fun again, my fifth and final film for the perfect Halloween night is..
5- Insidious
1. Man stood behind cot
2. Witch
3. "Tiptoe through the tulips"
4. Fire Demon's face at the dinner table
5. The Further
Bat's Top 5
This is difficult as there are 5 classic horror films that are a given during Halloween but there are others which are the perfect change to the same old. So here's my Top 5, incorporating classics with modern Halloween horrors…
The Exorcist (Directors Cut)
1. Spiderwalk down the stairs
2. Crucifix masturbation
3. Subliminal visions
4. Spinning head
5. Projectile vomit
The Omen (original 1976)
1. "Look at me, Damien! It's all for you!"
2. Glass decapitation
3. Billy Whitelaw as the 'nanny'
4. Trip to the zoo
5.  Priest impaled
The Witches (1990)
1. Roald Dahl classic for both kids and adults
2. Little girl in oil painting
3. The Grand High Witch removes her face
4. Turning into mice
5. The soup scene
Hostel
1. Hot Eastern European chicks
2. Touchy feely salad man
3. Achilles Tendon slashing
4. Japanese eye-ball blowtorch
5. Cameo by Takashi Miike
Scream
1. "What's your favourite scary movie?"
2. Drew Barrymore's opening scene
3. Courtney Cox's superbitch reporter, Gale Weathers
4. Rose McGowan and the catflap garage door
5. Randy's rules to survive a horror film
Ross Hughes' Top 5
5: Scooby Doo And The Lake Monster!
Do I really want to see this readers? Not really! But with 3 kids in the house then I have to celebrate this Spooky event with them so I am starting with this new straight to DVD kiddie caper, released just in time for Halloween. Probably the most scariest thing I will watch this year and I do not mean that in a good way!
4: The Hole
Just before the kids are ready for bed and after I have probably rinsed my eyes out from the pain of watching Scooby Dooby Doo………We are going to hit the harder stuff and they want to get spooked again by this quite wonderful Joe Dante film. The eyeball on the TV screen in the background is still a great delight and for a supposed to be kiddie flick, this has a wonderful dark streak, looking forward to watching this again if I am honest!
3: Jason Lives! Friday 13th Part VI
Sod the title which in reality I should watch on that day, but who cares, you can not go wrong with a bit of Jason Killing and I can not think of anything better than spending time with the Ski Masked psycho on Halloween.
2: The Fog
Only second to a certain other film by the king that is John Carpenter. What a film to watch on Halloween, perfectly fitting when the clock strikes 12am and you just want to be spooked! As soon as that old Sailor spins the yarn to those kids I am hooked and with a near perfect haunting score, when the Fog sweeps in and those ghostly figures emerge, for me its a sign that Halloween has arrived, and I love every minute of it!
1: Halloween
Seriously readers…….was you expecting something else?
Happy Halloween!!!