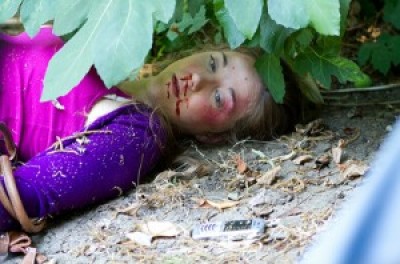 With Darren Lynn Bousman's religious themed horror 11-11-11 due out, oddly enough, on 11th November, the Asylum have also made a horror thriller, however this one is called 11/11/11. Notice the difference, with the slashes used instead? Clearly both films are completely different, however I can see people getting confused, and who would blame them. To add insult to injury, the Asylum's film will arrive in the US on DVD a week before Bousman's highly anticipated horror, but all I can say to those chaps at the Asylum is bloody fair play to them. They are never afraid to openly cash in on a hot title, and in all honesty, I enjoy the majority of their films for that simple 'so bad its great' reason.
However, looking at the trailer for 11/11/11, directed by Keith Allan and written by Kiff Scholl, it actually looks like one of their better movies. The film stars Jon Briddel, Kari Nissena, Catherine Lidstone, Aurelia Scheppers,Calvin C. Winbush and Scott McKinley.
Here is the synopsis, which sounds vaguely familiar, and the trailer follows:
Jack and Melissa are frightened by their son's bizarre and violent behavior; they soon learn that he is the gateway to the Apocalypse, and it will happen on his birthday, 11-11-11.
By Matt Wavish
[youtube]https://www.youtube.com/watch?v=FhT61nJutj4[/youtube]