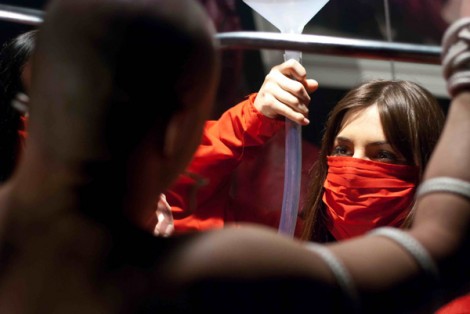 The Profane Exhibit is gonna be one Hell of a nasty ride when it gets released in May 2012. New and fresh horror director's are being requested to direct a short film in a proposed anthology of ten short film featuring ten different directors. Already announced are Michael Todd Schneider (August Underground's Mordum), Ryan Nicholson (Gutterballs), Marian Dora (Cannibal) and Andrey Iskanov (Ingression).
Producers of the project David Bond and Amanda Manuel have also recently announced that Yoshihiro Nishimura (Tokyo Gore Police) has also joined the project, and that Nishimura regular Eihi Shinna has signed on to star in his segment called 'Jigoku'. The most recent new though, is that Sergio Stivaletti  (The Three Faces of Terror) has now also joined in the gruesome fun! This is gonna be one of the sickest, nastiest and downright horrific horror experience you will see next year, so keep checking here for all the info.
Dread Central are the main site to be championing the film, and they got their hands on the following press release explaining everything about the most recent developments:
From the Press Release
Producers of The Profane Exhibit would like to welcome Sergio Stivaletti, one of the greatest European experts in the field of special effects and make-up to which he has been dedicated for over 20 years. Born in Rome in 1957, he has collaborated during his career with some of the genre's most important Italian directors, like Dario Argento, Michele Soavi, Lamberto Bava, and Gabriele Salvatores. He debuted in feature film directing in 1997 with Maschera di cera.
Stivaletti also directed Wax Mask and The Three Faces of Terror. As an FX artist he has just completed Dario Argento's Dracula 3D and is known for Dellamorte Dellamore, Demons, and Opera.
Stivaletti's segment of The Profane Exhibit is entitled Tophet Quorom (Rome, Italy, 10 min.). There has not been any cast announced as of yet, but we do know that Maurizio Guarini of Goblin is responsible for the score.
The Profane Exhibit Social Media Links
You can now keep up with all that is Profane by checking out The Profane Exhibit Facebook page or by following them on Twitter (@ProfaneExhibit).
Breaking Japanese News
Eihi Shinna, the amazing actress in such films as Audition, Vampire Girl vs. Frankenstein Girl, Helldriver and Tokyo Gore Police, is the first to join the Jigoku cast.
Marc Walkow, the producer of many documentary extras for Japanese films and a member of the marketing department for Sushi Typhoon, will be one of the producers of Jigoku.
(Source: Dread Central)
By Matt Wavish