IT'S NOT TV. IT'S HBO

Waiting for Halloween Sucks!

Sink your teeth into…
THE COMPLETE SEASON 1-3 BOXSET
Available on DVD and Blu-ray this Halloween
15 disc set – DVD £64.99/ Blu-ray £74.99 RRP

 "Addictively pulpy Vampire raunch" – Time Out
"HBO's biggest hit since the much-missed Sopranos" – The Daily Telegraph
"True Blood's genius is to take Hammer's old equation of sex with horror and hype the sex" – The Times
 "Ten times better than anything else on TV" – The Guardian
Sink your teeth into TV's scarily-addictive and sexiest show this Halloween with TRUE BLOOD: THE COMPLETE SEASON 1-3 BOXSET, out now on DVD and Blu-Ray from HBO Home Entertainment. The must-have accompaniment for a Halloween night-in; True Blood fans can re-live the sex, romance, horror and drama from all three seasons. If you haven't yet had a taste of this epic show, now is the chance to get addicted from the beginning.
Hailed as the raunchier and grown-up alternative to Twilight; TRUE BLOOD is a multi-award winning, critically acclaimed hit for HBO and made house-hold names of the sexy and enticing cast; Anna Paquin, Stephen Moyer and Alexander Skarsgård.
 True Blood is a worldwide phenomenon from 'Six Feet Under' creator Alan Ball, drawn from the meticulously crafted world of novelist Charlaine Harris. Described as 'popcorn for smart people' by Emmy® award-winning Ball, True Blood caused a sensation right from the first episode, building on the colourful life of the supernatural eccentrics. For the perfect Halloween night-in; give in to the urge and get sucked in….
Season 1:
The series introduces Sookie Stackhouse (Anna Paquin), a barmaid living in Bon Temps, Louisianna who can read people's minds. Her life is soon turned upside down when the entrancing Vampire Bill (Stephen Moyer), walks into Merlotte's bar two years after vampires 'came out of the coffin' on National television, integrating with society. With the mysterious murders of two women connected to Sookie's brother, Jason (Ryan Kwanten), the whole town is turned upside down and suspicions soon arise.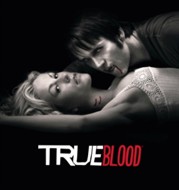 Season 2:
Season Two of the show, dubbed 'A modern classic' (The Guardian) and 'stylishly shot and whip smartly written' (Daily Telegraph), is more dangerous than ever for Sookie after she and Bill become more deeply involved. Meanwhile, her best friend Tara finds herself under a lover's spell; bar-owner Sam (Sam Trammel) puts his trust in an unlikely ally; Jason becomes involved with an anti-vampire sect; the alluring Vampire Eric (Alexander Skarsgård) becomes interested in Sookie after he recruits her to investigate the disappearance of his 2000-year-old maker, while a mysterious power appears to be controlling almost everyone in town. After making a shocking discovery, Sookie, Bill and Sam must form the last line of defence against a dangerous force that raises this award-winning series to bloody new heights.
Season 3:
In Bon Temps, everyone has something to hide, but when new threats emerge, no one can conceal the secrets of their past. After Sookie discovers that Bill has been kidnapped, she heads to Mississippi where she becomes entangled in a world ruled by a pack of vicious werewolves and the powerful Vampire King, Russell Edgington (Denis O Hare). There, her powers resurface and she learns that Bill cannot be trusted. Eric is also drawn to the King's domain to settle an old score; Tara (Rutina Wesley) dives deep into turmoil; Jason falls for a mysterious woman; Lafayette (Nelson Ellis) can't avoid love or demons; Jessica (Deborah Ann Woll) sharpens her vampire skills; and Sam uncovers the truth about his birth family. It all leads up to the revelation of the series…  Sookie's real identity.
So get together this Halloween and get stuck in with HBO's official Halloween at Home guide for inspiration, exclusively from the HBO shop at store.hbouk.com. Transport yourselves to the deep and dark South with an array of original Merlotte's and Fangtasia bar props and uniforms, plus everything you need for your Vampire fright night – from seductive soundtracks to bottles of drinkable Tru:Blood. Why not ask guests to pick a side with an 'I Love Eric' t-shirt or cause a stir with the latest Fangbanging apparel.