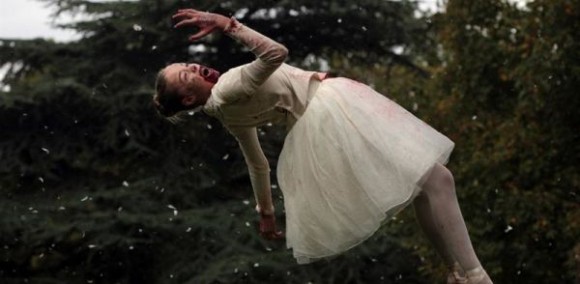 French horror, when done right, is flawlessand near unbeatable and anyone who has seen Inside will know that those two director's have some serious potential, and when word first reached us about their new horror Livd (Livide) we were more than excited. For months Livid has been in the back of our minds, will it fullfill its promise, will it be as good as Inside, does French horror still have that edge. Well my dear friends, those questions and more have been answered today as the trailer for Alexandre Bustillo and Julien Muary's Livid has arrived! Sadly the trailer is in French without any English subtitles, but the traielr is so good you don't need the subtitles, you can pretty mcuh figure out that some seriously bad and frightening stuff is going on, so please, enjoy it until the subtitled trailer arrives.
The film stars Loic Berthezene, Serge Cabon, Chloe Coulloud and Beatrice Dalle. A whole bunch of posters were revealed last week and you can see those and all out previous articles on the film here
From the Press Release:
Dimension Films has acquired French language horror film LIVID directed by Julien Maury and Alexandre Bustillo from SND (Groupe M6). The film stars Marie-Claude Pietragalla, Chloe Coulloud, and Felix Moati and marks the second collaboration with Dimension Films and duo Maury and Bustillo, who previously directed INSIDE.
LIVID is a horror fairytale set during Halloween night when three youths decide to burglarize an old lady's desolate house, but what awaits them is no ordinary house…
"We are thrilled to be back in business with Julien and Alex and couldn't be more excited to help bring their frightening vision to fans everywhere," said Dimension's Bob Weinstein.
"It's a pleasure to collaborate with such a great partner on the LIVID adventure. Dimension is the perfect fit," declared Lionel Uzan, Director of Acquisitions and Sales of SND. LIVID is produced by Vérane Frédiani and Frank Ribière (La Fabrique 2) and co-produced by SND, Plug FX, and La Ferme.
Synopsis:
"It's young Lucy's first day as a trainee in-house caregiver. She visits Mrs Jessel, an old woman who lies in cerebral coma, by herself, in her large desolate house. Learning by accident that Mrs Jessel, a former dance teacher of repute, supposedly possesses a treasure somewhere in the house, Lucy and friends William and Ben decide to search the house in the hope of finding it. At night, they get into the house, which reveals itself to be increasingly peculiar. Their hunt for Mrs Jessel's treasure leads them into a horrifying supernatural series of events that will change Lucy forever…"
By Matt Wavish
[youtube]https://www.youtube.com/watch?v=fbCj05goNv8[/youtube]