Trapped Ashes (2006)
Directed by: Joe Dante, John Gaeta, Ken Russell, Monte Hellman, Sean S. Cunningham
Written by: Dennis Bartok
Starring: Henry Gibson, Jayce Bartok, John Saxon, Lara Harris

[youtube]https://www.youtube.com/watch?v=lj4mQa2G_DI[/youtube]
Trapped Ashes (2006): Out now on DVD
(18) Running time: 105 minutes
Director's: Joe Dante, Sean S Cunningham, Ken Russell, John Gaeta, Monte Hellman
Writer: Dennis Bartok
Starring: Jayce Bartok, Henry Gibson, Lara Harris, Scott Lowell, John Saxon, Rachel Veltri
Reviewed by: Matt Wavish, official HCF critic
I can't believe it has taken me this long to get round to watching this horror anthology of four stories brought together thanks to a creepy tour guide and a locked room. I had so much fun with this I actually felt like watching it all over again when it finished! Now, I can pretty much guarantee this will not be to everyone's tastes, and judging by reviews I have read, fans seem to either love it or hate it. For some unknown reason, I really really enjoyed this sexually driven horror flick and I plan to get online later and buy it.
Seven people come together on a guided tour of a Hollywood movie studio, made famous by the death of director Desmond Hacker. We have an actress with her boyfriend, a director, an architect and his wife, a guy called Leo (Saxon) and a strange goth-like girl. Each have had personal invites and when the tour bus stops by where director Hacker supposedly died, they all want to go into the set and take a look. In they go, lead by their tour guide, when suddenly the doors close and there is no way out, after some shouting a fussing, the tour guide suggests they all tell their most horrific stories in order to pass the time while they wait for help. Up until this point I was a little unsure about the film as it had felt a bit tacky with bad acting and cheap gags, however, once we get into the four stories that make up the film it all starts to get better, and the parts inbetween the stories also improves as you get to know the characters.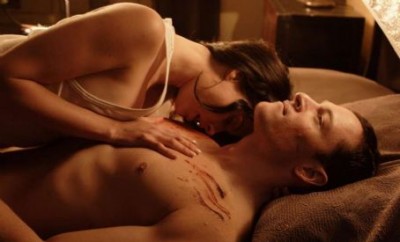 The first story (The Girl With the Golden Breasts) is directed by Ken Russell and stars the seriously sexy Rachel Veltri as actress Phoebe. Unable to get an acting job due to her small breasts, she goes for a new and improved breast implant operation which uses the flesh of dead bodies instead of the usual methods. Needless to say things eventually go wrong as her breasts grown mouths and begin wanting human blood to stay alive! From that simple sentence I am sure you now get the idea of what Trapped Ashes is all about, it is fun, good, horrific and seriously sexy fun. Each darned story has some sort of sexual reference to it, although it is probably this first story which features the most nipple action. It is full of good fun, some horrific but hilarious scenes and features one of the best cries for help I've heard in a film in a long time "I want the old Me back, not these blood sucking tits you gave Me!!" Genius!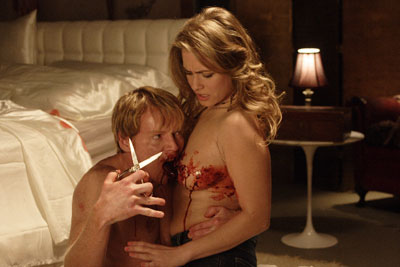 The second segment goes a bit darker and a bit more intense, this time directed by Sean S. Cunningham, it takes on a more Asian mythical curse approach as an architect husband and his wife visit Japan. Called Jibaku, it shows what happens when a husband ignores his sexy wife, and she begins to have desires for adventure. After meeting a mysterious man who tells her about a twisted painting in an art gallery, she begins to have dreams of that man having sex with her, although it would appear to be real, almost nightmarish. After seeing a Monk hanging by a noose, the woman's nightmares increase to the point she has full on sex with the mysterious man, only this time he is decaying and so as she rides him and caresses his face and chest, he literally falls apart. She then disappears and her husband literally has to go through Hell to get her back. Again, a great short film, with lots of ideas and some horrific but strangely erotic scene, this part even has some Manga style animation in it.
The third story tells of a man seduced by his best mates girlfriend. While away in Germany the poor chap, who has been playing Chess with his best mate for years while the girlfriend watches over them in poses guaranteed to get any red blooded male hot under the collar. While his mate is away he gives in, and things take a turn for the worse and dark secrets are revealed, again featuring tons of sex and the odd bit of blood spillage. The third story features John Saxon in fine form, directed by Monte Hellman and is called, delightfully, 'Stanley's Girlfriend'.
Then the fourth film really goes for it, featuring a couple not happy together and while at a dinner the husband cheats on his wife upstairs. The distraught wife has an idea, but continues to eat, swallowing a nasty worm without noticing. She becomes pregnant, but the problem is the nasty little worm is now growing and all treatment to get rid of it would also get rid of the baby, so she keeps them both and years later the baby grows up with an extra little friend by her side! We are greeted to a wonderfully depraved scene where the worm crawl up the cheating woman's nether regions, but that's not all. Directed by John Gaeta, 'My Twin, The Worm' features some striking visuals, especially a scene in the woods where the pregnant Mother cries out and the branches sort of come alive.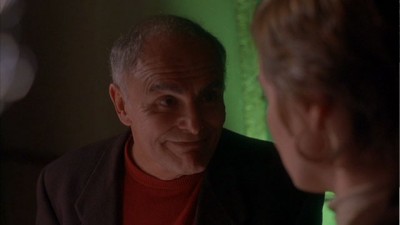 In all honesty, Trapped Ashes is incredibly silly, but so much fun it is very hard to dislike it. The four stories are superb, and the bits inbetween (directed by Joe Dante) lead to a satisfying, if predictable climax. All the characters become likeable, the pace is perfect and there is so much sex and violence on offer there are few who won't find something to like about this. The visuals in all four stories are fantastic, with lots of strong colours to give the impression you are reliving a nightmare. This is vintage stuff that has firmly stuck to its horror routes, but this is all about having some fun with horror, it is not to be taken seriously. Put your serious head to rest while watching this and you just might find yourself watching a true, hidden gem you probably never even knew existed!
Rating:
[pt-filmtitle]Trapped Ashes[/pt-filmtitle]