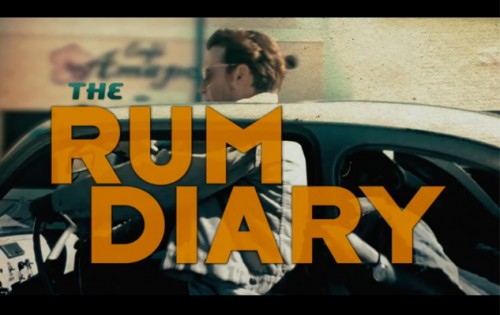 Director Bruce Robinson's The Rum Diary is due to arrive in UK cinemas 4th November, and in the build up to its release, two new clips have just been released. Both feature Amber Heard's Chenault eyeing up Johnny Depp's Paul Kemp, and the poor fella can't keep his eyes off her! And who can blame him, a picture of Amber Heard is also attached to this post, just so you can appreciate the tough decisions poor old Kemp has to make!
The film is based on a novel by the late, great Hunter S. Thompson, a character Depp previously portrayed in Terry Gilliam's classic drug fuelled comedy, Fear and Loathing in Las Vegas. The Rum Diary also stars Giovanni Ribisi, Aaron Eckhart and Richard Jenkins.
Synopsis:
Paul Kemp is a freelance journalist who finds himself at a critical turning point in his life while writing for a run-down newspaper in the Caribbean. Paul is challenged on many levels as he tries to carve out a more secure niche for himself amidst a group of lost souls all bent on self-destruction.
By Matt Wavish
[youtube]https://www.youtube.com/watch?v=z3nrgixNnIU[/youtube]
[youtube]https://www.youtube.com/watch?v=882gQoWaJ3s&feature=related[/youtube]