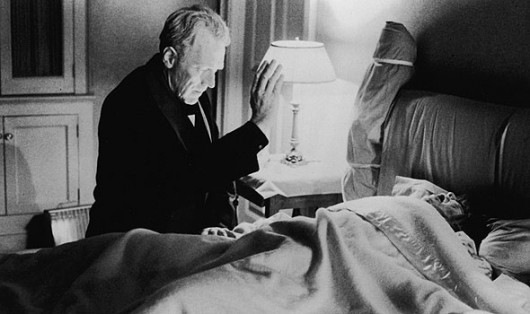 Now this is great news I must admit. The Exorcist is my personal favourite horror film of all time, I just love it ,love it, love it. No other horror comes close to the power of Batty's story, and to find out the book os being made into a stage play makes me very very happy as the idea of the story continuing on fills me with joy.
According to Bleeding Cool Teller (pf Pen and Teller) is in London working on a strge play of the iconic story. The play is written by John Pielmeier, who also wrote 'Agnes of God'. Here are the details:
Unlike William Friedkin's film of The Exorcist (which isn't anywhere near the best film of all time, just for the record), this play will "focus on the psychological aspects and questions of faith." At least, that's according to Ken Novice, the MD of New York's Geffen Playhouse, where the play will premiere in July 2012.
Novice added: "I think it's going to be more powerful than green pudding and spinning heads. Not that the show will be without some kind of theatrical effects. It's still going to be very interesting to look at. There will be a spectacle to it, but we don't want people coming in and expecting the movie."
By Matt Wavish