Big River Man (2009)
Directed by: John Maringouin

Starring: Borut Strel, Martin Strel, Matthew Mohlke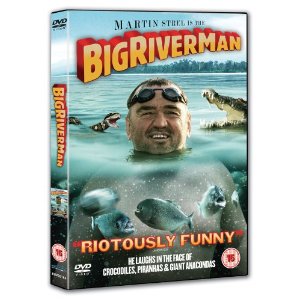 [youtube]https://www.youtube.com/watch?v=ce432_JmdB8[/youtube]
Big River Man (2009)
(15) Running time: 100 minutes
Director: John Maringouin
Starring: Matthew Mohlke, Borut Strel, Martin Strel
Reviewed by: Matt Wavish, official HCF critic
Excellent, excellent documentary about Martin Strel, the "Big River Man", or "Fish-Man"  This follows his antics as he attempts to swim the length of the Amazon river, all in the name of global warming and pollution awareness  This is one of the most fun, and fastest moving documentaries i have ever seen. It starts by giving us plenty of insight into this truly incredible man. He can drive, learn English and practice underwater breathing all at the same time you know!
After quite a chaotic 30 minutes, we finally get to the Amazon, and Big River Man sets off on his quest. The whole thing is filmed by his ever worrying son as he watches his Dad swim with all sorts of animals, bugs, floating trees and whirlpools! Its great fun to watch, and this guy seriously believes he has special powers, even one of the crew (a best friend hired to navigate, he has no idea how to navigate, but is his best friend so that ok!) calls this guy the "Last Superhero on Earth!". Big River Man becomes almost God-like as he stops off at villages, and eventually swims into Brazil with one hell of a party thrown for him.
He drinks alot, a few bottles of wine a day, and lots of beer at night. He is no ordinary power swimmer, but thats what makes this guy so interesting, he doesn't live by rules. Even his onboard, and very trusted Doctor is telling him to stop as he is covered in sunburn and blisters, his heart rate is dangerously high, he has bugs getting inside him! But he doesn't give up. There is a story told of how his Dad used to beat him, so he would live outside in the shed because he was too afraid to be in the house. One day his Dad chased him, and he jumped into a freezing river and just swam until his Dad stopped running, and this is where his passion came from. Insights like this show we are dealing with a man who has been traumatised and is probably not very stable, but is a hell of a lot of fun.
As we near then end of the journey, things take a turn for the darker, and we enter a sort of Apocalypse Now kind of territory, as Big River Man and his navigator go mad. Its a bit scary to watch, but hell, it makes for damn good viewing. This documentary is absolutely fantastic, it really is, and deserves to be seen by everyone. Brilliant stuff!!!
Rating:
[pt-filmtitle]Big River Man[/pt-filmtitle]