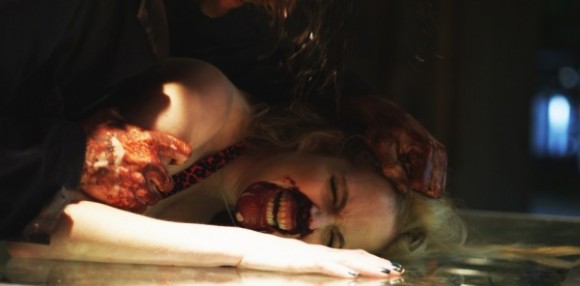 As if Bikini Girls on Ice wasn't enough, director Geoff Klein returns with yet another bunch of girls having issues with a serial killer obsessed with ice. Say hello to Pinup Dolls on Ice, and director Klein has promised a much better effort than the previous film, and judging by the following images, he makes good on the promise. The images are NSFW mind, so careful where you open them. The word is Pinup Dolls on Ice promises more boobs, blood and gore and it appears we will get just that!
There is no trailer for the film yet, but you can be certain we will share it when it becomes available.
Synopsis:
"Some girls are better served cold!
The Pinup Dolls are a hot retro act who put the tease back in striptease. But when an old friend (Suzi Lorraine) hires them to put on a show at a secluded campground, the girls find themselves being stalked by a homicidal maniac with a sick obsession with ice.
As they're hunted one-by-one, they soon realize they'll have to rely on more than just their looks to survive this nightmare named Moe."
By Matt Wavish