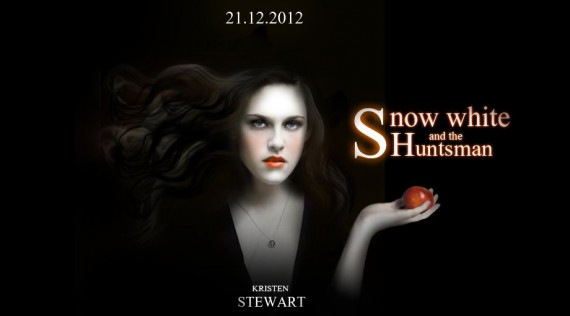 With not one, but two big adaptations of the Snow White story due in 2012, I wonder which will get your vote. Firstly comes Immortals and The Cell director Tarsem Singh's Mirror, Mirror. Singh's tale is a dark twist on the story where Snow White and the Seven Dwarfs try to reclaim their kingdom, and this version is due for release in March 2012.
Then there is Rupert Sanders Snow White and the Huntsman, probably the more commercial of the two, but will it be the better? Sanders version stars the ever dreary Kristen Stewart as Snow White, Chris Hemsworth as The Huntsman and in an exciting move, Charlize Theron as the Evil Queen. Also starring in the film are Ian McShane, Toby Jones, Nick Frost, Ray Winstone, Bob Hoskings, Eddie Marsan, Vicnet Regan and Lilly Cole and I must admit that is a pretty impressive cast!
A new banner was revealed the other day which actually looks kind of cool, and even with such a great cast I am still not 100% sold, but things are certainly looking up. The film is scheduled to arrive in UK cinemas 1st June 2012.
Synopsis:
In a twist to the fairy tale, the Huntsman ordered to take Snow White into the woods to be killed winds up becoming her protector and mentor in a quest to vanquish the Evil Queen.
By Matt Wavish